Student Research Spotlight

Arielle Roberts (DO '21)
December 18, 2017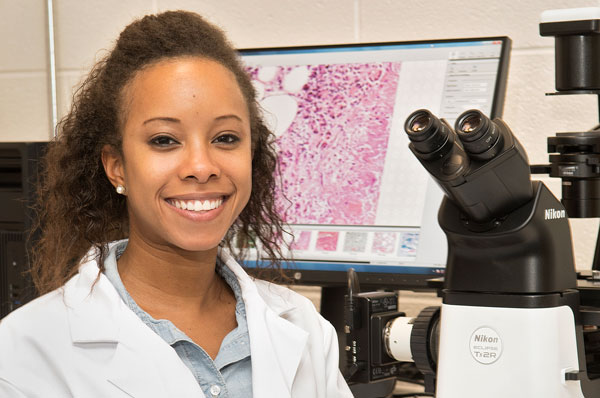 Roberts is working on research to help patients suffering from bladder and bowel incontinence regain control.
---
Arielle Roberts (DO '21) became interested in research upon completing her Master's thesis on pediatric obesity. She is interested in learning how laboratory discoveries can help her future patients.
What did you study?
Under the guidance of Michael Ruggieri, PhD and Mary Barbe PhD, as a collaborative team at Temple University School of Medicine, we studied methods to restore function of the urinary bladder following a lower spinal cord injury using the canine model. In addition, we also explored the morphological changes and pharmacological response of the smooth muscle of the bladder, following lower spinal cord injury, and performed retrograde dye analysis to confirm new neuronal pathways that may be created following nerve transfer. After transection of the spinal roots that provide sensory input to the urinary bladder, we predicted that restoration of nerve supply (or innervation) can be achieved by the transfer of a peripheral nerve to a pelvic nerve that is in close proximity to the bladder, thus bypassing the damaged region and encouraging nerve regeneration.
What prompted you to pursue research?
My interest in research began when I was a graduate student at Adelphi University in Garden City, Long Island New York, where I studied pediatric obesity for my Master's thesis research project. Following graduation, my interest in research grew, and I found myself fortunate enough to be selected by Dr. Ruggieri and Dr. Barbe as a research technician in their lab. I could never have imagined being a part of such a unique research experience. I developed a new perspective about how research can be applied to clinical medicine, and how some of our findings could potentially change the lives of my future patients.
What experience do you have with conducting research?
Using the canine model, we induced a lower spinal cord injury by transecting all sensory (dorsal) and motor (ventral) nerve roots of the sacral spinal cord that provide innervation to the urinary bladder. This was done with the use of anesthesia, analgesics and antibiotics.
After 12 months, we began the reinnervation procedure in two phases. Phase one was an obturator nerve-to-pelvic plexus nerve transfer. We identified an anterior vesical branch of the pelvic nerve between the bladder and the pelvic plexus that evoked the largest bladder contraction when stimulated with a bipolar or monopolar probe electrode. We then joined this nerve, via an end-to-end anastomosis, with a bifurcated portion of the obturator nerve, which is a lumbar-originating, somatic, sensory and motor nerve that lies inferior to the urinary bladder.
After one month, we began phase two of the reinnervation procedure. This consisted of a semimembranosus/semitendinosus branch of the sciatic nerve-to-pudendal nerve transfer. The sciatic nerve is a motor and sensory nerve with many branches to the lower extremity. It arises from the lower lumbar and upper sacral segments of the spinal cord. The pudendal nerve arises from the anterior division of the sacral plexus and is mainly responsible for sensation and motor innervation of various pelvic muscles associated with urinary continence. Transferred donor nerves were joined via an end-to-end anastomosis method to the recipient nerve.
One month post-surgery, we evaluated the functionality of our nerve transfer using urodynamic testing to determine how well the bladder was storing and releasing urine. The success of our nerve transfer has yet to be determined in our latest models, but we will continue to consider this as a main target point of our study.
Additional procedures performed included retrograde dye analyses, which allowed us to trace axons from the urinary bladder to the spinal cord and dorsal root ganglia, post-mortem. We also performed smooth muscle strip physiology, post-mortem, where we are able to test the response of the urinary bladder smooth muscle to various drugs and electrical stimulation.
What were your responsibilities in your research project?
As a former member of the lab, I was fortunate to be able to participate in numerous surgical procedures. During the surgeries, I functioned as an anesthesia technician, a surgical scrub nurse, and as an assistant during the procedures, often helping to close the spinal and abdominal incisions. Following surgery, I was responsible for providing all post-operative care and treatments. This included daily vital signs, wound treatment, physical therapy, and administration of medications. In the lab, I was responsible for frozen tissue sectioning of previously fixated tissue, as well as microscope analysis of retrograde dyes using fluorescent microscopy. For the muscle strip physiology, I often aid with preparation as well as execution of the various experiments.
What is the broader impact of your research?
It has been estimated that there are approximately 285,000 persons in the U.S living with a spinal cord injury (SCI) as of 2017, with about 17,500 new SCI cases occurring each year. Our study focuses primarily on the lower spinal cord, specifically involving neurogenic bladder. The leading cause of injury is due to vehicular crash, however, falls, acts of violence and sports/recreational activities also contribute significantly (The National Spinal Cord Injury and Statistical Center, 2017).
Various diseases such as spina bifida and tethered spinal cord syndrome in children can also affect the lower spinal cord. Lower spinal cord injury or deficit can result in weakness and numbness of the lower extremities, sexual dysfunction, spasticity and exaggerated reflexes, as well as a total loss of bladder and bowel control. Losing the ability to perform the daily activities of living, as well as experiencing a generalized loss of independence, can have a devastating emotional and psychological impact on the affected persons' life.
The goal of our study is to develop a surgical approach to reinnervate the bladder so that patients suffering from bladder and bowel incontinence, specifically, can regain control. We hope that our study will one day be clinically applicable to patients, and will open the door for future studies involving nerve transfer and axon regeneration.

You May Also Like:


About Philadelphia College of Osteopathic Medicine
Founded in 1899, Philadelphia College of Osteopathic Medicine has trained thousands of highly competent, caring physicians, health practitioners and behavioral scientists who practice a "whole person" approach to care—treating people, not just symptoms. PCOM offers doctoral degrees in clinical psychology, osteopathic medicine, pharmacy, physical therapy and school psychology, and graduate degrees in biomedical sciences, forensic medicine, mental health counseling, organizational development and leadership, physician assistant studies, school psychology, and public health management and administration. Our students learn the importance of health promotion, research, education and service to the community. Through its community-based Healthcare Centers, PCOM provides care to medically underserved populations in inner city and rural locations. For more information, visit pcom.edu.
For more information, contact:
Orla Moloney
Public Relations and Marketing Specialist
Office: 215-871-6334 | Cell: 267-449-1360
Connect with PCOM