Student Research Spotlight

Christopher Capicotto (DO '19)
October 17, 2017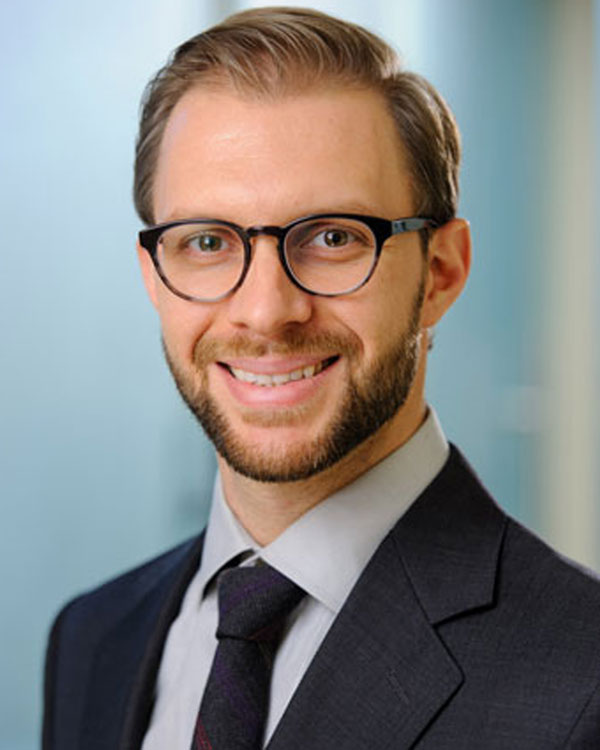 After working in finance, Christopher Capicotto transitioned to medicine and is now involved with safe acid technology research.
---
Christopher Capicotto (DO '19) came to PCOM after working in the financial sector for five years. He transitioned into medicine by completing Columbia University's Post-Baccalaureate Premedical Education Program, during which he worked as an operating room videographer, served as treasurer of Columbia's Surgery Club and interned at a private practice focused on preventive and precision medicine. With his prior education in accounting and finance and his work experience, Mr. Capicotto plans to practice clinical medicine while pursuing business opportunities that contribute to the advancement of patient care.
What are you studying?
The focus of our research is an acid that has potential use as a disinfectant. What makes this particular compound unique compared to other disinfecting agents is that it is simultaneously deadly against microscopic pathogens yet is harmless to human mucosa (skin, eyes, mouth, lungs, etc.). So while there are many compounds that can kill pathogens such as bacteria, viruses, fungi and spores, they are mostly toxic to humans. This requires users to follow stringent and expensive handling and disposal protocols. An agent, which is highly effective, but harmless to the end-user, has the potential to supplant existing sterilants on the market.
This compound is somewhat in a class of its own and is being termed "safe acid technology" (SAT). Its application is being considered for surgical device sterilization, food preparation, veterinary purposes and use as a topical acne treatment, among other applications.
What prompted you to pursue research?
Coming from a business background, I honestly felt less prepared to interpret scientific data than my peers. Most of them graduated with science degrees and conducted research as undergraduates. Spurred by equal parts interest and fear, I explored research opportunities through PCOM. Much to my surprise, PCOM offers numerous research opportunities both with laboratories at school and institutions in the Philadelphia area.
What experience do you have with conducting research?
Precision Medicine Study: During my gap year (between post-baccalaureate education and medical school), I participated in a study focused on tracking the improvement in patient lab markers and fitness metrics over the course of treatment at a private practice in New York City. My role involved defining the patient population and organizing patient lab data for evaluation by the statistician. The private practice aimed at maximizing patient health as opposed to managing illness.
Time to Access: As a first year medical student, PCOM connected me with the surgical residents at Mercy Hospital System who were conducting numerous research projects. Mine was a retrospective study on the time it takes healthcare workers to obtain IV access when patients code. The faster IV's can be placed, the quicker life-saving medicines can be administered. This role involved pulling data from patient medical records, preparing it for analysis and writing abstracts for presentation.
First-Person Video: While completing the surgery course as a second-year medical student, Art Sesso, DO, director of PCOM's surgery residency program, devised a study to determine if "first-person videos" of medical procedures are more beneficial for learning when compared to still-shot videos. Initial survey responses by students have showed encouraging reviews for first-person video. The project is being extended to include the class of 2020.

Where did you conduct this research?
Laboratory testing for safe acid's bactericidal properties was carried out by the Montana State University Center for Biofilm Engineering. Additional testing for efficacy in end-applications (sterilizing equipment, topical antimicrobial wash, etc.) is being carried out in partnership with companies interested in the technology, and there is also interest in expanding the scope of the research with PCOM.
What are your responsibilities in your current research project?
Benjamin Lam, DO, director, PCOM plastic and reconstructive surgery fellowship, brought me on to help publish the research, which he's been involved in for several years. My role entails synthesizing laboratory results into abstracts and journal articles. To date, I've written five abstracts and have presented our findings at two conferences. The American Society of Microbiology's Microbe 2017 Conference in New Orleans, LA was by far the most prestigious. I am currently drafting articles for submission to the journals Wounds and Plastic and Reconstructive Surgery. For each conference and journal, the focus of my submissions is tailored to a different audience. As a result, I've learned a great deal about topics not covered in the classroom. It has been fun and challenging to present our research in a way that professionals in different industries both understand and find intriguing.
What is the broader impact of your research?
SAT is incredibly exciting to me as it represents a vast improvement over products that are currently being used in medicine and other industries. It is generally understood that as sterilants become stronger, they become more toxic. In the case of SAT, the compound is able to reach the incredibly low pH of -0.5. However, SAT has passed Federal Drug Administration and Environmental Protection Agency testing that demonstrates the compound is non-toxic to human mucosa (skin, eyes, oral mucosa, etc.) and degrades into inert, inorganic compounds requiring no special disposal protocols. This means that SAT could possibly replace compounds currently in use that are not as safe to handle without special equipment. SAT has demonstrated the ability to destroy single species of bacteria within 30 seconds of contact and reduce biofilms by up to 4.8 logs in 30 minutes. If this type of agent can demonstrate these impressive results while also proving non-toxic to the operators, it's a win-win!

You May Also Like:


About Philadelphia College of Osteopathic Medicine
Founded in 1899, Philadelphia College of Osteopathic Medicine has trained thousands of highly competent, caring physicians, health practitioners and behavioral scientists who practice a "whole person" approach to care—treating people, not just symptoms. PCOM offers doctoral degrees in clinical psychology, osteopathic medicine, pharmacy, physical therapy and school psychology, and graduate degrees in biomedical sciences, forensic medicine, mental health counseling, organizational development and leadership, physician assistant studies, school psychology, and public health management and administration. Our students learn the importance of health promotion, research, education and service to the community. Through its community-based Healthcare Centers, PCOM provides care to medically underserved populations in inner city and rural locations. For more information, visit pcom.edu.
For more information, contact:
Orla Moloney
Public Relations and Marketing Specialist
Office: 215-871-6334 | Cell: 267-449-1360
Connect with PCOM