Pickron-Davis Begins PCOM Duties
May 2, 2017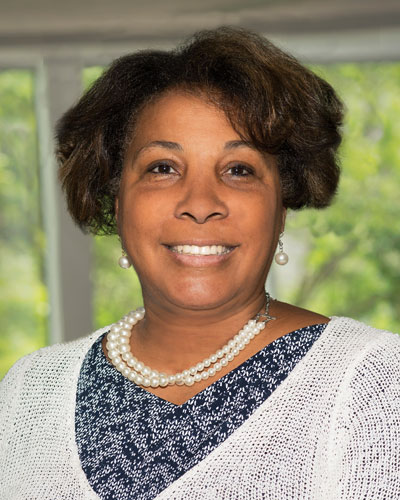 Marcine Pickron-Davis, PhD, began her duties as the College's new chief diversity and community relations officer on May 1.

---
Philadelphia College of Osteopathic Medicine (PCOM) has named Marcine Pickron-Davis, PhD, as the College's new chief diversity and community relations officer. She began her duties on May 1 and is charged with advancing diversity, inclusion and community partnerships for the Philadelphia and Georgia campuses.
Most recently, Dr. Pickron-Davis served as the inaugural chief community engagement and diversity officer at Widener University where she served as a strategic leader to advance the university's commitment to access, equity, diversity, and inclusion. During her tenure, she raised Widener's civic engagement profile among the national higher education community, implemented civic engagement initiatives resulting in sustainable partnerships between the university and the Chester community; and led the development of innovative programs and initiatives to promote a culture of inclusion. Dr. Pickron-Davis' accomplishments resulted in institutional and cultural change in policies and practices at Widener University.
Among her experiences in higher education, Dr. Pickron-Davis served on Middle States Accreditation Evaluation teams for several institutions and as a peer reviewer for the Journal of Higher Education Outreach and Engagement. She also has held faculty appointments in social work and education at Widener, University of Pennsylvania and Cabrini College, and has taught courses on multicultural education, intercultural communication, and community development.
Dr. Pickron-Davis has presented at local, national and international conferences and has published several articles and case studies. Her research and scholarship has focused on university-community partnerships, community-based research and anchor-based engagement.
"I look forward to working with President Feldstein and the members of the PCOM community to expand the college's footprint in the city of Philadelphia," said Dr. Pickron-Davis. "I am grateful for the opportunity to contribute to the School's vision to prepare practitioners who are prepared to be civic and culturally competent leaders."
A strong advocate for civic engagement, Dr. Pickron-Davis has served on numerous community boards, including the College Access Center of Delaware County, the Delaware County Habitat for Humanity, and the Delaware County Community Foundation.
She currently serves on the boards of the Darlington Community Arts Center, the Chester Charter School of the Arts, and the Coalition of Urban and Metropolitan Universities Editorial Board. She is a member of the National Association of Diversity Officers in Higher Education, the American Educational Research Association, and a trustee at Calvary United Methodist Church. She is also an active member of Alpha Kappa Alpha Sorority, Inc.
"Dr. Pickron-Davis brings with her more than two decades of successful higher educational and non-profit organizational experience," said Jay S. Feldstein, DO '81, president and CEO of PCOM. "I can think of no better choice to lead our diversity efforts, and ensure that we not only meet but surpass the diversity goals delineated in our institution's strategic vision, PCOM 2020."
Dr. Pickron-Davis received her bachelor's degree in individual and family studies from Penn State, her master's in social work administration from Temple University, and her doctorate in education from the University of Pennsylvania. She is a native of Philadelphia and currently resides with her family in Glen Mills, Pennsylvania.
You May Also Like:


About Philadelphia College of Osteopathic Medicine
Founded in 1899, Philadelphia College of Osteopathic Medicine has trained thousands of highly competent, caring physicians, health practitioners and behavioral scientists who practice a "whole person" approach to care—treating people, not just symptoms. PCOM offers doctoral degrees in clinical psychology, osteopathic medicine, pharmacy, physical therapy and school psychology, and graduate degrees in biomedical sciences, forensic medicine, mental health counseling, organizational development and leadership, physician assistant studies, school psychology, and public health management and administration. Our students learn the importance of health promotion, research, education and service to the community. Through its community-based Healthcare Centers, PCOM provides care to medically underserved populations in inner city and rural locations. For more information, visit pcom.edu.
For more information, contact:
Orla Moloney
Public Relations and Marketing Specialist
Office: 215-871-6334 | Cell: 267-449-1360
Connect with PCOM