PCOM Named a 'Diversity Champion'
May 13, 2016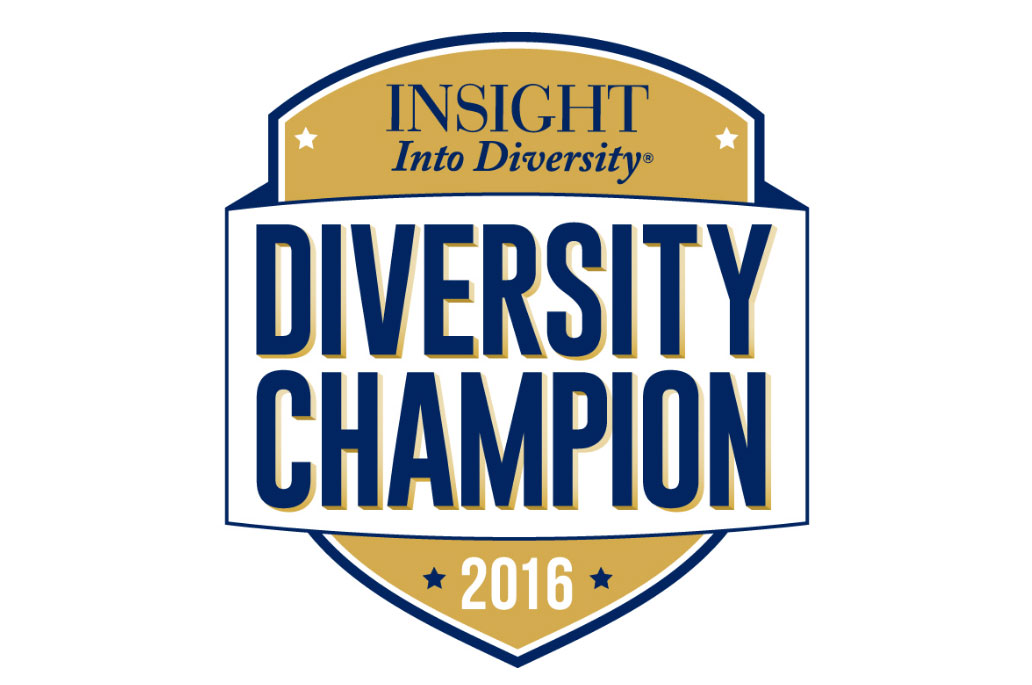 Selected institutions ranked in the top tier of the 92 Higher Education Excellence in Diversity (HEED) Award recipients of 2015.
---
INSIGHT Into Diversity magazine has recognized Philadelphia College of Osteopathic Medicine (PCOM) as one of eight Diversity Champion colleges and universities in the nation.
According to the publication, "Diversity Champions exemplify an unyielding commitment to diversity and inclusion throughout their campus communities, across academic programs, and at the highest administrative levels."
PCOM has made a commitment to cultivating a diverse and inclusive environment through myriad efforts on its Philadelphia and Suwanee, Georgia, campuses, such as: the creation of the President's Diversity Council, which makes recommendations to the president on matters of equity and diversity and provides strategic execution of the College's Diversity Plan; the implementation of PCOM Safe spaces on campus, which provide support to LGBTQIA students, faculty, staff, co-workers and managers; the creation of gender-neutral bathrooms and meditation/lactation areas; and the launch of a series of lectures and workshops designed to provide insight and understanding of multicultural issues to the entire PCOM community.
"We strive to create an environment at PCOM that is inquisitive and respectful, one that celebrates our unique differences and fosters appreciation of the rich social fabric that binds us together," said Lisa McBride, PhD, chief diversity officer. "The recognition of our institution as a champion of diversity serves as encouragement for all we have done, a guide for all we hope to accomplish in the future, and highlights the hard work and dedication of individuals across our campuses to make PCOM a truly inclusive environment for all."
Eight colleges and universities across the nation have received the Diversity Champion designation. Selected institutions ranked in the top tier of the 92 Higher Education Excellence in Diversity (HEED) Award recipients of 2015. The HEED Award is presented annually by INSIGHT Into Diversity to recognize colleges and universities that are dedicated to creating a diverse and inclusive campus environment. PCOM received the award for the first time in 2015 and is currently the only osteopathic institution to win the award.
"PCOM is a visionary leader among campus communities striving for diversity and inclusion," said Lenore Pearlstein, publisher of INSIGHT Into Diversity. "As a Diversity Champion school, PCOM exceeds everyday expectations, often eclipsing even its own goals, and develops successful strategies that serve as models of excellence for other higher education institutions."
For more information about PCOM's commitment to diversity, visit the Office of Diversity and Compliance page.

About INSIGHT Into Diversity
INSIGHT Into Diversity magazine is the largest and oldest diversity and inclusion publication in higher education today and is known for its annual INSIGHT Into Diversity Higher Education Excellence in Diversity (HEED) Award, the only award that recognizes colleges and universities for outstanding diversity and inclusion efforts across their campuses. INSIGHT Into Diversity magazine presents timely, thought-provoking news and feature stories on matters of diversity and inclusion in higher education and beyond. Articles include interviews with innovators and experts, as well as explorations of best practices and profiles of exemplary programs. In our Career Center, readers will also discover career opportunities that connect job seekers with institutions and businesses that embrace a diverse and inclusive workforce. Current, archived, and digital issues of INSIGHT Into Diversity magazine are available online at insightintodiversity.com.
About Philadelphia College of Osteopathic Medicine
Founded in 1899, Philadelphia College of Osteopathic Medicine has trained thousands of highly competent, caring physicians, health practitioners and behavioral scientists who practice a "whole person" approach to care—treating people, not just symptoms. PCOM offers doctoral degrees in clinical psychology, osteopathic medicine, pharmacy, physical therapy and school psychology, and graduate degrees in biomedical sciences, forensic medicine, mental health counseling, organizational development and leadership, physician assistant studies, school psychology, and public health management and administration. Our students learn the importance of health promotion, research, education and service to the community. Through its community-based Healthcare Centers, PCOM provides care to medically underserved populations in inner city and rural locations. For more information, visit pcom.edu.
For more information, contact:
Orla Moloney
Public Relations and Marketing Specialist
Office: 215-871-6334 | Cell: 267-449-1360
Connect with PCOM