PCOM Receives National Honor for Excellence in Diversity
September 15, 2015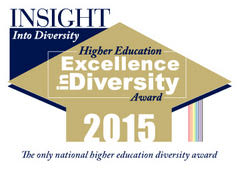 Philadelphia College of Osteopathic Medicine (PCOM) received the 2015 Higher Education Excellence in Diversity (HEED) Award from INSIGHT Into Diversity magazine, the oldest and largest diversity-focused publication in higher education. As a recipient of the annual HEED Award—a national honor recognizing U.S. colleges and universities that demonstrate an outstanding commitment to diversity and inclusion—PCOM will be featured, along with 91 other recipients, in the November 2015 issue of INSIGHT Into Diversity magazine. This is the first time PCOM has been named as a HEED Award recipient—an honor that has never been bestowed upon an osteopathic medical school.
"Diversity is a core value at PCOM," said Jay S. Feldstein, DO, president and CEO. "As a post-graduate institution that trains osteopathic physicians and health care professionals, our students need to reflect the patients and the families they will care for and serve. Our goal is to integrate diversity into the fabric of our soul. It starts with our Board of Trustees, our leadership team, our faculty, our employees and our student population."
"As an institution, we work from the paradigm that academic excellence and diversity are inextricably linked," said Lisa McBride, PhD, chief diversity officer. "This recognition by INSIGHT Into Diversity is a manifestation of the commitment PCOM has to creating a learning and working environment that is nurturing and beneficial to all members of our campus community."
INSIGHT Into Diversity magazine selected PCOM for its commitment to diversity and inclusion in every aspect of the College, from its recruitment efforts, to its academic offerings, to the physical space on its Philadelphia and Georgia campuses. Much of this activity has stemmed from the formation of the President's Diversity Council, a group of individuals from both campuses who make recommendations to Dr. Feldstein on matters of equity and diversity, and provide strategic execution of the College's Diversity Plan.
"The HEED Award process consists of a comprehensive and rigorous application that includes questions relating to the recruitment and retention of students and employees—and best practices for both—continued leadership support for diversity, and other aspects of campus diversity and inclusion. We take a holistic approach to reviewing each application in deciding who will be named a HEED Award recipient. Our standards are high, and we look for institutions where diversity and inclusion are woven into the work being accomplished every day across a campus," said Lenore Pearlstein, publisher of INSIGHT Into Diversity magazine.
For more information about the 2015 HEED Award, visit www.insightintodiversity.com.
About Philadelphia College of Osteopathic Medicine
Founded in 1899, Philadelphia College of Osteopathic Medicine has trained thousands of highly competent, caring physicians, health practitioners and behavioral scientists who practice a "whole person" approach to care—treating people, not just symptoms. PCOM offers doctoral degrees in clinical psychology, osteopathic medicine, pharmacy, physical therapy and school psychology, and graduate degrees in biomedical sciences, forensic medicine, mental health counseling, organizational development and leadership, physician assistant studies, school psychology, and public health management and administration. Our students learn the importance of health promotion, research, education and service to the community. Through its community-based Healthcare Centers, PCOM provides care to medically underserved populations in inner city and rural locations. For more information, visit pcom.edu.
For more information, contact:
Orla Moloney
Public Relations and Marketing Specialist
Office: 215-871-6334 | Cell: 267-449-1360
Connect with PCOM