PCOM to Hold First Wellness Fest
August 20, 2018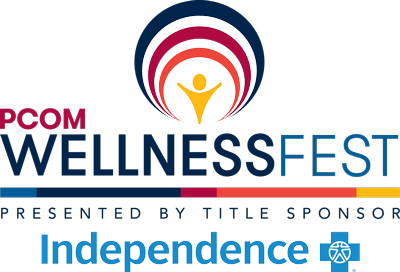 The communitywide event will feature free food, free activities and free health screenings.
---
Philadelphia College of Osteopathic Medicine (PCOM) will hold its first Wellness Fest, title sponsored by Independence Blue Cross, on Saturday, September 22 from 10 a.m. to 3 p.m. on the College's City Avenue campus. The event will feature health screenings and fitness classes, cooking demonstrations, live entertainment and local food trucks. Free parking will be available.
The event will also feature a Kids' Zone with several activities for children, including a Mobile Teaching Kitchen courtesy of Vetri Family Partnerships, and the Philadelphia Free Library's Book Bike and story time.
The entire event is free, but registration is strongly encouraged.
"PCOM Wellness Fest provides the perfect opportunity for us to share the osteopathic philosophy of whole-person health with our community," said Jay S. Feldstein, DO '81, president and CEO. "We want the entire family to come have fun, learn about living a healthy lifestyle, and then apply that knowledge in their daily lives."
Proceeds raised from Wellness Fest sponsors will benefit PCOM Healthcare Centers, which provide care to underserved populations in Philadelphia and rural Pennsylvania and serve as training sites for the College's doctor of osteopathic medicine and psychology students.
Additional sponsors of PCOM Wellness Fest include Blank Rome, LLP; Cozen O'Connor; the National Network of Libraries of Medicine; MassMutual Greater Philadelphia; MKM Foundation; Office Depot; Elliott-Lewis Corp. and PNC Bank.

You May Also Like:
About Philadelphia College of Osteopathic Medicine
Founded in 1899, Philadelphia College of Osteopathic Medicine has trained thousands of highly competent, caring physicians, health practitioners and behavioral scientists who practice a "whole person" approach to care—treating people, not just symptoms. PCOM offers doctoral degrees in clinical psychology, osteopathic medicine, pharmacy, physical therapy and school psychology, and graduate degrees in biomedical sciences, forensic medicine, mental health counseling, organizational development and leadership, physician assistant studies, school psychology, and public health management and administration. Our students learn the importance of health promotion, research, education and service to the community. Through its community-based Healthcare Centers, PCOM provides care to medically underserved populations in inner city and rural locations. For more information, visit pcom.edu.
For more information, contact:
Orla Moloney
Public Relations and Marketing Specialist
Office: 215-871-6334 | Cell: 267-449-1360
Connect with PCOM