PCOM Hosts High Schoolers Interested in Medicine
April 13, 2015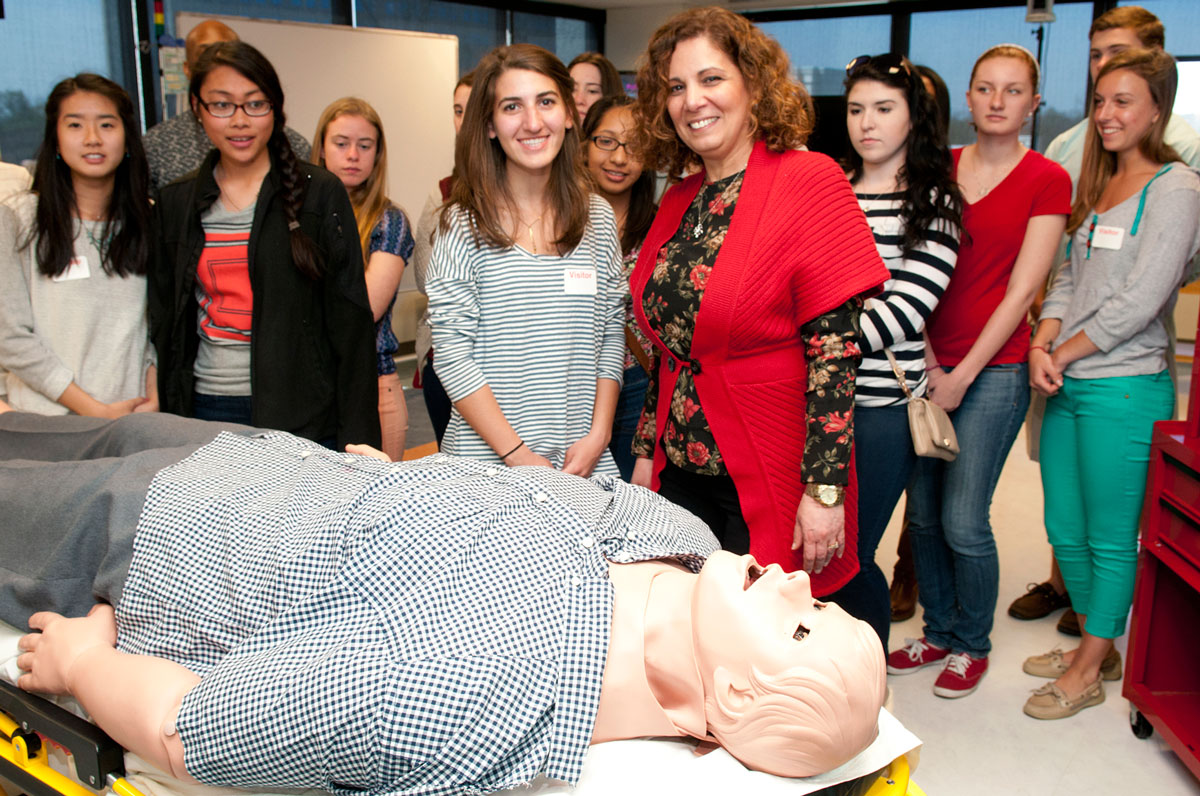 About 80 students from Moorestown High School in New Jersey toured PCOM's anatomy laboratories and clinical learning and assessment center.
---
High school students with an interest in anatomy rarely get the opportunity to tour a medical school's anatomy laboratories, or explore the high-tech equipment used by many doctors to help them treat patients. But thanks to an existing relationship between Farzaneh Daghigh, PhD, professor, bio-medical sciences, and Erin Todd, an anatomy teacher at Moorestown High School in New Jersey, a group of that school's juniors and seniors had the opportunity to do just that.
About 80 students arrived at PCOM the morning of April 13, and were split into two groups. The first group had the opportunity to tour the Saltzburg Clinical Learning and Assessment Center (CLAC) and explore the cutting-edge surgical equipment there, while the second group toured the Anatomy Laboratory and inspected plastinated specimens. After lunch and a brief presentation by the Office of Admissions, the groups switched places.
"Many high school students interested in anatomy never have the opportunity to be exposed to this type of environment," Dr. Daghigh explains. "This gives them that opportunity, and also will hopefully spark an interest in a career in medicine."
This is the second year a group from Moorestown High School has visited the College. Last year, after Dr. Daghigh spoke during a Back-to-School Night at the high school (her son was a student there), she and Mrs. Todd discussed the idea of inviting the students to PCOM for a unique learning experience.
"The kids had a great time," says Mrs. Todd. "They got exposure to an environment that they wouldn't normally see until College, and we felt it was a neat way to encourage them."
This year's cohort of students grew significantly from last year, largely due to word of mouth from students who attended last year. Dr. Daghigh noted her appreciation for Michael McGuiness, PhD, professor, bio-medical sciences; Marina D'Angelo, PhD, professor, bio-medical sciences; and those involved at the CLAC, for their assistance with the visit. "We're happy to have the students, and we hope that this relationship continues on a long-term basis," says Dr. Daghigh.
About Philadelphia College of Osteopathic Medicine
Founded in 1899, Philadelphia College of Osteopathic Medicine has trained thousands of highly competent, caring physicians, health practitioners and behavioral scientists who practice a "whole person" approach to care—treating people, not just symptoms. PCOM offers doctoral degrees in clinical psychology, osteopathic medicine, pharmacy, physical therapy and school psychology, and graduate degrees in biomedical sciences, forensic medicine, mental health counseling, organizational development and leadership, physician assistant studies, school psychology, and public health management and administration. Our students learn the importance of health promotion, research, education and service to the community. Through its community-based Healthcare Centers, PCOM provides care to medically underserved populations in inner city and rural locations. For more information, visit pcom.edu.
For more information, contact:
Orla Moloney
Public Relations and Marketing Specialist
Office: 215-871-6334 | Cell: 267-449-1360
Connect with PCOM