PCOM Opportunities Academy Graduates Inaugural Class
August 17, 2016
The inaugural class of PCOM Opportunities Academy recently completed their five-week session and celebrated during a graduation ceremony, where they received symbolic white coats to mark their start on the path towards becoming health practitioners and researchers.
"We are really excited that a lot of our [Academy] students have opened their eyes up to the healthcare occupations, and know what they want to do with their future," said Dr. Lisa McBride, PhD, chief diversity officer at PCOM. "That's largely because of our staff, faculty and students who served as instructors, and got them energized about the five great diseases."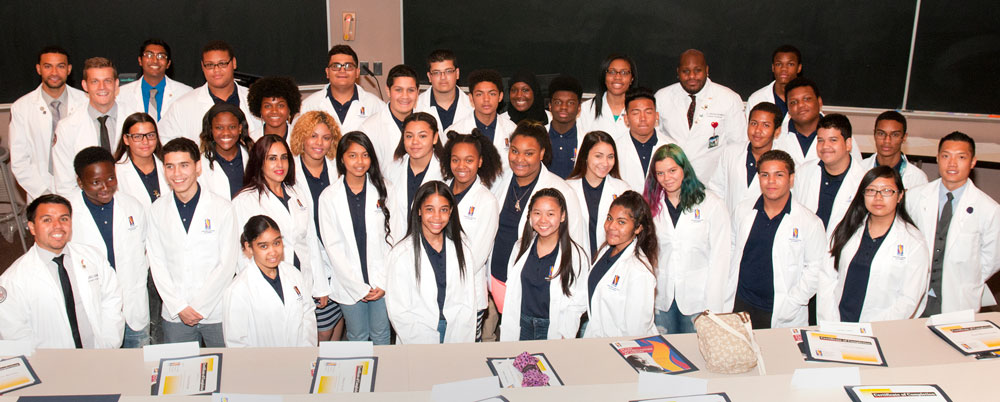 This summer, 33 students participated in the Academy, the purpose of which is to help raise interest in science, technology, engineering, and math—plus medicine (STEM+M).
---
Over the course of the summer, the 33 students studied those diseases—cancer, infectious disease, diabetes, cardiovascular disease and neurological disease—through lectures, demonstrations and field trips to some of Philadelphia's most prestigious scientific institutions. Students also had the opportunity to learn from a diverse group of leaders in the health care field—most notably, Antonia Novello, MD, the first Latina US surgeon general, who spoke at the graduation ceremony.
"You've been given a tremendous opportunity," she told the Academy students. "Please don't squander it."
PCOM and its partners—ASPIRA Schools of Pennsylvania, Inc. and Esperanza, Inc.—will now track students' performance and continued interest in science, technology, math and medicine (STEM+M) as they move through high school and into undergraduate education, and how the Academy will influence its partner institutions' curricula and teaching methods.
You May Also Like:


About Philadelphia College of Osteopathic Medicine
Founded in 1899, Philadelphia College of Osteopathic Medicine has trained thousands of highly competent, caring physicians, health practitioners and behavioral scientists who practice a "whole person" approach to care—treating people, not just symptoms. PCOM offers doctoral degrees in clinical psychology, osteopathic medicine, pharmacy, physical therapy and school psychology, and graduate degrees in biomedical sciences, forensic medicine, mental health counseling, organizational development and leadership, physician assistant studies, school psychology, and public health management and administration. Our students learn the importance of health promotion, research, education and service to the community. Through its community-based Healthcare Centers, PCOM provides care to medically underserved populations in inner city and rural locations. For more information, visit pcom.edu.
For more information, contact:
Orla Moloney
Public Relations and Marketing Specialist
Office: 215-871-6334 | Cell: 267-449-1360
Connect with PCOM