Bayhealth Partnership Expands Clinical Education in Delaware
April 17, 2019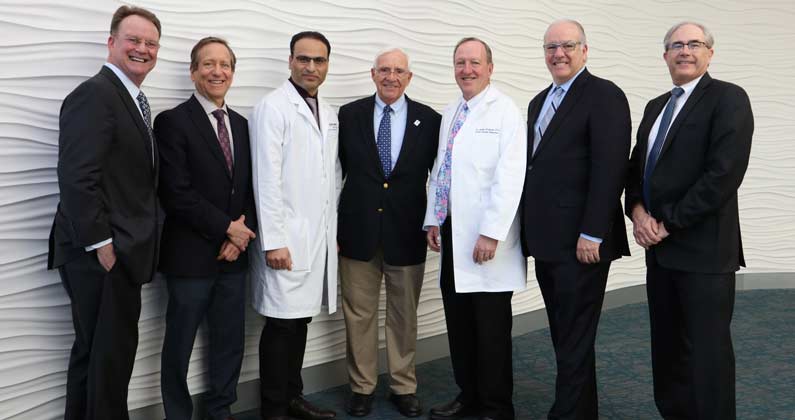 PCOM's latest Core Clinical Campus provides a new location for third-year medical students to develop their healthcare skills.
---
Beginning July 1, a cohort of 11 doctor of osteopathic medicine (DO) students from Philadelphia College of Osteopathic Medicine (PCOM)—8 from the Philadelphia campus and 3 from the Suwanee, Georgia campus—will spend their third year of medical school developing their clinical skills either at Bayhealth Hospital, Kent Campus in Dover, Delaware or Bayhealth Hospital, Sussex Campus, in Milford, Delaware.
With this new cohort, Bayhealth becomes PCOM's latest Core Clinical Campus (CCC). The Philadelphia campus partners with 13 hospitals and health systems in Pennsylvania, New Jersey and Delaware on its CCC initiative, which ensures third-year medical students can perform all of their clerkship rotations at one site.
Upon graduating medical school, PCOM students may later apply for one of Bayhealth's new residency programs, which the health system announced in March. PCOM is also partnering with Bayhealth on this endeavor. The residency programs for family medicine and internal medicine have a proposed start date of July 2021, with general surgery and emergency medicine to follow in the coming years.
The partnership comes at a time of need in the state of Delaware, particularly in its central and southern counties; a study published in January by the University of Delaware and the state's Department of Health and Social Services found a 6 percent decline in the number of primary care doctors providing direct patient care in that state. At the time, health officials noted that the decline, coupled with the state's aging population, could exacerbate the issue.
"Delaware has a growing population of those 55 and older, and that requires a growing physician workforce to meet those needs," said Michael Becker, DO '87, assistant dean of clerkship education. "We're working with Bayhealth to bring more physicians to an area that is in great need, to improve access to, and quality of, patient care."
"Residency programs create the opportunity to provide more physicians to serve the community. Once the physicians have completed their residencies, there is a higher chance they will stay in the community where they trained, resulting in greater physician retention," said Bayhealth President and CEO Terry Murphy. "Developing the next generation of physicians to serve our communities is a priority for Bayhealth."
Bayhealth will be PCOM's second CCC in Delaware. The first, Christiana Care Health System, was established in July 2018. PCOM also partners with the Delaware Institute of Medical Education and Research (DIMER) program, through which the College reserves slots each academic year for applicants from Delaware.
"PCOM's mission is to advance knowledge and intellectual growth through teaching and research, and is committed to the well-being of the communities in which our students and physicians serve," said PCOM President and CEO Jay S. Feldstein, DO '81. "We're proud to work with Bayhealth to turn out a physician workforce that can help meet the growing healthcare needs of Delawareans."

You May Also Like:


About Philadelphia College of Osteopathic Medicine
Founded in 1899, Philadelphia College of Osteopathic Medicine has trained thousands of highly competent, caring physicians, health practitioners and behavioral scientists who practice a "whole person" approach to care—treating people, not just symptoms. PCOM offers doctoral degrees in clinical psychology, osteopathic medicine, pharmacy, physical therapy and school psychology, and graduate degrees in biomedical sciences, forensic medicine, mental health counseling, organizational development and leadership, physician assistant studies, school psychology, and public health management and administration. Our students learn the importance of health promotion, research, education and service to the community. Through its community-based Healthcare Centers, PCOM provides care to medically underserved populations in inner city and rural locations. For more information, visit pcom.edu.
For more information, contact:
Orla Moloney
Public Relations and Marketing Specialist
Office: 215-871-6334 | Cell: 267-449-1360
Connect with PCOM