Surgery Residency Receives ACGME Continued Accreditation
October 12, 2018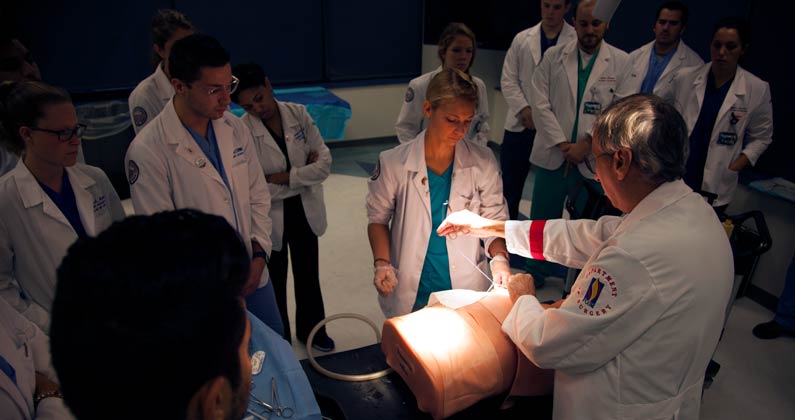 The PCOM program is the first osteopathic general surgery residency in the country to gain this accreditation status.
---
Philadelphia College of Osteopathic Medicine's (PCOM) General Surgery Residency program, led by Arthur Sesso, DO, professor and chair, surgery, recently received continued accreditation status from the Accreditation Council for Graduate Medical Education (ACGME), which is in effect for the next 10 years. The program is the first osteopathic general surgery residency in the country to reach this status. Many allopathic surgery residencies have yet to receive the full, 10-year accreditation, said Dr. Sesso.
"What I'm most proud of is that now our residents can sit for their exams with the American Board of Surgery, which until recently has only been open to allopathic physicians," said Dr. Sesso. "This means that our residents now have the opportunity to advance to the highest levels of the profession."
Last summer, four PCOM surgery residents were the first to sit for the American Board of Surgery exam, and all passed.
"This accreditation demonstrates to our students and our residents that our own, self-imposed standards meet or exceed those in any other program," said Dr. Sesso. "That our abilities are every bit as good as anyone else's."
In 2015, the General Surgery residency program was the first DO residency to achieve initial accreditation status. Since then, seven of PCOM's residency programs have applied for or have received pre- or initial accreditation status. PCOM's Family Medicine Residency program also received continued accreditation status earlier this year.
As part of the move toward a single graduate medical education (GME) accreditation system, GME programs at all osteopathic medical schools must achieve initial ACGME accreditation by June 30, 2020, after which the American Osteopathic Association (AOA) will cease to provide accreditation. Once pre-accreditation status is achieved, each program will have until 2020 to modify their training to meet the ACGME's requirements for full accreditation.
Since receiving initial accreditation for his program, Dr. Sesso has consulted for the AOA to help roughly 50 DO residency programs in various specialties all over the country achieve initial accreditation from the ACGME. "We've been very successful so far," he said.
PCOM's General Surgery Residency offers a strong academic and hands-on program with the assets of a large medical school and provides a unique learning experience for its residents, who are able to perform at least 200 major surgeries each year and have the opportunity to train at world-class locations. Residents are also provided access to fellowships in areas such as plastics, cardiothoracic and trauma surgeries, and about 95 percent of PCOM's residents will complete fellowship training.

You May Also Like:


About Philadelphia College of Osteopathic Medicine
Founded in 1899, Philadelphia College of Osteopathic Medicine has trained thousands of highly competent, caring physicians, health practitioners and behavioral scientists who practice a "whole person" approach to care—treating people, not just symptoms. PCOM offers doctoral degrees in clinical psychology, osteopathic medicine, pharmacy, physical therapy and school psychology, and graduate degrees in biomedical sciences, forensic medicine, mental health counseling, organizational development and leadership, physician assistant studies, school psychology, and public health management and administration. Our students learn the importance of health promotion, research, education and service to the community. Through its community-based Healthcare Centers, PCOM provides care to medically underserved populations in inner city and rural locations. For more information, visit pcom.edu.
For more information, contact:
Orla Moloney
Public Relations and Marketing Specialist
Office: 215-871-6334 | Cell: 267-449-1360
Connect with PCOM