Weight-Loss Surgery May Mean Fewer Pregnancy Risks
November 14, 2016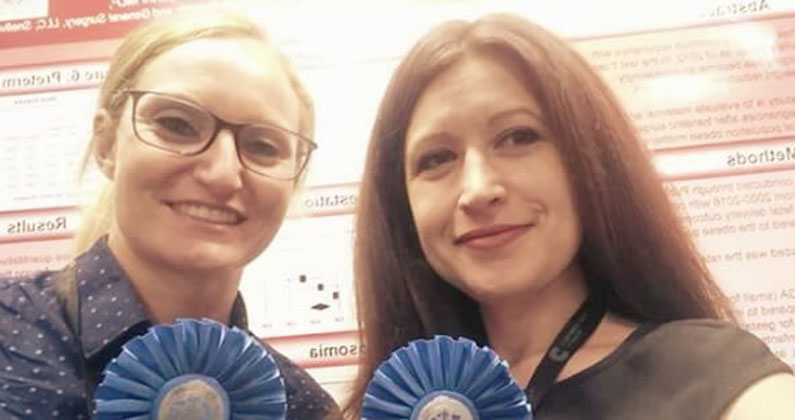 Samantha Drew (left) and Brittanie Young were awarded "Poster of Exceptional Merit" in the General Surgery
Education category at the ACS Clinical Congress in Washington, DC.
---
Bariatric or weight-loss surgery prior to conception may lead to less risk for both mother and child than conception while morbidly obese, according to a recent study co-authored by students at Georgia Campus – Philadelphia College of Osteopathic Medicine.
Samantha Drew and Brittanie Young – both fourth-year osteopathic medical students – conducted the research under the mentorship of Aliu Sanni, MD. The study's senior author, Dr. Sanni is the medical director of the department of metabolic and bariatric surgery at Eastside Medical Center in Snellville, Georgia.
The student doctors met Dr. Sanni while participating in their third-year surgical rotations at Georgia SurgiCare. After expressing interest in researching bariatric surgery and perinatal outcomes, Dr. Sanni agreed to mentor them. Drew and Young later earned $1,000 from PCOM's Albert D'Alonzo Memorial Student Fund, which supports unique and academic student activities through individual grants, to aid their research.
"We know that the prevalence of obesity in women is increasing, so we wanted to know more about the impact of bariatric surgery on pregnancy, the mother and the baby," Drew said.
During the study, Drew and Young evaluated maternal and fetal outcomes in pregnancies after women underwent bariatric operations in comparison with pregnancies in obese women who did not have bariatric procedures.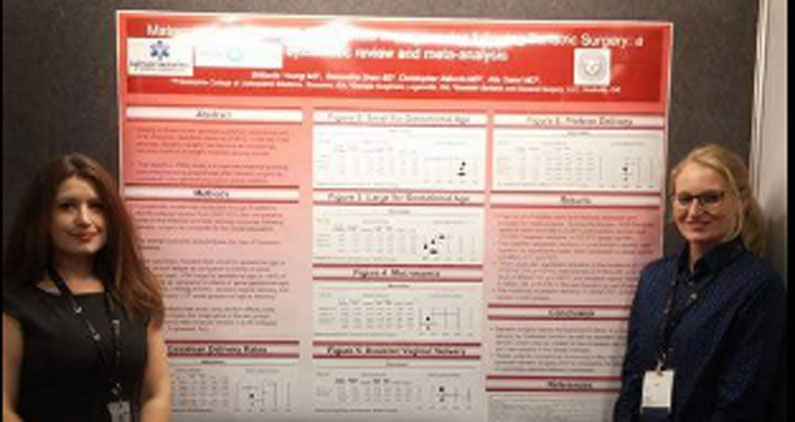 Brittanie Young (left) and Samantha Drew were selected out of 1,500 submissions to display their
research poster project at the American College of Surgeons (ACS) Clinical Congress.
---
"Our research included women that were at least 18 months post-bariatric surgery, which is the general recommendation," Young said.
Compared to pregnancies in morbidly obese women who did not have bariatric surgery, research found that the rate of caesarian section (C-section) deliveries was lower for mothers who had undergone bariatric operations prior to conception.
The researchers also discovered a decreased rate of newborns who are larger than average regardless of gestational age, with gestational age taken into account, and with assisted vaginal deliveries. The reduced likelihood of giving birth to large babies also reduces the likeliness that the mother will deliver via C-section, explained Brittanie Young.
The student doctors submitted their abstract entitled, "Maternal and Perinatal Outcomes following Bariatric Surgery: A Systematic Review and Meta-Analysis" to the American College of Surgeons (ACS) Clinical Congress and were selected out of 1,500 submissions to have a poster displayed at the conference.
The Clinical Congress is a scientific and educational meeting designed to keep ACS Members and interested non-Fellow physicians informed of the current status of the art and science of surgery. This year's Clinical Congress was held October 16 – 20, 2016, in Washington, DC. Drew and Young presented their research posters to conference attendees and gave an oral presentation to a panel of judges. They were awarded "Poster of Exceptional Merit" in the General Surgery Education category and were the only medical students (among residents) to place in the top ten overall posters.
These outcomes have the potential to impact clinical practice, Young says. "Women who are morbidly obese and considering pregnancy can use this information to make more informed decisions about their health and the health of their child."
You May Also Like:


About PCOM Georgia
Established in 2005, PCOM Georgia is a private, not-for-profit, accredited institute of higher education dedicated to the healthcare professions. The Suwanee, Georgia, campus is affiliated with Philadelphia College of Osteopathic Medicine which has a storied history as a premier osteopathic medical school. PCOM Georgia offers the doctor of osteopathic medicine degree, the doctor of pharmacy degree, the doctor of physical therapy degree, as well as graduate degrees in biomedical sciences and physician assistant studies. Emphasizing "a whole person approach to care," PCOM Georgia focuses on educational excellence, interprofessional education and service to the wider community. The campus is also home to the Georgia Osteopathic Care Center, an osteopathic manipulative medicine clinic, which is open to the public by appointment. For more information, visit pcom.edu or call 678-225-7500.
For more information, contact:
Barbara Myers
Public Relations Manager
Email: BarbaraMy@pcom.edu
Office: 678-225-7532 | Cell: 770-309-0613
Connect with PCOM Georgia