Pharmacy Faculty Researcher Earns Award
April 26, 2016

A Philadelphia College of Osteopathic Medicine (PCOM) School of Pharmacy founding faculty member, Dr. Xinyu (Eric) Wang, was recently named one of 14 recipients of the 2016 American Association of Colleges of Pharmacy (AACP) New Investigator Awards.
The AACP New Investigator Awards provide start-up funding for faculty research programs; Dr. Wang was awarded $10,000 to support his research on multiple myeloma, a plasma cell cancer characterized by the accumulation of malignant cells in bone marrow. It is estimated that 20 percent of human death related to blood and bone marrow cancers are consequences of multiple myeloma, and the disease remains incurable due to drug resistance. Dr. Wang said, "I think that there is a great need to identify new therapeutic strategies that inhibit the progression of multiple myeloma disease without significant drug resistance and eventually increase quality of life and survival of multiple myeloma patients."
His focus, he explained, is on the discovery and development of such new therapeutic agents with the potential to treat multiple myeloma. "What I hope to accomplish is to identify potential drug candidates from natural sources with anti-myeloma effects and elucidate their mechanism of action," he said.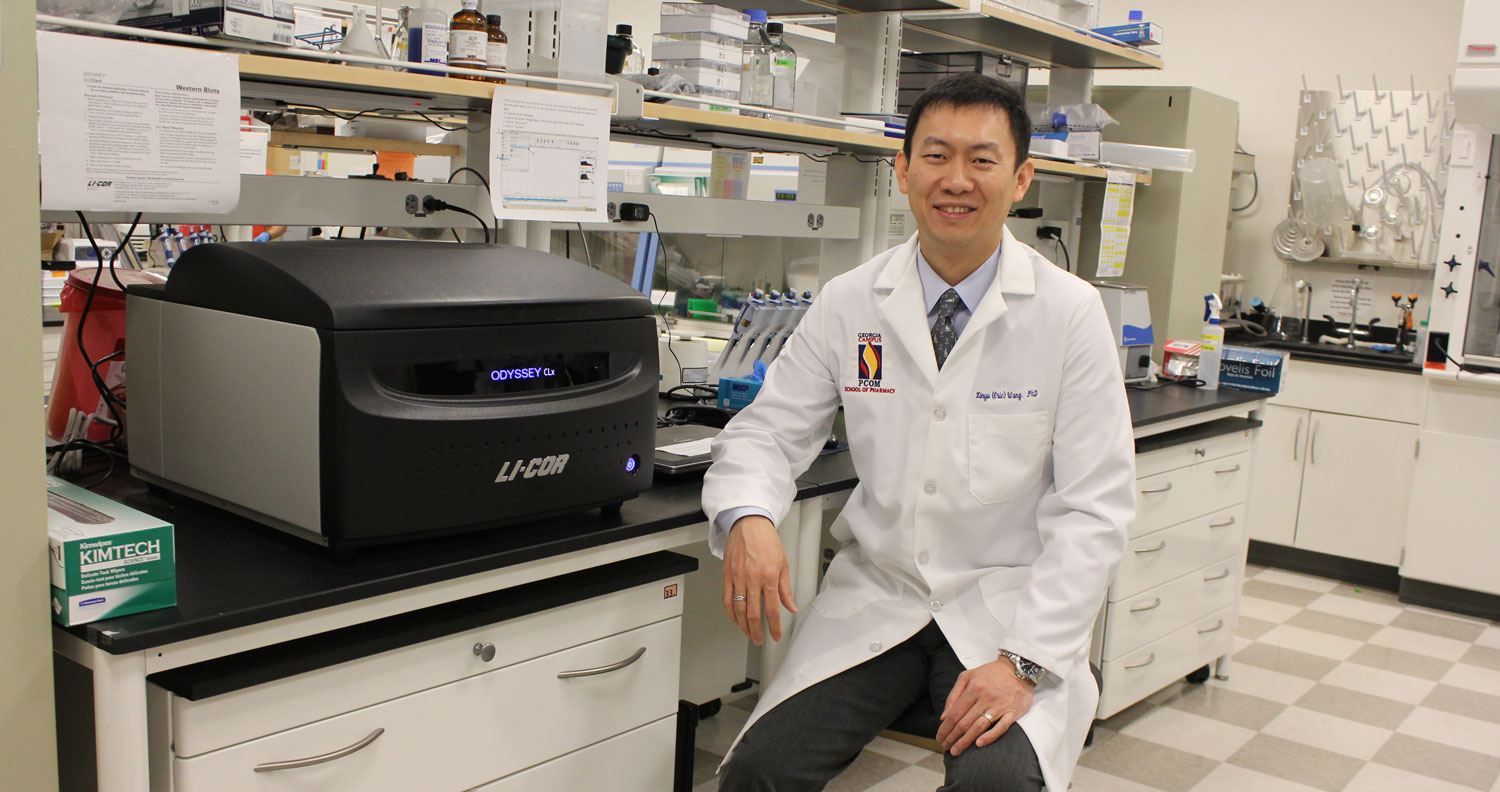 Dr. Xinyu (Eric) Wang was recently named a 2016 American Association of Colleges of Pharmacy (AACP) New Investigator Award recipient.
---
Nationwide, junior faculty members within five years of their assistant professor appointment at any School of Pharmacy are qualified to apply for the AACP New Investigator Award, making it a competitive process. Dr. Wang was pleased to receive the award and see his research recognized as grants can be difficult to obtain. "Funding opportunities are particularly limited at this time for a new school that has recently received accreditation," he said. "The award of funding for this project provides great support to my research endeavors and allows me to establish my own track record of research in this field."
Dr. Wang, who joined PCOM School of Pharmacy in 2010 as an assistant professor just before the start of the inaugural PharmD class, has witnessed and contributed to the development of the program and its achievement of full accreditation. He said, "As a founding faculty member at PCOM School of Pharmacy, I devoted myself to the development of an effective and rigorous curriculum and focused on student teaching and learning." His efforts in teaching are highly appreciated by PharmD students who chose him as Teacher of the Year in 2014. Dr. Wang has served on many college committees including curriculum, assessment, admissions, scholarship and awards, faculty search, academic appeal, diversity and ACPE self-study.
"Now that I have been with PCOM School of Pharmacy more than five years, I truly have learned and gained experience in academia. I am glad to see my efforts in both teaching and research are paying off. I highly appreciate the great support provided from both PCOM and our School of Pharmacy."
About PCOM Georgia
Established in 2005, PCOM Georgia is a private, not-for-profit, accredited institute of higher education dedicated to the healthcare professions. The Suwanee, Georgia, campus is affiliated with Philadelphia College of Osteopathic Medicine which has a storied history as a premier osteopathic medical school. PCOM Georgia offers the doctor of osteopathic medicine degree, the doctor of pharmacy degree, the doctor of physical therapy degree, as well as graduate degrees in biomedical sciences and physician assistant studies. Emphasizing "a whole person approach to care," PCOM Georgia focuses on educational excellence, interprofessional education and service to the wider community. The campus is also home to the Georgia Osteopathic Care Center, an osteopathic manipulative medicine clinic, which is open to the public by appointment. For more information, visit pcom.edu or call 678-225-7500.
For more information, contact:
Barbara Myers
Public Relations Manager
Email: BarbaraMy@pcom.edu
Office: 678-225-7532 | Cell: 770-309-0613
Connect with PCOM Georgia