Walters Named Welch Scholar Grant Recipient
August 31, 2017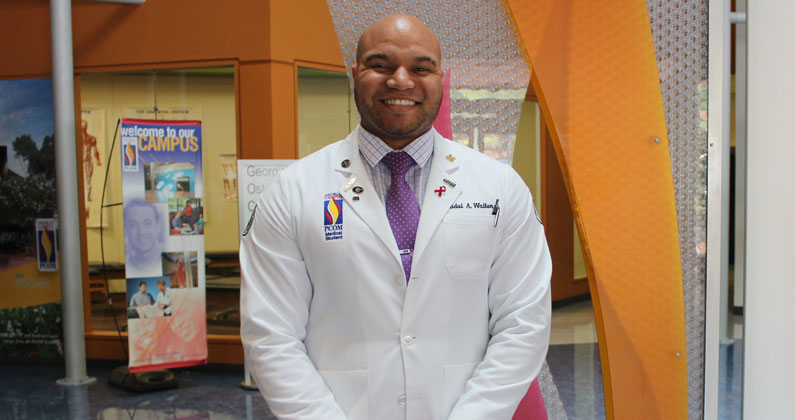 Abdul Walters (DO '20) was awarded the grant by the American Osteopathic Foundation (AOF) Board of Directors.
---
The DO Council president at Georgia Campus - Philadelphia College of Osteopathic Medicine (GA-PCOM), Abdul Walters (DO '20), was recently named one of this year's Welch Scholars Grant recipients. Awarded by the American Osteopathic Foundation (AOF) Board of Directors, the Welch Scholars Grant is given to students based on outstanding academic achievement, participation in extracurricular activities, strong commitment to osteopathic medicine and financial need. Only one student from each college of osteopathic medicine or branch campus is eligible to receive the $1,500 grant.
Walters, who earned his Master of Science in Biomedical Sciences at GA-PCOM before being accepted into the College's Doctor of Osteopathic Medicine (DO) program, has been highly involved in campus activities. He served as president of PCOM FIT for the 2016 -2017 term, recently volunteered as a camp counselor for Camp Neuro and the Opportunities Academy, served as a peer facilitator for the College's Summer Bridge COMLEX review course, and, as DO Council president, represented GA-PCOM at the AOA House of Delegates in Chicago.
"I was completely overwhelmed by the nomination to receive this scholarship. For three years now, it's been a tremendous honor to represent our school, our programs and my classmates at every turn," he said, "The road to med school was tough, and our obstacles now are even more demanding, so this scholarship will certainly help relieve some of the financial burden."
Established in 2001, the Welch Scholars Grant provides monetary support to help defray costs during a student's osteopathic medical education. In October 2002, the grant was renamed the Welch Scholars Grant in honor of Sterling Welch, DO, for his outstanding generosity to the AOF and his desire to support osteopathic medical students.


You May Also Like:


About PCOM Georgia
Established in 2005, PCOM Georgia is a private, not-for-profit, accredited institute of higher education dedicated to the healthcare professions. The Suwanee, Georgia, campus is affiliated with Philadelphia College of Osteopathic Medicine which has a storied history as a premier osteopathic medical school. PCOM Georgia offers the doctor of osteopathic medicine degree, the doctor of pharmacy degree, the doctor of physical therapy degree, as well as graduate degrees in biomedical sciences and physician assistant studies. Emphasizing "a whole person approach to care," PCOM Georgia focuses on educational excellence, interprofessional education and service to the wider community. The campus is also home to the Georgia Osteopathic Care Center, an osteopathic manipulative medicine clinic, which is open to the public by appointment. For more information, visit pcom.edu or call 678-225-7500.
For more information, contact:
Barbara Myers
Public Relations Manager
Email: BarbaraMy@pcom.edu
Office: 678-225-7532 | Cell: 770-309-0613
Connect with PCOM Georgia