Student Research Spotlight

Irandokht Khaki Najafabadi (PharmD '18)
November 28, 2017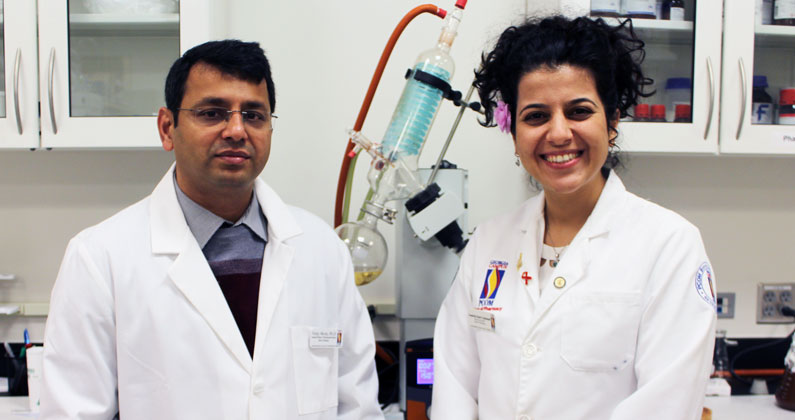 Irandokht Khaki Najafabadi (PharmD '18) has worked on various research projects with Vicky Mody, PhD.
---
Irandokht Khaki Najafabadi (PharmD '18) is currently a fourth-year student in the PCOM School of Pharmacy at Georgia Campus – Philadelphia College of Osteopathic Medicine (GA-PCOM). She graduated with a bachelor's degree in biology and a master's degree in developmental biology from the University of Tehran in Iran. She hopes to become a faculty member after completing her PharmD degree and a residency program.
What did you study?
I worked under the mentorship of Vicky Mody, PhD, associate professor of pharmaceutical sciences, on various research projects including the development of a system to deliver xanthohumol to adipose tissues, and evaluating the compatibility of norepinephrine bitartrate with various antibiotics for simulated Y administration.
What prompted you to pursue research?
While I was pursuing my master's degree, I had an opportunity to work in various research projects with Dr. Bahman Zeynali in the basic science and pharmacy department. I enjoyed my time doing research and it gave me immense pleasure to learn various experimental procedures. Personally, I realized that I have a passion for research and I want to carry out research in the field of health care.
What experience do you have with conducting research?
Fortunately, I received excellent opportunities to be involved in different research projects. Some of the projects I have worked on previously include:
Synthesis of various metal (Mn2+, Co3+, Ni3+) doped and undoped iron oxide nanoparticles, Supervisor: Dr. Mody, 2016, PCOM.
In vitro and In vivo survey on the effect of Wnt-3a on osteogenic differentiation of unrestricted somatic stem cells (USSCs), Supervisor: Dr. Zeynali, 2011, University of Tehran.
Comparison survey for bone regeneration ability between active peptides derived from camel and bovine casein proteins in rat, supervisor: Dr. Zeynali, 2009, school of advanced medical technologies, Tehran University of Medical Sciences.


What were your responsibilities in the research project?
In my latest research project, I assisted in the:
Development of two different kinds of nanoparticles. We developed ultra-small superparamagnetic iron oxide nanoparticles (USPIO) and gold nanoparticles.
Development of amine functionalized ultra-small superparamagnetic iron oxide nanoparticles (USPIO-amine) and characterized by using ninhydrin assay
Development of xanthohumol (XN) loaded USPIO-amine
Evaluation of XN loading capacity of USPIO-amine by using HPLC and UV absorption spectroscopy.
Our main goal for this study was to synthesize these molecules, which will be selectively targeted onto the specific tissues. USPIO are easy to synthesize and provide an advantage in drug delivery where they can be used to target tissues due to their small size or via the use of tissue specific ligands. Additionally, USPIO can be directed to specific sites under the influence of an external magnetic field. Once these drug loaded magnetic nanoparticles are injected into a patient, an external magnet can be placed on the outside to attract drug loaded nanoparticles to the desired site to attain a site specific therapeutic effect.
I had the opportunity to prepare a poster and present our research at GA-PCOM's annual Research Day in May. Recently our abstract was accepted for the poster presentation at the ASHP Midyear Clinical Meeting & Exhibition to be held December 3-7, 2017.
What is the broader impact of your research?
Our work is still in progress. I really enjoyed developing nanoparticles. Nanotechnology has found application in the targeted delivery of various molecules such as small-molecule drugs, peptides, proteins and nucleic acids. The use of nanoparticles provides improved pharmacokinetics and pharmacodynamics as it can increase the loading capacity of drugs due to the increase in the surface area of small sized nanoparticles. I believe nanotechnology is the future of medicine and the magic bullet as envisioned by Dr. Richard Feynman in 1959. I feel fortunate to have had the opportunity to work under the mentorship of Dr. Mody during my time as a PharmD student at GA-PCOM.

You May Also Like:


About PCOM Georgia
Established in 2005, PCOM Georgia is a private, not-for-profit, accredited institute of higher education dedicated to the healthcare professions. The Suwanee, Georgia, campus is affiliated with Philadelphia College of Osteopathic Medicine which has a storied history as a premier osteopathic medical school. PCOM Georgia offers doctoral degrees in osteopathic medicine, pharmacy, and physical therapy and graduate degrees in biomedical sciences and physician assistant studies. Emphasizing "a whole person approach to care," PCOM Georgia focuses on educational excellence, interprofessional education and service to the wider community. The campus is also home to the Georgia Osteopathic Care Center, an osteopathic manipulative medicine clinic, which is open to the public by appointment. For more information, visit pcom.edu or call 678-225-7500.
For more information, contact:
Barbara Myers
Public Relations Manager
Email: BarbaraMy@pcom.edu
Office: 678-225-7532 | Cell: 770-309-0613
Connect with PCOM Georgia