Student Research Spotlight

Jade McLain (DO '22)
January 3, 2019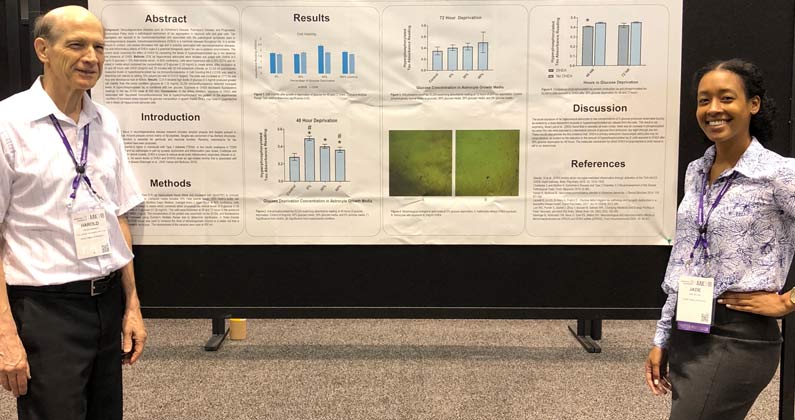 McLain recently earned a biomedical sciences degree from GA-PCOM and presented her neuroscience research at the Alzheimer's Association International Conference.
---
Jade McLain (DO '22) grew up in Coral Springs, Florida. She graduated from Florida State University in 2014 with a major in Psychology and a minor in Chemistry. She recently completed a master's degree in biomedical sciences from Georgia Campus – Philadelphia College of Osteopathic Medicine (GA-PCOM) with a concentration in research focused on neuroscience. In July of 2018, she was offered the opportunity to present this work at the Alzheimer's Association International Conference in Chicago, Illinois. Jade is currently a first-year medical student at PCOM in Philadelphia. She is interested in pursuing a career in Neurology.
What are you studying?
I worked under Harold Komiskey, PhD, professor of neuroscience, physiology, and pharmacology to determine the effects of several experimental conditions on the accumulation of hyperphosphorylated tau protein in glial cells. Neurodegenerative diseases like Alzheimer's and Parkinson's disease share a pathology beginning with tau hyperphosphorylation and subsequent accumulation in neural tissues. Recent literature indicates that patients with diabetes are more likely to develop neurodegenerative diseases in older age, suggesting a correlation between glucose metabolism and neurodegenerative disease pathology. Also, as humans age, levels of an endogenous steroid hormone called dehydroepiandrosteronehormone (DHEA) decline, which might be associated with the onset of these pathological symptoms. Our work focused on determining if a correlation exists between glucose manipulation, DHEA administration and tau hyperphosphorylation by utilizing rat hippocampal astrocytes as an experimental model.
What prompted you to pursue research?
I was introduced to neurodegenerative disease at a young age. My grandmother was diagnosed with Progressive Supranuclear Palsy (PSP), and it affected my family drastically. She was such a vibrant person, and to witness a disease like this change everything about her was extremely difficult. We went from physician to physician, ultimately having to face the fact that there was no cure and the best we could do was keep her comfortable. She passed away within a year of her diagnosis, and I wanted to ensure that future families do not endure what we did. The physicians who cared for her inspired me to pursue medicine and use immense compassion and diligence in doing so. Her life and memory are what drew me towards neuroscience research with Dr. Komiskey.
What experience do you have conducting research?
Prior to this project, I had not previously participated in a research project. The master's program provided us with a research course the summer before we started our thesis projects. We learned about safety precautions in the lab, how to perform sterile procedures and how to perform common tasks like cell culture and maintenance. After the course, I was much more comfortable in the lab, though I still had much to learn regarding the care for our astrocytes!
What are your responsibilities in this research project?
I conducted the project, beginning with culturing the astrocytes which were treated with varying amounts of glucose media (DMEM) to induce a state of glucose deprivation in vitro. The steroid hormone DHEA was aliquoted and administered to each condition to determine what if any potential protective affects it had against the hyperphosphorylation of tau. Cell viability was determined via WST-8 assay, and hyperphosphorylated tau was measured via tau-ELISA. Using antibodies specific for hyperphosphorylated tau, fluorescent images were obtained via confocal microscopy with the aid of Danielle Warner-McGallagher (DO '20) to determine the localization of the tau protein and the accumulation of tau within the cells.
What is the broader impact of your research?
Neurodegenerative diseases can be elusive due to their nature of progression. No cure exists currently for many of these pathologies. Current literature supports that tau hyperphosphorylation followed by plaque formation occurs predominantly over other neurodegenerative disease pathologies. Though the first step of accumulation has been identified, several isoforms and accumulation patterns of tau exist, making it difficult to apply results to every condition. Our research specifically examines how glucose might affect hyperphosphorylation of tau and if DHEA decline contributes to that hyperphosphorylation. This has implications for patients with glucose metabolism dysfunction as well as patients suffering from DHEA decline. If future investigation reveals a distinct and straightforward mechanism of regulation of tau hyperphosphorylation, this would serve as a target for therapy and/or prevention of neural tissue deterioration and cognitive decline. Dr. Komiskey's lab is committed to investigating questions of similar nature within the realm of neuroscience research.

You May Also Like:


About PCOM Georgia
Established in 2005, PCOM Georgia is a private, not-for-profit, accredited institute of higher education dedicated to the healthcare professions. The Suwanee, Georgia, campus is affiliated with Philadelphia College of Osteopathic Medicine which has a storied history as a premier osteopathic medical school. PCOM Georgia offers the doctor of osteopathic medicine degree, the doctor of pharmacy degree, the doctor of physical therapy degree, as well as graduate degrees in biomedical sciences and physician assistant studies. Emphasizing "a whole person approach to care," PCOM Georgia focuses on educational excellence, interprofessional education and service to the wider community. The campus is also home to the Georgia Osteopathic Care Center, an osteopathic manipulative medicine clinic, which is open to the public by appointment. For more information, visit pcom.edu or call 678-225-7500.
For more information, contact:
Barbara Myers
Public Relations Manager
Email: BarbaraMy@pcom.edu
Office: 678-225-7532 | Cell: 770-309-0613
Connect with PCOM Georgia