Med School Signs Agreement With Intent to Establish SW Georgia Location
October 31, 2016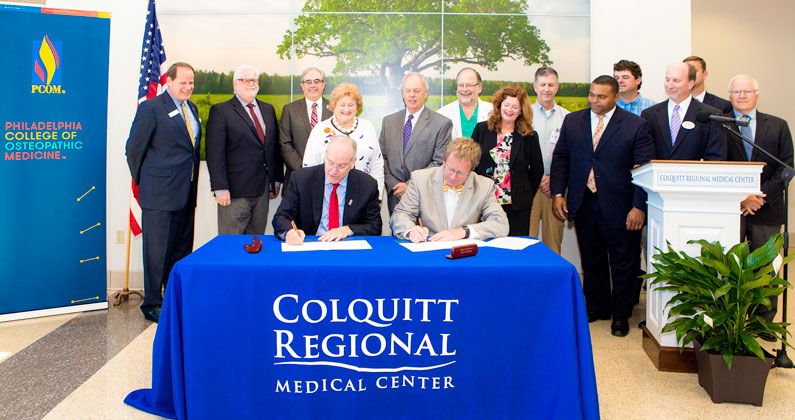 Jay Feldstein, DO, President and CEO of PCOM, is on the left. Jim Matney, President and CEO of Colquitt Regional Medical Center, is on the right. They are backed by PCOM officials, Colquitt Regional Hospital Authority members and a state representative.
---
By signing a memorandum of agreement, representatives from Colquitt Regional Medical Center in Moultrie, Georgia, and Philadelphia College of Osteopathic Medicine (PCOM) in Philadelphia, Pennsylvania, agreed to develop a feasibility plan and present it for approval to the Commission on Osteopathic College Accreditation (COCA) to develop an additional location in South Georgia.
"The positive impact this endeavor to establish a location in South Georgia will have on physician recruitment and workforce development will be substantial," said Colquitt Regional President and CEO Jim Matney. "Building a premier site for rural medical education has been a long-term goal for Colquitt Regional, and we are glad to partner with PCOM in bringing a campus to this region. I am pleased that our regional academic institutions are interested in enhancing the medical education pipeline. Valdosta State University, Abraham Baldwin Agricultural College, and Thomas University have offered support for a campus of PCOM."
Jay Feldstein, DO, President of PCOM, said, "We look forward to bringing our college's 117 years of experience in educating physicians and health sciences professionals to the South Georgia area. This memorandum of agreement, signifying our mutual respect and trust, begins the extensive process with our accrediting agency to make this possibility come true within the region. While much has been done to get us to the point of signing this agreement, we all recognize that much remains to be done. We enthusiastically look forward to a successful outcome for all."
H. William Craver III, DO, Dean and Chief Academic Officer of Georgia Campus – Philadelphia College of Osteopathic Medicine (GA-PCOM), said, "We are excited to enter into formal discussions and planning with Colquitt Regional Medical Center, as well as local and regional business, healthcare and education stakeholders to develop an additional location."
The new endeavor would help the college further fulfill its stated focus "to recruit and educate students from Georgia and the surrounding states, to retain graduate osteopathic physicians, pharmacists, biomedical scientists and other healthcare professionals, and to serve the health needs of the region," Craver said.
PCOM, founded in 1899 in Philadelphia, is a private, not-for-profit, multi-program institution, focused on health sciences education. Eleven years ago, the college established a branch campus in Suwanee, Georgia, just north of Atlanta. Known as GA-PCOM, the 1,000-plus student campus offers the Doctor of Osteopathic Medicine degree, the Doctor of Pharmacy degree, as well as graduate degrees in biomedical sciences and physician assistant studies.
GA-PCOM, which has conferred more than 1,100 degrees to date, was formed to respond to the acute need for more healthcare providers to serve Georgia and surrounding states. Graduates are encouraged to serve the underserved and where the need is greatest—inner cities and rural areas with severe provider shortages. Today, students participate in third- and fourth-year clerkships, some in the South Georgia area, as part of the curriculum.
The Suwanee campus holds accreditation through the State of Georgia Nonpublic Postsecondary Education Commission, the Commission on Osteopathic College Accreditation of the American Osteopathic Association, the Accreditation Council for Pharmacy Education, the Accreditation Review Commission on Education for the Physician Assistant, the Commonwealth of Pennsylvania Department of Education and Middle States Association of Colleges and Schools.
With more than 5,000 annual applications for its osteopathic medical program, the Suwanee campus now accepts 135 medical students each year. When it began, GA-PCOM accepted 80 students into its first class. In 2010 the campus applied to COCA for a substantive change to increase its class size which was approved and met all accreditation standards with commendations.
This past year, the residency match rate for GA-PCOM graduating medical students was 100 percent with 20 Doctor of Osteopathic Medicine graduates matching to residencies in Georgia. Three graduates were chosen for the inaugural class of the Georgia South Family Medicine Residency Program opened by Colquitt Regional Medical Center in July. This program is only the second residency program established in southwest Georgia, with a program at Phoebe Putney Memorial Hospital in Albany formed about 20 years ago.
The Georgia South Family Medicine Residency Program, which began at Colquitt Regional Medical Center July 1, is affiliated with PCOM, and works with the PCOM-MEDNet Osteopathic Post-Doctoral Training Institute, an American Osteopathic Association approved training consortium comprised of more than 40 hospitals. Residency programs are important to communities, especially in rural and underserved areas since data shows that physicians are more likely to stay and practice within 60 miles of their residency programs. As the three-year residency program begins producing physicians, the estimated economic impact is more than $1.5 million per new physician and the creation of five new jobs supporting the physician.
"We have enjoyed a very productive and reciprocal relationship with PCOM through our residency development," said Dr. Kirby Smith, program director for the Georgia South Family Medicine Residency Program. "I look forward to the opportunity to continue growing the medical education pipeline in southwest Georgia. This project sends a message to our students and communities that we have committed partners in place working on long-term solutions to healthcare."
Dr. David Waller, former Colquitt Regional chief of staff, said his colleagues are very supportive of a GA-PCOM campus locating in South Georgia. "As practicing physicians, we remember the mentors that trained us as we pursued careers in medicine. To be a part of shaping the next generation of doctors is exciting," said Waller. "The medical staff of Colquitt Regional and many of our neighboring hospitals can provide the best example to medical students of what it is like to practice and care for patients in communities we are so proud of serving."
In 2016, nearly 50 percent of GA-PCOM graduates matched into primary care residencies to include family medicine, internal medicine and pediatrics. Adding OB/GYN and surgery moved the match percentage to 68 percent of GA-PCOM's graduates being placed into much-needed specialties.
GA-PCOM directly and indirectly generates about $107.7 million of economic impact each year in the state of Georgia. In addition, the Suwanee campus provides employment for more than 150 faculty and staff members. An additional 800 jobs are created or supported indirectly as a result of GA-PCOM's operational, employee and student spending across Georgia.
"As a South Georgia native, I know of no better way to honor our children and grandchildren than by supporting the opportunity to establish a new campus in Southwest Georgia. This project means economic growth, educational opportunities and support for primary care," said Richard Bass, Chairman of the Colquitt Regional Board of Trustees. "It changes the face of southwest Georgia, and we are proud to strengthen our relationship with PCOM."
You May Also Like:


About PCOM Georgia
Established in 2005, PCOM Georgia is a private, not-for-profit, accredited institute of higher education dedicated to the healthcare professions. The Suwanee, Georgia, campus is affiliated with Philadelphia College of Osteopathic Medicine which has a storied history as a premier osteopathic medical school. PCOM Georgia offers the doctor of osteopathic medicine degree, the doctor of pharmacy degree, the doctor of physical therapy degree, as well as graduate degrees in biomedical sciences and physician assistant studies. Emphasizing "a whole person approach to care," PCOM Georgia focuses on educational excellence, interprofessional education and service to the wider community. The campus is also home to the Georgia Osteopathic Care Center, an osteopathic manipulative medicine clinic, which is open to the public by appointment. For more information, visit pcom.edu or call 678-225-7500.
For more information, contact:
Barbara Myers
Public Relations Manager
Email: BarbaraMy@pcom.edu
Office: 678-225-7532 | Cell: 770-309-0613
Connect with PCOM Georgia