Physical Therapy Program Moves Toward Accreditation
May 18, 2018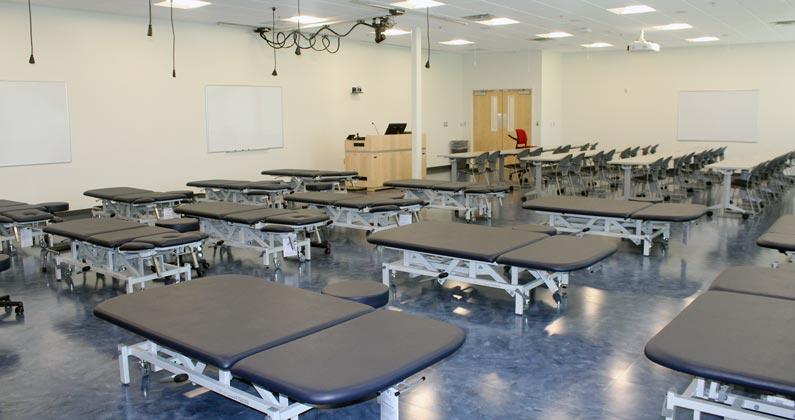 "Candidate for accreditation" status allows GA-PCOM's new doctor of physical therapy program to begin classes in June.
---
On May 2, 2018, the Commission on Accreditation in Physical Therapy Education (CAPTE) granted "candidate for accreditation" status to the doctor of physical therapy program at Georgia Campus – Philadelphia College of Osteopathic Medicine (GA-PCOM).
Candidate for accreditation is a pre-accreditation status recognizing that the program is making progress toward accreditation. It is not an accreditation status and does not assure that the program will be accredited by CAPTE.
However, Philip Palmer, PT, PhD, professor and chair of the physical therapy program, stated he is confident the program will move toward compliance and eventual accreditation with the continued support of PCOM.
"This decision was based on the program's demonstration of satisfactory progress, to date, toward achieving compliance with accreditation standards, and allows the program to move forward with matriculation of the inaugural class as scheduled," explained Dr. Palmer.
The inaugural cohort, consisting of 40 students, will begin classes on June 4, 2018. Orientation for the new students will take place May 30 through June 1.
"After two years of planning and preparing, we can finally do what we, the faculty, love most—teaching," said Dr. Palmer "All of the current faculty members are seasoned educators and look forward to the daily interactions with students."
Community members are invited to a ribbon-cutting and open house which will take place on Wednesday, May 23 at 10:30 a.m.

You May Also Like:


About PCOM Georgia
Established in 2005, PCOM Georgia is a private, not-for-profit, accredited institute of higher education dedicated to the healthcare professions. The Suwanee, Georgia, campus is affiliated with Philadelphia College of Osteopathic Medicine which has a storied history as a premier osteopathic medical school. PCOM Georgia offers the doctor of osteopathic medicine degree, the doctor of pharmacy degree, the doctor of physical therapy degree, as well as graduate degrees in biomedical sciences and physician assistant studies. Emphasizing "a whole person approach to care," PCOM Georgia focuses on educational excellence, interprofessional education and service to the wider community. The campus is also home to the Georgia Osteopathic Care Center, an osteopathic manipulative medicine clinic, which is open to the public by appointment. For more information, visit pcom.edu or call 678-225-7500.
For more information, contact:
Barbara Myers
Public Relations Manager
Email: BarbaraMy@pcom.edu
Office: 678-225-7532 | Cell: 770-309-0613
Connect with PCOM Georgia