Pharmacy Residency Program Earns Full Accreditation
June 19, 2017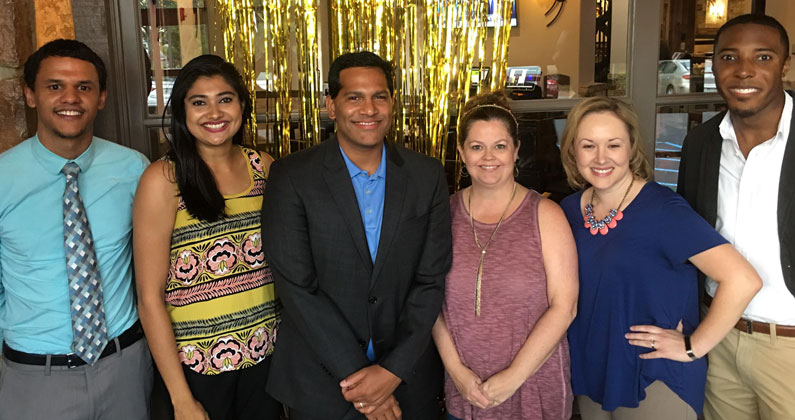 Drs. Keith Johnson; Priyam Mithawala; Samuel John; Gwinnett Medical Center's Reva Grant, clinical supervisor and residency site coordinator; Kacie Waters; and Brandon Cunningham celebrate the PCOM School of Pharmacy's residency accreditation.
---
Under the direction of PGY-1 Residency Program Director Samuel John, PharmD, BCPS, the PCOM School of Pharmacy Residency Program was recently granted full accreditation through 2023. According to Dr. John, 99 new programs underwent American Society of Health-System Pharmacists (ASHP) site surveys last year and only 44 were granted the maximum number of years of accreditation. "This is a huge accomplishment for us," he said.
A dinner party was held last week to celebrate the ASHP accreditation and this year's pharmacy residents. Gregory Smallwood, PharmD, FCCP, presented Keith Johnson, PharmD, and Brandon Cunningham, PharmD, with their teaching certificates, while Dr. John presented the past two classes of residents including Kacie Waters, PharmD, Priyam Mithawala, PharmD, Dr. Johnson and Dr. Cunningham with their residency certificates of completion indicating PCOM's new accredited status by ASHP.
You May Also Like:


About PCOM Georgia
Established in 2005, PCOM Georgia is a private, not-for-profit, accredited institute of higher education dedicated to the healthcare professions. The Suwanee, Georgia, campus is affiliated with Philadelphia College of Osteopathic Medicine which has a storied history as a premier osteopathic medical school. PCOM Georgia offers the doctor of osteopathic medicine degree, the doctor of pharmacy degree, the doctor of physical therapy degree, as well as graduate degrees in biomedical sciences and physician assistant studies. Emphasizing "a whole person approach to care," PCOM Georgia focuses on educational excellence, interprofessional education and service to the wider community. The campus is also home to the Georgia Osteopathic Care Center, an osteopathic manipulative medicine clinic, which is open to the public by appointment. For more information, visit pcom.edu or call 678-225-7500.
For more information, contact:
Barbara Myers
Public Relations Manager
Email: BarbaraMy@pcom.edu
Office: 678-225-7532 | Cell: 770-309-0613
Connect with PCOM Georgia