Echols Joins GA-PCOM School of Pharmacy
January 23, 2017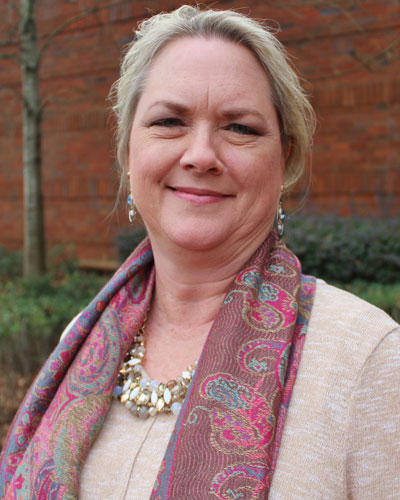 Kimberly Echols, PharmD, has more than 25 years of hospital pharmacy experience in metro Atlanta. She is the new experiential education coordinator for GA-PCOM and an assistant professor of pharmacy practice.
---
Georgia native Kimberly Echols, PharmD, has recently joined Georgia Campus – Philadelphia College of Osteopathic Medicine (GA-PCOM) at the PCOM School of Pharmacy. She has been named experiential education coordinator and assistant professor of pharmacy practice.
Dr. Echols received a degree in microbiology from the University of Georgia before earning her doctor of pharmacy degree from Mercer University College of Pharmacy. She completed a General Clinical Hospital residency at DeKalb Medical Center in Decatur.
With more than 25 years of hospital pharmacy experience in metro Atlanta, Dr. Echols has practiced at sites such as Emory University Hospital, Piedmont Henry Hospital in Stockbridge and Southern Regional Medical Center in Riverdale. While at Southern Regional Medical Center, Dr. Echols held a diverse range of clinical practice roles, serving as patient safety and regulatory compliance officer, coordinating education program development, functioning as a preceptor for pharmacy students and serving as interim Director of Pharmacy.
Actively accountable for hospital wide medication management compliance, Dr. Echols played a critical role in multiple successful acute care hospital Joint Commission surveys. Serving as patient safety and compliance officer, Dr. Echols was responsible for developing, revising, and maintaining all pharmacy and patient care policies related to medication management, among other duties. Her other interests include opioid safety and pain management, root cause analysis (RCA), failure mode effect analysis (FMEA), policy and procedure development and disease/therapy-specific protocol development.
With a husband who shares her passion for healthcare, Dr. Echols is the mother of a son and a daughter. In her spare time, she enjoys traveling, cooking, collegiate sports and spending time on the lake with her family.
You May Also Like:


About PCOM Georgia
Established in 2005, PCOM Georgia is a private, not-for-profit, accredited institute of higher education dedicated to the healthcare professions. The Suwanee, Georgia, campus is affiliated with Philadelphia College of Osteopathic Medicine which has a storied history as a premier osteopathic medical school. PCOM Georgia offers the doctor of osteopathic medicine degree, the doctor of pharmacy degree, the doctor of physical therapy degree, as well as graduate degrees in biomedical sciences and physician assistant studies. Emphasizing "a whole person approach to care," PCOM Georgia focuses on educational excellence, interprofessional education and service to the wider community. The campus is also home to the Georgia Osteopathic Care Center, an osteopathic manipulative medicine clinic, which is open to the public by appointment. For more information, visit pcom.edu or call 678-225-7500.
For more information, contact:
Barbara Myers
Public Relations Manager
Email: BarbaraMy@pcom.edu
Office: 678-225-7532 | Cell: 770-309-0613
Connect with PCOM Georgia