Medical Simulation Students Earn EMT Certification
October 19, 2018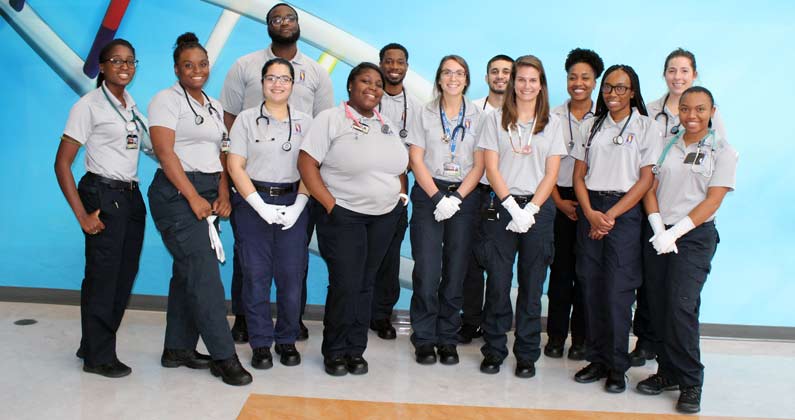 The 200+ hours of EMT classes and field sessions will provide the GA-PCOM biomedical sciences students with valuable experience for their academic and professional careers.
---
Students, faculty and staff can rest even easier this term as 14 Georgia Campus – Philadelphia College of Osteopathic Medicine (GA-PCOM) students plus one manager have been training since June to acquire the skills of emergency medical technicians.
These students, who will earn masters' degrees in biomedical sciences with a concentration in medical simulation, have passed the 200+ hours of EMT classes offered on campus and are testing for state and national certification. In addition, they have completed 16 hours of "ride-alongs" with Gwinnett County Fire and Emergency Services and have each assessed a minimum of 10 patients in the field.
According to GA-PCOM's Director of Simulation Jeff Adams, NREMT-P, MS, "There has been an age-old argument about simulation staff needing to have a medical background and I have argued both sides over the years." He added, "When developing this course, I felt that additional clinical training will increase the students' job opportunities and help those looking to become physician assistants or physicians."
According to Moriah Newman, MS ' 18, a May graduate who now works as the simulation manager under Adam's direction in the GA-PCOM Simulation Center, the students have learned basic EMT skills including medications, bone and joint immobilization, trauma assessments and much more.
Newman joined the students in their training as this is the first semester the EMT course has been offered as part of the medical simulation concentration.
"Once our students are certified on a national level, they can seek employment anywhere as an EMT," she said.
"We are getting an idea of how the human body works on a medical level which provides extra detail when it comes to creating medical simulation scenarios."
According to Newman, most of the biomedical sciences students are planning to apply for professional schooling beyond their master's degree, however EMT training can help them, especially in accumulating clinical hours.

You May Also Like:


About PCOM Georgia
Established in 2005, PCOM Georgia is a private, not-for-profit, accredited institute of higher education dedicated to the healthcare professions. The Suwanee, Georgia, campus is affiliated with Philadelphia College of Osteopathic Medicine which has a storied history as a premier osteopathic medical school. PCOM Georgia offers the doctor of osteopathic medicine degree, the doctor of pharmacy degree, the doctor of physical therapy degree, as well as graduate degrees in biomedical sciences and physician assistant studies. Emphasizing "a whole person approach to care," PCOM Georgia focuses on educational excellence, interprofessional education and service to the wider community. The campus is also home to the Georgia Osteopathic Care Center, an osteopathic manipulative medicine clinic, which is open to the public by appointment. For more information, visit pcom.edu or call 678-225-7500.
For more information, contact:
Barbara Myers
Public Relations Manager
Email: BarbaraMy@pcom.edu
Office: 678-225-7532 | Cell: 770-309-0613
Connect with PCOM Georgia