GA-PCOM Profile

Caitlin Mueller (DO '19)
March 22, 2017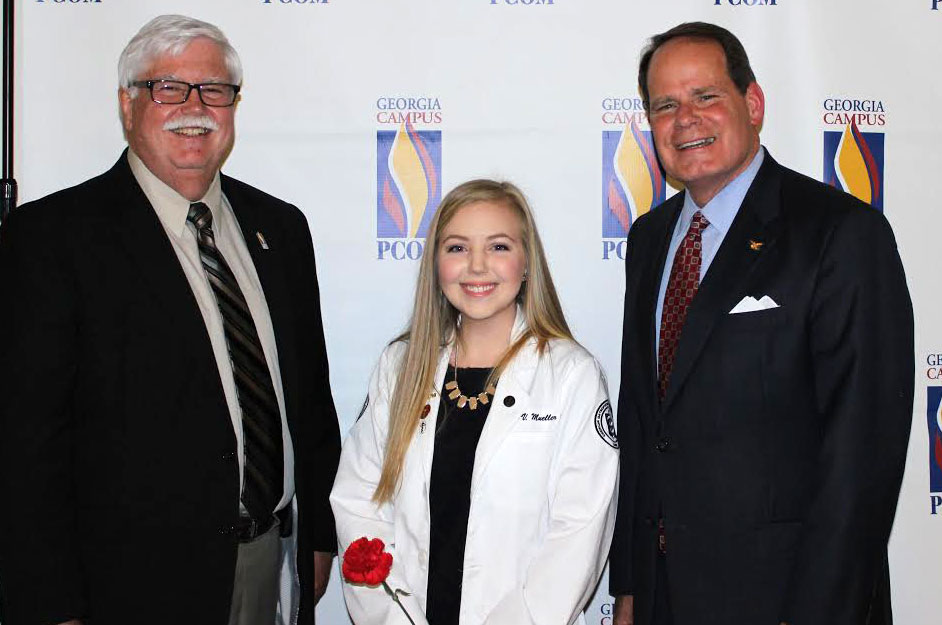 (l. to r.) Dean and Chief Academic Officer H. William Craver III, DO, Caitlin Mueller (DO ' 19) and Chief Campus Officer Bryan Ginn Jr. are pictured at last spring's Sigma Sigma Phi induction ceremony.
---
The following is part of an occasional series of profiles on faculty, staff and students at Georgia Campus - Philadelphia College of Osteopathic Medicine (GA-PCOM). This profile features Caitlin Mueller (DO ' 19), Student Organizations Council Chair.
How did you become interested in a career in healthcare?
Healthcare and medicine intrigued me throughout my childhood because of my personal experiences, but it wasn't until high school and college that I understood why. I greatly enjoyed several different subjects in high school and undergrad—biology, anatomy, psychology and biochemistry were my favorites. I found the human body and mind to be interesting, complex and beautiful. I wondered if medicine would be a good fit for me, so I started shadowing several different doctors and began volunteering in any medically-related position possible. I realized that medicine was my calling rather quickly; I saw it as a way to combine both my scientific interests, as well as my love for serving people.
You're an active student leader—tell us about what has motivated you to stay so involved on campus.
I believe that it's important to participate in molding your own educational experience, especially as a medical student. We are working towards becoming the physicians that we hope to be. Even though four years sounds like a long time, it is a relatively brief period when you reflect on the amount of learning and transformation that happens on a personal and professional level. I am motivated to participate and contribute to our unique experience as medical students at GA-PCOM. I want my fellow colleagues and me to have the best experience possible on and off campus so we can become the physicians our future patients deserve.
What are some of your most memorable moments on campus?
Like many medical students, the first day of class as a first year is definitely memorable. You are flooded with mixed emotions—excitement, nervousness and a little fear. We had our first gross anatomy dissection within hours of starting medical school, and the first lab experience is something you will never forget. I also will remember my first round of practical tests as a medical student. Performing your skills as a student doctor with a standardized patient for the first time is a little nerve-wracking, but very rewarding! Another memorable moment for me was winning the Halloween costume contest my first year on campus (I was a gallbladder).
What do you like to do in your free time?
In my free time, I normally try to catch up with my friends and family, hopefully involving a really great home-cooked meal. I also enjoy traveling anywhere I can, especially to places I've researched and have never been before. I enjoy doing anything that gets me outdoors, especially hiking and fishing. I read anything I can get my hands on, and I'm always taking book recommendations. I also like to occasionally binge watch my favorite TV shows on my couch.
What would you change about being in med school, if you could?
I would take back every nap that I denied as a kindergartener and I would like to apply them now in medical school. Scheduled nap time would be a game changer!
What drew you to GA-PCOM?
When applying to medical school, I knew I wanted to enter a DO program. I wasn't sure where my best fit would be until my interviews. I appreciated the smaller class size, the convenient location, and the family atmosphere of the GA-PCOM community. It was also very important to me that the faculty was accessible and willing to work with students, and I was very pleased to find that at GA-PCOM. I connected with faculty members and other students during the interview, and I appreciated the extensive resources and facilities that PCOM provides to its students. I know I made the right decision for myself and my education and I am very thankful.
What's the best advice anyone has ever given you?
"You cannot succeed if you do not try." I have had several family members who offered this advice throughout my life, and it has been a source of motivation for me as a pre-medical and a medical student. Medical school often requires you to put yourself out there, even if you're afraid of being wrong. I strive to not let fear of failure get in the way of my education, especially since it can often be a useful learning experience. This advice always encourages me to give my best shot to everything, and then learn from what I miss.

You May Also Like:


About PCOM Georgia
Established in 2005, PCOM Georgia is a private, not-for-profit, accredited institute of higher education dedicated to the healthcare professions. The Suwanee, Georgia, campus is affiliated with Philadelphia College of Osteopathic Medicine which has a storied history as a premier osteopathic medical school. PCOM Georgia offers the doctor of osteopathic medicine degree, the doctor of pharmacy degree, the doctor of physical therapy degree, as well as graduate degrees in biomedical sciences and physician assistant studies. Emphasizing "a whole person approach to care," PCOM Georgia focuses on educational excellence, interprofessional education and service to the wider community. The campus is also home to the Georgia Osteopathic Care Center, an osteopathic manipulative medicine clinic, which is open to the public by appointment. For more information, visit pcom.edu or call 678-225-7500.
For more information, contact:
Barbara Myers
Public Relations Manager
Email: BarbaraMy@pcom.edu
Office: 678-225-7532 | Cell: 770-309-0613
Connect with PCOM Georgia