PCOM, Villanova Nursing Collaborate on IPE Initiative
November 11, 2019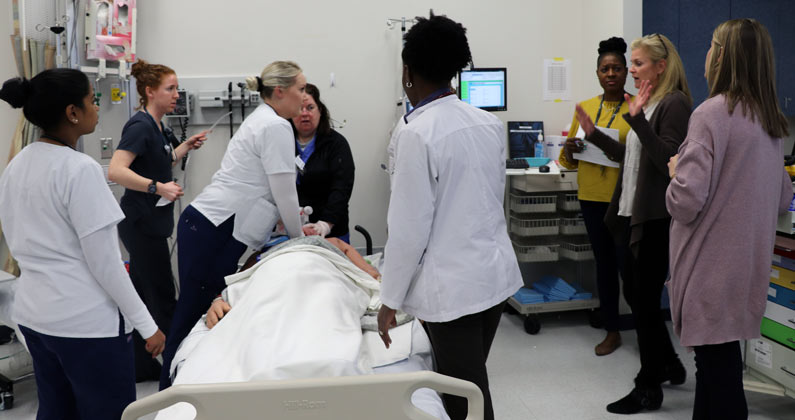 DO, PsyD and nursing students learn together as a healthcare team during simulations.
Photo credit Villanova University M. Louise Fitzpatrick College of Nursing.
---
The healthcare industry's move towards a more collaborative, patient-centered approach to care is driving the trend of interprofessional education (IPE), which provides learning opportunities for students from across healthcare disciplines to learn together, and to learn about one another's role in the healthcare team.
The Institute of Medicine (now known as the National Academies of Sciences, Engineering, and Medicine) has endorsed IPE as "a mechanism to improve the overall quality of health care," and says that "patients received safer, high quality care when healthcare professionals worked effectively in a team, communicated productively, and understood each other's roles."
To that end, Philadelphia College of Osteopathic Medicine (PCOM) has partnered with the Villanova University M. Louise Fitzpatrick College of Nursing on a series of mock-code simulations, during which osteopathic medicine (DO) and clinical psychology (PsyD) students work alongside students in Villanova's graduate program in nursing anesthesia and undergraduate program in nursing to learn of the dangers of medication errors among patients with Parkinson's disease (PD) during transitions of care and also learn interprofessional communication and collaboration between practitioners.
During the simulations, the students practice in their respective roles while a "patient" experiences cardiopulmonary arrest due to missed medication. A simulated debrief, led by a PsyD student, follows the exercise.
"PCOM was more than happy to collaborate with Villanova and its nursing students on this important initiative addressing a high-risk population, while also learning how to work together to put the patient's needs first," said Michael Becker, DO '87, MS, assistant dean of clerkship education. "This person-centric thinking has been a main tenet of the osteopathic profession since its founding."
"Clinical psychologists are broadening their roles to be included as health service providers," said Stephanie Felgoise, PhD, associate dean, academic integration, and Clinical PsyD program director. That program, she says has "traditionally focused on holistic care alongside of the osteopathic medical school, and this new initiative further enhances the IPE at PCOM by having students learning from, with, and about nurses' education.
The faculty, students, and staff at Villanova's College of Nursing have become valued colleagues and friends throughout this experience," she added.
These simulations are part of a larger research project at Villanova, led by Diane M. Ellis, MSN, RN, CCRN, clinical assistant professor of nursing, to create a body of research to prevent missed or delayed medication in this population. Existing research shows that up to 75 percent of hospitalized patients with Parkinson's have not received doses on time or in some instances, not at all, and complications can range from difficulty communicating to aspiration to death.
"It was our aim to create innovative case studies for simulation to improve care for this vulnerable population by increasing awareness of the impact of errors with patients' PD medications," said Ellis, adding that her goal is to reach more than 600 health care professionals from across the field with this project by the end of the year.
"While technology and medication make resuscitation possible, it is the nexus of highly educated health care professionals and their effective communication and coordinated action that count as much as the seconds that tick by. That human interaction and intervention is critical to saving lives," notes Donna S. Havens, PhD, RN, FAAN, Connelly Endowed Dean. "We are proud of the model created by our PD research team here which weaves safety in care transitions throughout and is building much needed science; we are equally proud of our collaboration with PCOM which has further strengthened students' experiences."
Carlene McLaughlin, PhD, CRNA, co-investigator and nurse anesthesia program faculty member, agrees, noting, "Nurse anesthesia students encounter many high-risk patients during their clinical education. This experience has allowed them the opportunity to utilize and share their educational background and experiences, while collaborating with other health care providers in the care of a vulnerable high-risk patient."
In addition to collaborating with Villanova, Dr. Becker noted that PCOM continues to explore ways to expand its own IPE offerings.
"IPE is woven into the curricula of many of our academic programs, and working with Villanova provides our medical and psychology students a unique, real-world opportunity to work alongside future nurses and nurse anesthetists," he said. "That experience will be invaluable to all of the students once they begin clinical practice."
Myriad positive outcomes for IPE have been reported; a 2018 study in BMC Nursing listed several advantages including increased mutual respect and trust among healthcare professionals; improved understanding of professional roles and responsibilities; effective communication; increased job satisfaction; and positive impact on patient outcomes.
Learn more about IPE at PCOM and PCOM Georgia.
You May Also Like:
About Philadelphia College of Osteopathic Medicine
Founded in 1899, Philadelphia College of Osteopathic Medicine has trained thousands of highly competent, caring physicians, health practitioners and behavioral scientists who practice a "whole person" approach to care—treating people, not just symptoms. PCOM offers doctoral degrees in clinical psychology, osteopathic medicine, pharmacy, physical therapy and school psychology, and graduate degrees in biomedical sciences, forensic medicine, mental health counseling, organizational development and leadership, physician assistant studies, school psychology, and public health management and administration. Our students learn the importance of health promotion, research, education and service to the community. Through its community-based Healthcare Centers, PCOM provides care to medically underserved populations in inner city and rural locations. For more information, visit pcom.edu.
For more information, contact:
Orla Moloney
Public Relations and Marketing Specialist
Office: 215-871-6334 | Cell: 267-449-1360
Connect with PCOM