PCOM Hosts Free Health Workshop for Women
November 1, 2018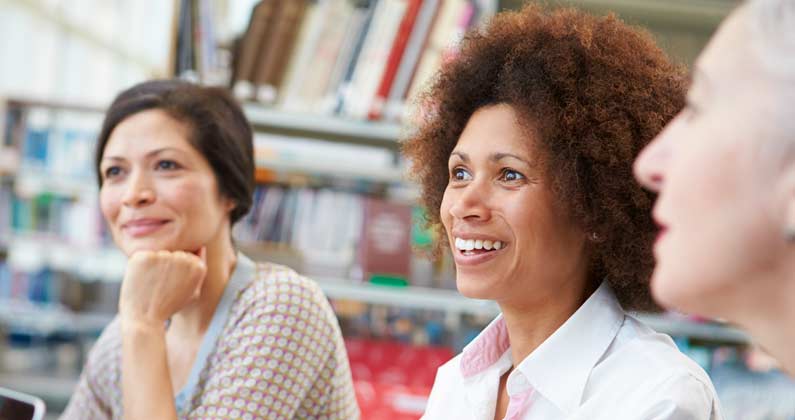 The Women's Night event will be held on Nov. 14 and focuses on improving post menopausal weight management and cardiovascular health.
---
Philadelphia College of Osteopathic Medicine (PCOM) will host a free health education seminar focused on cardiovascular health and weight management for post-menopausal women on Wednesday, Nov. 14, from 6-7:30 pm in Evans Hall (Room 327 A/B).
An integrated healthcare team consisting of a physician, a psychologist and a health coach will lead a discussion on the benefits of weight management after menopause and its ties to cardiovascular health; the challenges post-menopausal women may face in maintaining a healthy weight; and behavioral interventions that can help with weight management and heart health.
The American Heart Association reports that an increase in heart attacks in women can be seen roughly 10 years after menopause. The AHA also notes that heart disease is the leading killer of women, and a diet high in fat, as well as a history of smoking, are leading contributors to heart disease.
For all of these reasons, it is imperative that women who have gone through menopause focus on their heart health and maintaining a healthy weight, says Anna Zacharcenko, PsyD, a psychologist with PCOM's Family Medicine practice and co-director of the Nov. 14 workshop.
This event is free and open to all women, however registration is required.
Questions? Please contact Anna Zacharcenko, PsyD, at 215-871-6414 or annaz@pcom.edu.
The event is made possible through a grant from the Edna G. Kynett Memorial Foundation.

You May Also Like:


About Philadelphia College of Osteopathic Medicine
Founded in 1899, Philadelphia College of Osteopathic Medicine has trained thousands of highly competent, caring physicians, health practitioners and behavioral scientists who practice a "whole person" approach to care—treating people, not just symptoms. PCOM offers doctoral degrees in clinical psychology, osteopathic medicine, pharmacy, physical therapy and school psychology, and graduate degrees in biomedical sciences, forensic medicine, mental health counseling, organizational development and leadership, physician assistant studies, school psychology, and public health management and administration. Our students learn the importance of health promotion, research, education and service to the community. Through its community-based Healthcare Centers, PCOM provides care to medically underserved populations in inner city and rural locations. For more information, visit pcom.edu.
For more information, contact:
Orla Moloney
Public Relations and Marketing Specialist
Office: 215-871-6334 | Cell: 267-449-1360
Connect with PCOM