PCOM Forms Research Partnership with Cansortium
September 7, 2018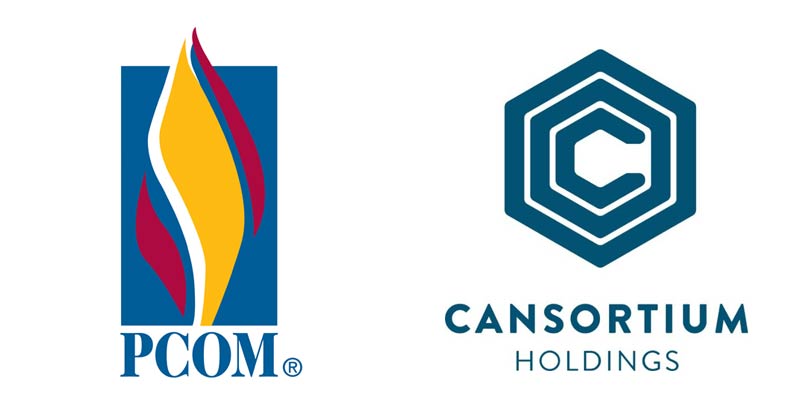 PCOM, already approved as a certified Academic Clinical Research Center under Pennsylvania's Medical Marijuana law, will re-apply under new regulations.
Cansortium Health Partners, a Cansortium Holdings subsidiary, will apply as a Clinical Registrant, entrusted with producing and dispensing medical marijuana products.
Cansortium Holdings, LLC, is dedicated to compassionately provide patients access to the highest quality medicinal marijuana in an unrivaled, professional healthcare environment that puts the welfare of patients first.
---
Philadelphia College of Osteopathic Medicine (PCOM) and Cansortium Holdings, LLC (Cansortium) have announced the formation of a partnership to conduct significant medical marijuana research in Pennsylvania. PCOM will seek to be re-certified as an Academic Clinical Research Center in Pennsylvania under new regulations and Cansortium will apply for a Clinical Registrant license.
This partnership represents a new research collaboration dedicated to generating knowledge that further defines marijuana's therapeutic applications. Both organizations bring unique qualifications to the partnership. As one of Pennsylvania's largest medical colleges, PCOM is widely regarded for its advancements in medical research and the education it provides to the next generation of physicians and healthcare professionals. Cansortium, a global medical marijuana company serving thousands of patients throughout the US and Latin America, has demonstrated industry-leading innovations in cultivation, extraction, medical formulation and in-house testing.
"Through the forethought and vision of Governor Wolf and the state legislature in creating the ACRC program, Pennsylvania is poised to become a national and international leader in medical cannabis research. We at PCOM are committed to helping lead the way with a best-in-class partner in Cansortium," commented Jay Feldstein, DO '81, president and CEO of PCOM.
Under Pennsylvania's medical marijuana laws, the partners are permitted to conduct extensive research on the pharmacology, biochemistry and long-term best practices for patients on medical marijuana regimens. PCOM's team of investigators has developed a collaborative, interdisciplinary research program that will examine the impact of medical marijuana on physical and mental health, quality of life, chronic pain and opioid utilization and addiction. Results of these studies will be shared among researchers to accelerate the pace of evidence-based recommendations of medical marijuana for the treatment of specific conditions.
"After a rigorous selection process, it is an honor and privilege for Cansortium to partner with a leading medical research institution that aligns with our holistic approach to patient care," said Jose Hidalgo, Cansortium Founder & CEO. "At the end of the day, our company is focused on outcomes that improve the lives of our patients suffering from debilitating diseases and disorders. It is our expectation that the data and insights emerging from this partnership will greatly expand the US-based scientific documentation around the many benefits of medical marijuana."
Participants will be recruited on a statistically sound basis for voluntary longitudinal studies across multiple conditions and disciplines. To support these efforts, Cansortium as the clinical registrant is permitted to open up to six retail dispensaries across the state to coordinate research efforts and dispense product directly to patients. Those facilities also play a vital role as hubs for physician education and outreach programs.

You May Also Like:
For questions for PCOM and interview requests with Mindy George-Weinstein, chief science and research officer, please email Renee Cree at reneecr@pcom.edu
For questions for Cansortium and interview requests with Jose Hidalgo, please email Scott Klenet at press@knoxmedical.com.

About Cansortium Holdings, LLC
Cansortium Holdings, LLC, seeks to redefine excellence in medical marijuana with operations in the US, Canada, and other markets around the world. Cansortium is committed to compassionately provide patients access to the highest quality medicinal marijuana in an unrivaled, professional healthcare environment. Cansortium, through its brand Knox Medical, earned a license to dispense medical marijuana in York County, PA in 2017. One dispensary located in Hanover, PA opened earlier this year and has experienced robust sales growth as new product offerings come onto the market.
About Philadelphia College of Osteopathic Medicine
Founded in 1899, Philadelphia College of Osteopathic Medicine has trained thousands of highly competent, caring physicians, health practitioners and behavioral scientists who practice a "whole person" approach to care—treating people, not just symptoms. PCOM offers doctoral degrees in clinical psychology, osteopathic medicine, pharmacy, physical therapy and school psychology, and graduate degrees in biomedical sciences, forensic medicine, mental health counseling, organizational development and leadership, physician assistant studies, school psychology, and public health management and administration. Our students learn the importance of health promotion, research, education and service to the community. Through its community-based Healthcare Centers, PCOM provides care to medically underserved populations in inner city and rural locations. For more information, visit pcom.edu.
For more information, contact:
Orla Moloney
Public Relations and Marketing Specialist
Office: 215-871-6334 | Cell: 267-449-1360
Connect with PCOM