Family Medicine at PCOM to Upgrade
April 24, 2017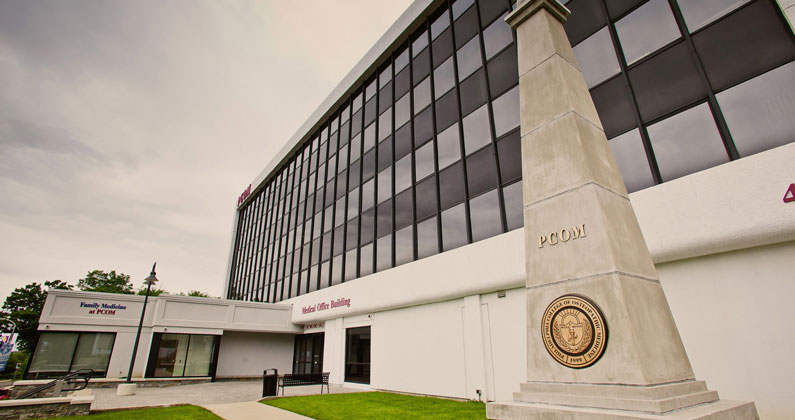 A grant from the Christopher and Dana Reeve Foundation will allow an upgrade at Family Medicine at PCOM. The funds will go toward the purchase of new equipment which will upgrade services for patients with mobility issues.

---
Family Medicine at PCOM will soon be able to upgrade the services it provides to individuals with severe physical disabilities, thanks to a grant from the Christopher and Dana Reeve Foundation. The funds, which totaled $12,500, will go toward purchasing new equipment such as a wheelchair scale and a Hoyer lift with a weight scale for the practice, which sees 75 patients in-office with mobility issues that stem from physical disability.
"Patients with severe disabilities are an underserved population and require different levels of care," said Michael Becker, DO '87, MS, professor and vice-chair, family medicine. "The funds will allow us to gain specialized equipment to provide better, more effective care to these patients."
This is the latest endeavor of the practice to focus on caring for those with disabilities. For the past year, the practice has partnered with Inglis—a Philadelphia-based nonprofit dedicated to helping individuals with disabilities—to provide primary care services to more than 50 residents at the organization's two living facilities, Inglis House and Inglis Gardens at Belmont.
"PCOM has a particular focus on graduating physicians with an interest in treating underserved populations," said Harry Morris, DO '78, MPH, professor and chair, family medicine. "We have had the opportunity to increase our experience in working with those with severe disabilities, both from a clinical and an educational perspective."
The award PCOM received was one of 102 grants totaling $721,425 awarded by the Reeve Foundation to nonprofit organizations nationwide that provide more opportunities, access, and daily quality of life for individuals living with paralysis, their families and caregivers.
"It's important to find balance while filling the needs of the community, especially those living in underserved areas," said Donna Valente, Director of Quality of Life Grants at the Reeve Foundation. "People may live only a few blocks from an outstanding adaptive recreation program, but if they don't have a ramp to get out of their homes or accessible transportation to get to that location, they can't participate in the activity, and we really aren't meeting the overall goal of this program. That's why we examine every proposed project to see the impact it will have in the community, and try to determine how we can best help them reach their full potential."
You May Also Like:


About Philadelphia College of Osteopathic Medicine
Founded in 1899, Philadelphia College of Osteopathic Medicine has trained thousands of highly competent, caring physicians, health practitioners and behavioral scientists who practice a "whole person" approach to care—treating people, not just symptoms. PCOM offers doctoral degrees in clinical psychology, osteopathic medicine, pharmacy, physical therapy and school psychology, and graduate degrees in biomedical sciences, forensic medicine, mental health counseling, organizational development and leadership, physician assistant studies, school psychology, and public health management and administration. Our students learn the importance of health promotion, research, education and service to the community. Through its community-based Healthcare Centers, PCOM provides care to medically underserved populations in inner city and rural locations. For more information, visit pcom.edu.
For more information, contact:
Orla Moloney
Public Relations and Marketing Specialist
Office: 215-871-6334 | Cell: 267-449-1360
Connect with PCOM