Family Medicine at PCOM Joins Historic Partnership
February 13, 2017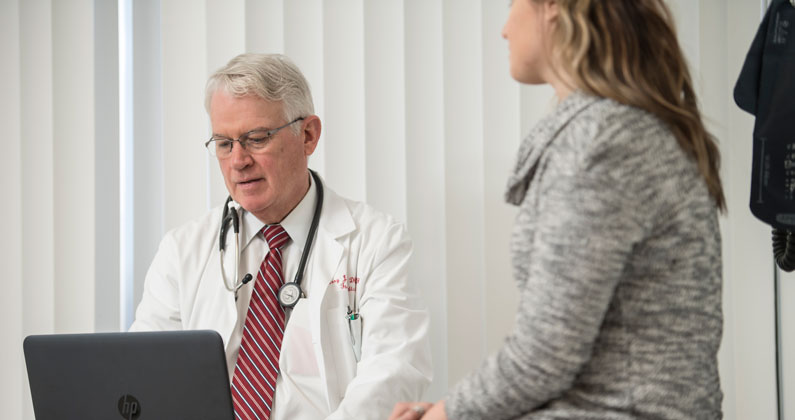 Family Medicine at PCOM, as a participant in the CPC+ program, will have upgrades in technology as well as additional staffing.
---
Family Medicine at PCOM is one of nearly 3,000 primary care practices nationwide participating in Comprehensive Primary Care Plus (CPC+), the largest-ever initiative to revolutionize how primary care is delivered and paid for in the United States. CPC+ is a collaboration between the Centers for Medicare & Medicaid Services (CMS) and public and private insurance plans to support primary care practices in improving their delivery of primary care.
As a participant in the CPC+ program, Family Medicine at PCOM will receive funds to make investments—such as upgrades in technology and additional staff—that will help the practice provide more robust and coordinated care for its patients.
While the current payment model only reimburses for in-office services, CPC+ will also take into account services that are "outside the office," said Harry Morris, DO '78, MPH, professor and chair, family medicine. These services would include coordinating specialist care, reminder calls for things like mammograms and blood sugar screenings and appointment follow-ups.
"All of those things help drive quality of care for the patient," said Dr. Morris.
And for participating practices like Family Medicine at PCOM, measuring that quality is key. Dr. Morris said that the practice must meet several quality measures laid out by CMS and periodically report their outcomes to the government.
Dr. Morris says this is another promising example of the healthcare industry shifting toward a focus on prevention and wellness.
"The old payment model focused on volume, not value," he said. "But if we want to change the way patients are treated, we need to change the way doctors are paid for what they do."
Patients at Family Medicine at PCOM will start to see improvements in the form of longer office hours, consistency among who sees them and more continuous contact with the office.
PCOM has been implementing changes to its community-based healthcare centers for some time, in order to transition to a more value-based approach to care. In 2015, the National Committee for Quality Assurance (NCQA) gave the healthcare centers NCQA Patient-Centered Medical Home Recognition for using evidence-based, patient-centered processes that focus on highly coordinated care and long‐term, participative relationships. Dr. Morris says acceptance into CPC+ complements the medical-home model currently in place at the healthcare centers, and will allow them to improve.
Participation in CPC+ not only benefits patients. Dr. Morris added that students who rotate through the practice would also see first-hand how the healthcare field is changing. "If we're not showing our students where medicine is and where it's going, we're failing them," he said.
Primary care practices in 14 markets across the country were invited to apply to participate in CPC+; Family Medicine at PCOM was selected based on its use of health information technology; ability to demonstrate recognition of advanced primary care delivery by leading clinical societies; service to patients covered by participating payer partners; participation in practice transformation and improvement activities and its diverse patient population.
To learn more about CPC+ visit the Comprehensive Primary Care Plus website.
Learn more about the services offered at Family Medicine at PCOM.
You May Also Like:


About Philadelphia College of Osteopathic Medicine
Founded in 1899, Philadelphia College of Osteopathic Medicine has trained thousands of highly competent, caring physicians, health practitioners and behavioral scientists who practice a "whole person" approach to care—treating people, not just symptoms. PCOM offers doctoral degrees in clinical psychology, osteopathic medicine, pharmacy, physical therapy and school psychology, and graduate degrees in biomedical sciences, forensic medicine, mental health counseling, organizational development and leadership, physician assistant studies, school psychology, and public health management and administration. Our students learn the importance of health promotion, research, education and service to the community. Through its community-based Healthcare Centers, PCOM provides care to medically underserved populations in inner city and rural locations. For more information, visit pcom.edu.
For more information, contact:
Orla Moloney
Public Relations and Marketing Specialist
Office: 215-871-6334 | Cell: 267-449-1360
Connect with PCOM