Commencement Speaker Fund Bequeathed $1M
June 14, 2017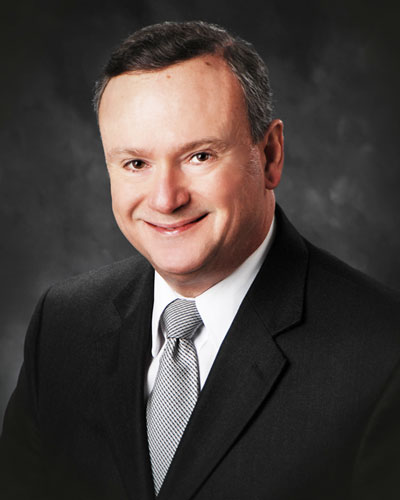 David A. Bitonte, DO '80, MBA, MPH

---
Philadelphia College of Osteopathic Medicine (PCOM) is the beneficiary of a $1 million bequest from alumnus David A. Bitonte, DO '80, MBA, MPH, to establish the David A. Bitonte, DO '80 Endowed Annual Commencement Speaker Fund.
Funds generated from the endowment will go toward supporting the cost of a distinguished speaker at the College's Doctor of Osteopathic Medicine Commencement ceremony in Philadelphia. Individuals who are nationally recognized in the fields of science and/or medicine will be considered as a speaker, with a special consideration for PCOM alumni who serve at those levels.
"I wanted to set up the speaker fund for a few reasons," said Dr. Bitonte, an anesthesiologist in Canton, Ohio. "When the graduating students arrive on Commencement Day, I want them to be inspired and excited about their future, and to recognize what they have earned and cherish it. I also wanted to give back to the school that gave me so much, by bringing honor and recognition to the College with a nationally known and respected leader at the ceremony."
Dr. Bitonte has given regularly to PCOM over the past several years and is a member of the A.T. Still Legacy Society, which acknowledges those who provide for the future of the College through planned gifts. He also is a member of the PCOM Blue Ribbon Loyalty Society, which recognizes donors at all levels who have given to PCOM for five consecutive years or more.
"PCOM offered me the opportunity to become an osteopathic physician, and I truly appreciate that opportunity," said Dr. Bitonte. "It allows me to serve mankind in a very special and rewarding manner." He noted several former faculty and staff, including Vincent T. Cipolla, DO '46, former professor and chair, anatomy; Emanuel Fliegelman, DO '42, former professor, obstetrics and gynecology; and Dominic DeBias, PhD, former chair of pharmacology, as "exemplifying the great education I received and special connection I have to PCOM."
This will be Dr. Bitonte's largest one-time gift to the institution. He and his family have also given to The Ohio State University (OSU) College of Dentistry, where Dr. Bitonte's father, uncle, brother and niece attended. Two of his three children also attended OSU. He also has contributed to the American Osteopathic Foundation. Dr. Bitonte says his giving spirit came from his parents, who established the Dr. Dominic and Helen Bitonte Family Foundation in 2001.
"My parents were model philanthropists," he said. "They donated to health care systems, universities, local museums—any charity they deemed worthy." Now, he and his brother strive to carry on their late parents' vision. "We want to give back to those organizations that put their hands out every day to help others."
"PCOM is extremely grateful to Dr. Bitonte for his generosity in establishing such a thoughtful fund—one that will have an impact on many generations of graduating physicians," said Jay S. Feldstein, DO '81, president and CEO.
Since receiving his Doctor of Osteopathic Medicine degree from PCOM in 1980, Dr. Bitonte has served as a tireless advocate of the profession. He is a past president of the Ohio Osteopathic Association and has attended the American Osteopathic Association's House of Delegates meeting as part of the Ohio delegation for several years. He is an American Osteopathic Association Health Policy fellow, and is a past president of the American Osteopathic College of Anesthesiologists, the PCOM Alumni Association, the Akron-Canton Academy of Osteopathic Medicine and the Stark County Medical Society.
In 2008, he was appointed by Ohio Governor Ted Strickland as chair of the Public Health Council Board for the Ohio Department of Health. He also served as medical director for Ohio KePRO, which serves nearly 2 million beneficiaries as the Medicare quality-improvement organization for Ohio, and has volunteered with the Medical Reserve Corps Unit of the Stark County Health Department.
Dr. Bitonte has three children: Elizabeth, an attorney in Columbus, Ohio; David, an osteopathic physician currently on radiology residency in Canton, Ohio; and Caroline, a student in Columbus, Ohio.
You May Also Like:


About Philadelphia College of Osteopathic Medicine
Founded in 1899, Philadelphia College of Osteopathic Medicine has trained thousands of highly competent, caring physicians, health practitioners and behavioral scientists who practice a "whole person" approach to care—treating people, not just symptoms. PCOM offers doctoral degrees in clinical psychology, osteopathic medicine, pharmacy, physical therapy and school psychology, and graduate degrees in biomedical sciences, forensic medicine, mental health counseling, organizational development and leadership, physician assistant studies, school psychology, and public health management and administration. Our students learn the importance of health promotion, research, education and service to the community. Through its community-based Healthcare Centers, PCOM provides care to medically underserved populations in inner city and rural locations. For more information, visit pcom.edu.
For more information, contact:
Orla Moloney
Public Relations and Marketing Specialist
Office: 215-871-6334 | Cell: 267-449-1360
Connect with PCOM