Best-Selling Author Michael Greger Visits PCOM
March 26, 2019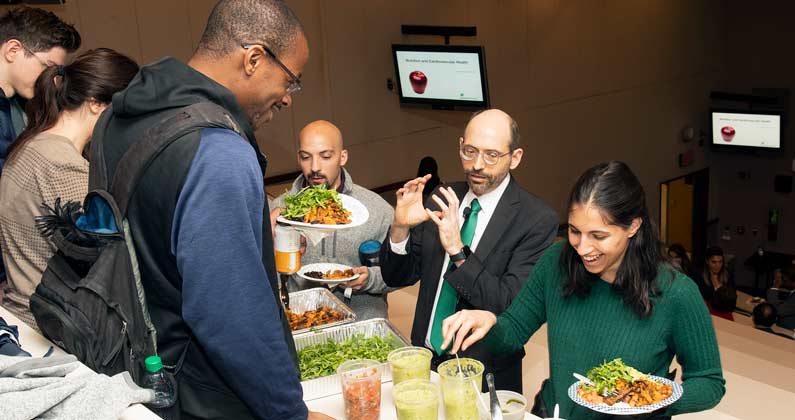 Dr. Greger discussed with students the numerous studies which show plant-based diets can be beneficial to overall health and wellness.
---
Michael Greger, MD, author of the New York Times-bestselling book How Not to Die and founder of the website NutritionFacts.org, visited PCOM recently to discuss the benefits of a plant-based diet.
Over a lunch replete with black beans, lentils and greens, Dr. Gerger discussed with students the myriad studies which show how a diet rich in plants can be beneficial to one's overall health and wellness, and can help combat issues such as diabetes, heart disease and obesity.
"Under the right conditions, the body can heal itself," he said, echoing a core tenet of the osteopathic philosophy, which states that the body is capable of self-regulation, self-healing and health maintenance. "The body wants to heal itself, but it can't if we continue to damage it," with too much meat and highly processed foods, he added.
Dr. Greger also spoke about the impetus for him becoming a physician: his grandmother, who was given a terminal diagnosis and only a few weeks to live, but after changing her diet was able to live for another 31 years.
The lecture, hosted by students in the Plant-Based Nutrition, Cardiology, Integrative Medicine and Nutrition in Medicine clubs, complements the Culinary Medicine elective at PCOM, which launched in 2018 to teach DO students about the correlation between diet and wellness, so that they can in turn share that information with their patients.
Through that course, based on a curriculum developed at Tulane University, students learn how to cook various dishes, learn about healthier substitutes when cooking, and learn how those ingredients can benefit one's health.
"Dr. Greger is encouraging medical schools to pay more attention to nutrition education, and physicians to think of nutrition as medicine, by illustrating how a largely plant-based diet can have a profound effect on chronic disease treatment and prevention," said Farzaneh Daghigh, PhD, professor of biochemistry and co-director of the PCOM Culinary Medicine elective.
Dr. Greger has lectured nationally and internationally on several public health issues, including the positive health effects of plant-based foods, and is a prolific researcher; his most recent publications focus on the public health implications of industrialized animal agriculture. His website, NutritionFacts.org, is the first science-based, non-commercial website to provide free daily videos and articles on the latest discoveries in nutrition.

You May Also Like:


About Philadelphia College of Osteopathic Medicine
Founded in 1899, Philadelphia College of Osteopathic Medicine has trained thousands of highly competent, caring physicians, health practitioners and behavioral scientists who practice a "whole person" approach to care—treating people, not just symptoms. PCOM offers doctoral degrees in clinical psychology, osteopathic medicine, pharmacy, physical therapy and school psychology, and graduate degrees in biomedical sciences, forensic medicine, mental health counseling, organizational development and leadership, physician assistant studies, school psychology, and public health management and administration. Our students learn the importance of health promotion, research, education and service to the community. Through its community-based Healthcare Centers, PCOM provides care to medically underserved populations in inner city and rural locations. For more information, visit pcom.edu.
For more information, contact:
Orla Moloney
Public Relations and Marketing Specialist
Office: 215-871-6334 | Cell: 267-449-1360
Connect with PCOM