Alzheimer's Researcher Publishes in Lancet Neurology
October 24, 2018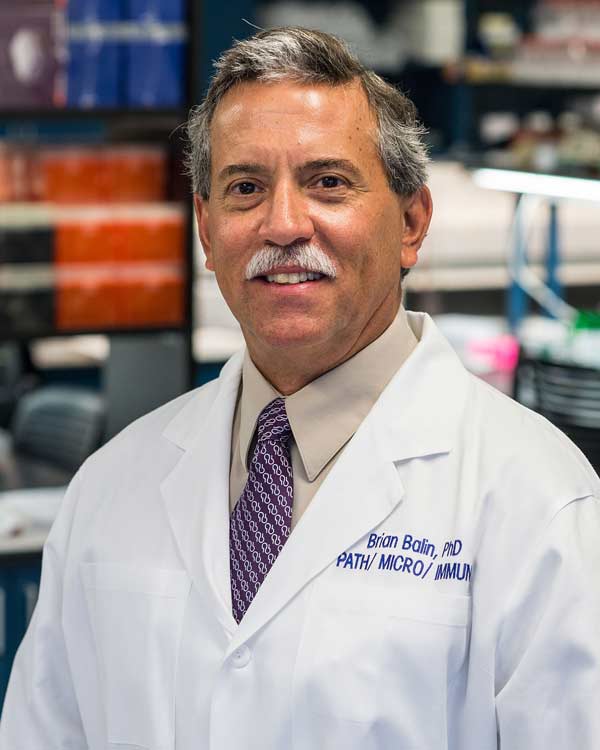 The search for an effective treatment for Alzheimer's has continued to elude researchers. A growing number of researchers contend this is because current research is focusing on the wrong area—the end pathology of the disease, not its root cause.
For more than 20 years, Brian Balin, PhD, and his team have been working under the hypothesis that infectious agents—in this case, Chlamydia pneumoniae—could be a trigger for the process that causes the accumulation of amyloid and tau build-up, which are key indicators of Alzheimer's disease. In fact, their research thus far has shown the presence of the intracellular bacteria in the brains of those who had died from the disease.
In this month's issue of The Lancet Neurology, he and co-author Alan Hudson, PhD, at Wayne State University, call for more funding for this rapidly growing area of research to determine if antimicrobial agents could be an effective strategy for treating a disease that currently has had very little success with therapeutics.
"Answers to the questions of Alzheimer's disease, and possibly other neurodegenerative conditions as well, does not reside solely in the pathology, but rather in the route to that pathology, for which infectious agents provide biologically and pathologically relevant solutions," wrote Drs. Balin and Hudson.
Dr. Balin argues that many researchers from across the country and the world are finding that infectious agents are being harbored in the brain, and can trigger another factor: inflammation. He describes it as firing a gun.
"You can have a loaded gun, but the trigger has to be pulled to inflict damage," he said. "In the case of Alzheimer's, the bullet is the infection, and once triggered, the infection will result in inflammation in the brain; genetic predisposition, trauma in the brain or even the aging process itself may exacerbate this process."
Dr. Balin adds that the growing body of work in this area can no longer be ignored.
"We've been hearing the amyloid/tau story for 30 years, but it hasn't given us any answers as to why the disease occurs," he said. "We need a better understanding of the upstream cellular processes that lead to this outcome, and we need the support to do that."
This charge laid out by Drs. Balin and Hudson in their latest paper comes after a 2016 editorial in the Journal of Alzheimer's Disease that Dr. Balin co-authored with 32 other researchers from around the world. In it, the authors called for more research on the role of infection in the onset of Alzheimer's and the need for clinical trials to begin using antimicrobial treatments.
"Anti-amyloid drugs have not been successful thus far," explained Dr. Balin. "It's time to focus on trials that explore the use, possibly in combination, of antibiotics, antivirals and anti-inflammatories as a method of slowing the progression of Alzheimer's or, perhaps even stopping it completely. This avenue of research into the cause of Alzheimer disease can no longer be ignored."

You May Also Like:


About Philadelphia College of Osteopathic Medicine
Founded in 1899, Philadelphia College of Osteopathic Medicine has trained thousands of highly competent, caring physicians, health practitioners and behavioral scientists who practice a "whole person" approach to care—treating people, not just symptoms. PCOM offers doctoral degrees in clinical psychology, osteopathic medicine, pharmacy, physical therapy and school psychology, and graduate degrees in biomedical sciences, forensic medicine, mental health counseling, organizational development and leadership, physician assistant studies, school psychology, and public health management and administration. Our students learn the importance of health promotion, research, education and service to the community. Through its community-based Healthcare Centers, PCOM provides care to medically underserved populations in inner city and rural locations. For more information, visit pcom.edu.
For more information, contact:
Orla Moloney
Public Relations and Marketing Specialist
Office: 215-871-6334 | Cell: 267-449-1360
Connect with PCOM