2018 HEED Award Recognizes PCOM's Commitment to Diversity
November 6, 2018
Philadelphia College of Osteopathic Medicine (PCOM) was once again a recipient of the Health Professions Higher Education Excellence in Diversity (HEED) Award, given by INSIGHT Into Diversity magazine, the oldest and largest diversity-focused publication in higher education. The award recognizes U.S. medical, dental, pharmacy, osteopathic, nursing and allied health schools that demonstrate an outstanding commitment to diversity and inclusion.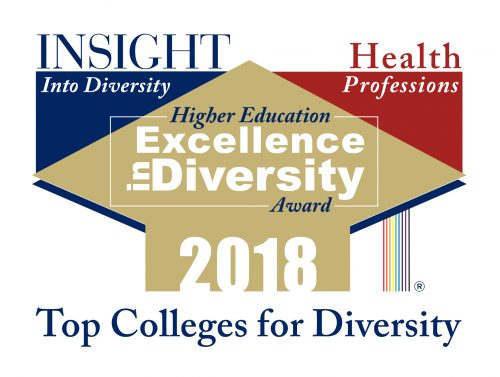 "We are proud to receive the HEED award from INSIGHT Into Diversity for the fourth year in a row," said Marcine Pickron-Davis, PhD, chief diversity and community relations officer. "This award serves as a testament to the many initiatives we have established to foster a more welcoming and inclusive campus for students, faculty, staff and visitors to PCOM."
Most recently, the Office of Diversity and Community Relations implemented the PCOM Safe program, a series of training modules open to anyone in the PCOM community, designed to create a safe and welcoming environment for LGBTQIA individuals and allies at PCOM.
"The Health Professions HEED Award process consists of a comprehensive and rigorous application that includes questions relating to the recruitment and retention of students and employees—and best practices for both; continued leadership support for diversity; and other aspects of campus diversity and inclusion," said Lenore Pearlstein, co-publisher of INSIGHT Into Diversity magazine.
"As we continue to see a record number of Health Professions HEED Award applicants each year, nearly every school tells us they use the application itself as a tool to create new programs and to benchmark their accomplishments across campus," she added. "The process allows them to reflect on their successes and also determine where more work needs to be done. We also continue to raise the standards in selecting Health Professions HEED institutions."
All HEED Award winners will be featured in the December 2018 issue of INSIGHT Into Diversity magazine. Visit INSIGHT Into Diversity for more information about the Health Professions HEED Award.

You May Also Like:


About Philadelphia College of Osteopathic Medicine
Founded in 1899, Philadelphia College of Osteopathic Medicine has trained thousands of highly competent, caring physicians, health practitioners and behavioral scientists who practice a "whole person" approach to care—treating people, not just symptoms. PCOM offers doctoral degrees in clinical psychology, osteopathic medicine, pharmacy, physical therapy and school psychology, and graduate degrees in biomedical sciences, forensic medicine, mental health counseling, organizational development and leadership, physician assistant studies, school psychology, and public health management and administration. Our students learn the importance of health promotion, research, education and service to the community. Through its community-based Healthcare Centers, PCOM provides care to medically underserved populations in inner city and rural locations. For more information, visit pcom.edu.
For more information, contact:
Orla Moloney
Public Relations and Marketing Specialist
Office: 215-871-6334 | Cell: 267-449-1360
Connect with PCOM