VSU, PCOM Georgia Agreement Saves Students Time, Money
August 29, 2019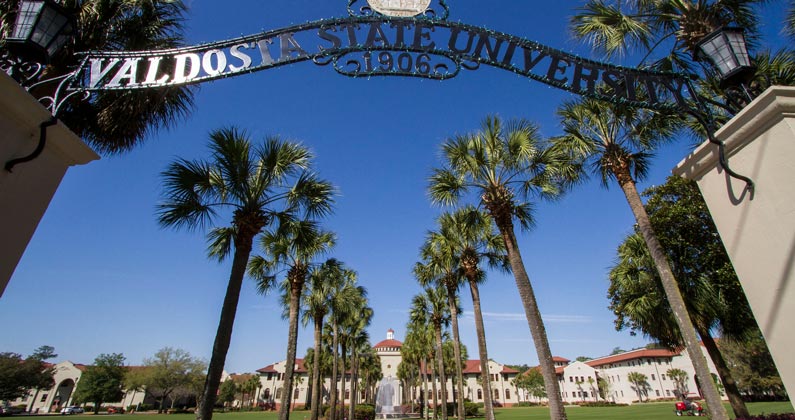 Aspiring pharmacists who are students at Valdosta State University will be eligible to earn doctoral degrees one year earlier.
---
Aspiring pharmacists who are students at Valdosta State University (VSU) in Valdosta, Georgia, will be eligible to earn doctoral degrees a year early based on an articulation agreement signed by VSU and PCOM Georgia, located in Suwanee, Georgia.
Dr. Robert T. Smith, VSU provost and vice president for academic affairs, said, "VSU is very pleased to partner with PCOM Georgia by developing joint programs that provide new opportunities for our students, helping them to begin their professional careers a full year earlier than normal, and saving them one year's tuition in the process. We believe that this will be a very popular option for many students."
According to Shawn Spencer, PhD, RPh, dean of the PCOM School of Pharmacy in Gwinnett County, the agreement will allow eligible students at VSU to enter the school of pharmacy after completing their junior year of college. Students who meet the pharmacy school's requirements may matriculate into professional school before graduating from VSU, he said, and will have the opportunity to earn a combined BS-PharmD while at PCOM Georgia.
Following their second year of pharmacy school, Dr. Spencer explained, these students will be eligible to receive their bachelor's degree from VSU having earned the required credits during their first two years of pharmacy school.
A win-win arrangement for all, this agreement allows students to begin their careers early while saving tuition dollars.
"Our agreement with Valdosta State University is another example of how PCOM is committed to adding value for our students. We're thankful to VSU for partnering with us in our mission of supporting Georgia residents entering the healthcare workforce in the region," Dr. Spencer said.
An articulation agreement similar to the agreement with VSU is also in effect at Abraham Baldwin Agricultural College in Tifton and Middle Georgia State University in Macon.
Students enrolled in the doctoral program at PCOM Georgia have the option to enhance their credentials by pursuing concentrations in three pharmacy practice areas including acute, ambulatory and managed care. In addition, PharmD students have the opportunity to pursue one of three graduate business programs offered in partnership with Saint Joseph's University in Philadelphia, Pennsylvania.
PCOM President and CEO, Jay S. Feldstein, DO '81, said, "Philadelphia College of Osteopathic Medicine is working hard to make an impact on all regions of Georgia. By partnering with Valdosta State University, we will save our students both time and money in hopes that they will return to South Georgia to practice pharmacy."
You May Also Like:
About PCOM Georgia
Established in 2005, PCOM Georgia is a private, not-for-profit, accredited institute of higher education dedicated to the healthcare professions. The Suwanee, Georgia, campus is affiliated with Philadelphia College of Osteopathic Medicine which has a storied history as a premier osteopathic medical school. PCOM Georgia offers the doctor of osteopathic medicine degree, the doctor of pharmacy degree, the doctor of physical therapy degree, as well as graduate degrees in biomedical sciences and physician assistant studies. Emphasizing "a whole person approach to care," PCOM Georgia focuses on educational excellence, interprofessional education and service to the wider community. The campus is also home to the Georgia Osteopathic Care Center, an osteopathic manipulative medicine clinic, which is open to the public by appointment. For more information, visit pcom.edu or call 678-225-7500.
For more information, contact:
Barbara Myers
Public Relations Manager
Email: BarbaraMy@pcom.edu
Office: 678-225-7532 | Cell: 770-309-0613
Connect with PCOM Georgia