PT Student Competes in American Ninja Warrior
April 4, 2019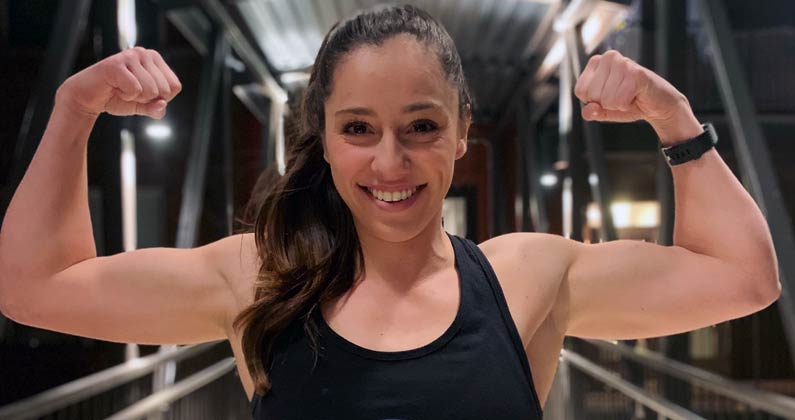 Alyssa Varsalona, CSCS (PT '21) competed against about 100 athletes in the Southeast region in the March competition.
---
First year Doctor of Physical Therapy student Alyssa Varsalona, CSCS (PT '21) "had an amazing time" as she recently competed for an ultimate $1 million prize in the "American Ninja Warrior" competition held March 24 and 25.
To be considered for the show, Varsalona was one of about 70,000 applicants who submitted a three minute video audition along with a 25 question essay application. In the March competition, this former gymnast competed against about 100 other athletes in the Southeast region. Unfortunately, she is bound by a contract to keep the results a secret until the June 5 episode airs, but she is all smiles!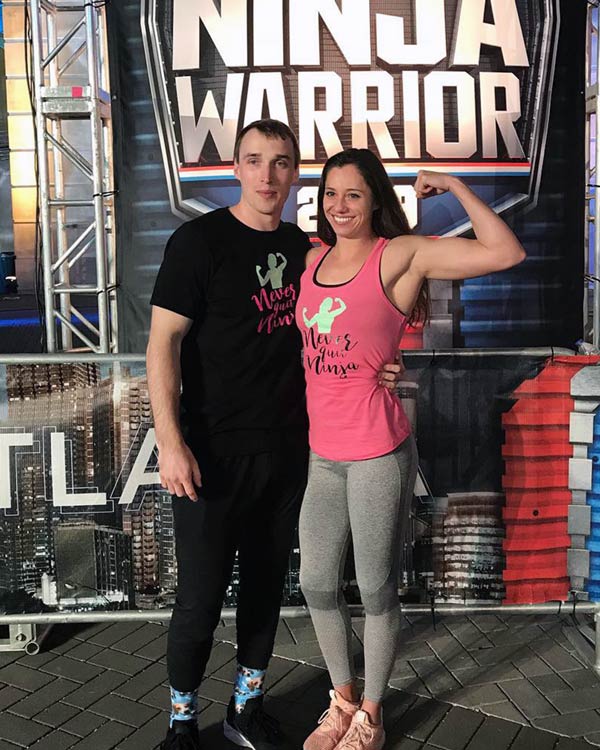 Varsalona calls herself the "Never Quit Ninja" as she has had five knee surgeries in the past seven years. She decided to apply for the competition while recovering from her fifth knee surgery. "I saw the show on TV and thought it looked awesome and I just had to try it. In fact, my aspiration to compete in the competition served as my motivation to work as hard as I could to regain my strength, balance and agility."
These same knee surgeries provided the impetus for her to pursue a degree in physical therapy. "My first physical therapist was so instrumental to my recovery and I want to be that person who is able to help athletes overcome their injuries and achieve their dreams," she said.
"As an American Ninja Warrior, I hope to be an inspiration to athletes or anyone who is struggling with an injury, showing them that if I can get past all of my injuries, then they can too. I also want to serve as a role model for young athletes and demonstrate that women can be strong too."
Prior to the competition, Varsalona participated in competitive gymnastics for ten years. She competed at level nine for two years, and began to train at level ten before being stymied by her knee injuries. After retiring from gymnastics, she participated in competitive cheerleading and ran track where she sprinted and pole vaulted.
"In my future as a physical therapist, I can use my experiences and my platform on American Ninja Warrior to develop injury prevention protocols and advocate for the importance of rehabilitation," Varsalona explained.
"This was hands down the greatest experience I have ever had," she said. "I'm still on cloud nine and I can't even believe that it really happened – it all feels like a dream."
She explained that the show films throughout the night and "the lights are so bright, the crowd is so loud, and there are cameras everywhere. I was so nervous to be competing with some of the greatest ninja veterans as a rookie, but as soon as I stepped onto the course and heard the crowd going crazy, my nerves disappeared," she said.
The top 30 overall plus the top five female athletes advance to the city finals. At city finals, the top 12 overall plus the top two women advance to the national finals which are held in Las Vegas, Nevada, where competitors tackle a four-stage course modeled after the Mt. Midoriyama course in Japan. The winner takes home a grand prize of $1 million.

You May Also Like:


About PCOM Georgia
Established in 2005, PCOM Georgia is a private, not-for-profit, accredited institute of higher education dedicated to the healthcare professions. The Suwanee, Georgia, campus is affiliated with Philadelphia College of Osteopathic Medicine which has a storied history as a premier osteopathic medical school. PCOM Georgia offers the doctor of osteopathic medicine degree, the doctor of pharmacy degree, the doctor of physical therapy degree, as well as graduate degrees in biomedical sciences and physician assistant studies. Emphasizing "a whole person approach to care," PCOM Georgia focuses on educational excellence, interprofessional education and service to the wider community. The campus is also home to the Georgia Osteopathic Care Center, an osteopathic manipulative medicine clinic, which is open to the public by appointment. For more information, visit pcom.edu or call 678-225-7500.
For more information, contact:
Barbara Myers
Public Relations Manager
Email: BarbaraMy@pcom.edu
Office: 678-225-7532 | Cell: 770-309-0613
Connect with PCOM Georgia