Pharmacy Students Participate in 'Day at the Dome'
February 1, 2018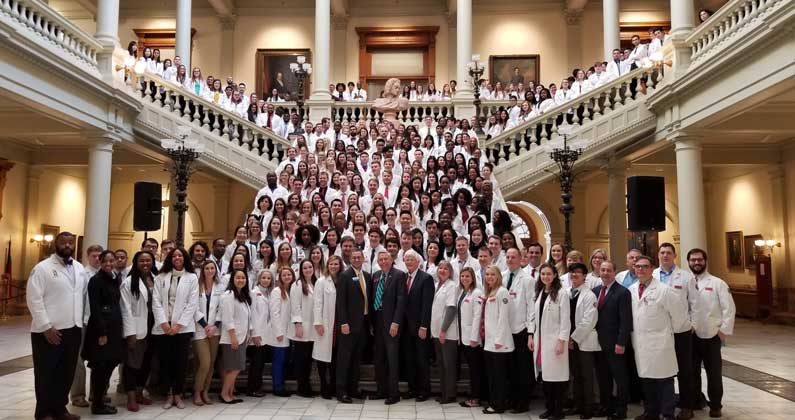 First-year PCOM School of Pharmacy students visited the Georgia State Capitol for the annual advocacy day.
---
Opportunities abound outside of the classroom for students at Georgia Campus – Philadelphia College of Osteopathic Medicine (GA-PCOM).
On Tuesday, January 30, first year students from the PCOM School of Pharmacy experienced legislation in action at the Georgia State Capitol as part of the Georgia Pharmacy Association's Day at the Dome. The annual advocacy day sponsored by the Georgia Pharmacy Association provides an opportunity for students to learn about legislative advocacy, as well as to meet face-to-face with legislators to have their voices heard.
According to Mandy Reece, PharmD, vice chair and associate professor of pharmacy practice, PCOM students joined students from the University of Georgia College of Pharmacy to represent Georgia pharmacists in their advocacy efforts. Pharmacy students from Mercer and South universities will participate in an advocacy day in February.
You May Also Like:


About GA-PCOM
Georgia Campus – Philadelphia College of Osteopathic Medicine (GA-PCOM) is a private, not-for-profit branch campus of the fully accredited Philadelphia College of Osteopathic Medicine, a multi-program institution of educational excellence founded in 1899. GA-PCOM offers the doctor of osteopathic medicine degree, the doctor of pharmacy degree, the doctor of physical therapy degree, as well as graduate degrees in biomedical sciences and physician assistant studies. The campus, located in Suwanee, Georgia, is also home to the Georgia Osteopathic Care Center, an osteopathic manipulative medicine clinic, which is open to the public by appointment. For more information, visit www.pcom.edu or call 678-225-7500.
For more information, contact:
Barbara Myers
Public Relations Manager
Email: BarbaraMy@pcom.edu
Office: 678-225-7532 | Cell: 770-309-0613
Connect with GA-PCOM