Pharmacy Residency Partnership Begins
July 10, 2018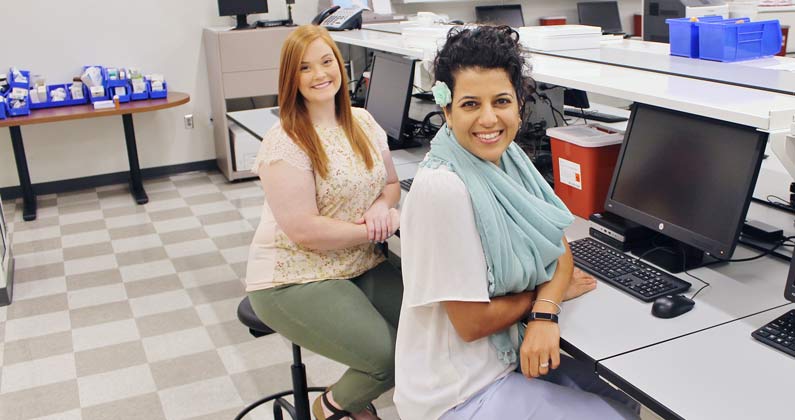 PCOM Doctor of Pharmacy graduates Lauren Avery, PharmD '18, and Irandokht Khaki, PharmD '18, were selected for a PGY1 residency program, a partnership between PCOM and Wellstar North Fulton.
---
On July 1, 2018, two PCOM School of Pharmacy graduates began a Post Graduate Year One (PGY1) pharmacy practice residency, a partnership between the PCOM School of Pharmacy in Suwanee, Georgia, and Wellstar North Fulton in Roswell, Georgia.
Lauren Avery, PharmD '18, and Irandokht Khaki, PharmD '18, were selected for the 12-month program which will prepare them to practice in a variety of patient care clinical settings, as well as in academia.
Dr. Khaki said, "I really enjoy the challenging nature of working as part of a multidisciplinary team focused on tackling complex clinical cases."
Her plans are to become board certified in critical care and eventually to become a clinical assistant professor involved in research, precepting pharmacy students and residents, and assisting in educating other healthcare professionals in a clinical setting.
She said, "I was impressed by the way PCOM preceptors were invested in the development of students and residents."
Dr. Avery plans to become a board certified pharmacotherapy specialist, to practice as a clinical pharmacist and to one day pursue a career in academia.
She said, "I am excited to be a part of this residency program because GA-PCOM feels like home to me. I have been fortunate to learn from faculty during my four years here and look forward to working alongside them as colleagues."
The PGY1 residency program builds on educational outcomes from doctor of pharmacy programs, while contributing to the development of clinical pharmacists who will be responsible for medication-related care of patients with a wide range of conditions. This training prepares residents for board certification and for PGY2 pharmacy residency training.
The program operates under the direction of Residency Program Director Samuel John, PharmD, BCPS, an associate professor in the department of pharmacy practice at PCOM School of Pharmacy.
You May Also Like:


About PCOM Georgia
Established in 2005, PCOM Georgia is a private, not-for-profit, accredited institute of higher education dedicated to the healthcare professions. The Suwanee, Georgia, campus is affiliated with Philadelphia College of Osteopathic Medicine which has a storied history as a premier osteopathic medical school. PCOM Georgia offers the doctor of osteopathic medicine degree, the doctor of pharmacy degree, the doctor of physical therapy degree, as well as graduate degrees in biomedical sciences and physician assistant studies. Emphasizing "a whole person approach to care," PCOM Georgia focuses on educational excellence, interprofessional education and service to the wider community. The campus is also home to the Georgia Osteopathic Care Center, an osteopathic manipulative medicine clinic, which is open to the public by appointment. For more information, visit pcom.edu or call 678-225-7500.
For more information, contact:
Barbara Myers
Public Relations Manager
Email: BarbaraMy@pcom.edu
Office: 678-225-7532 | Cell: 770-309-0613
Connect with PCOM Georgia