New Clinical Education Structure Announced
April 20, 2016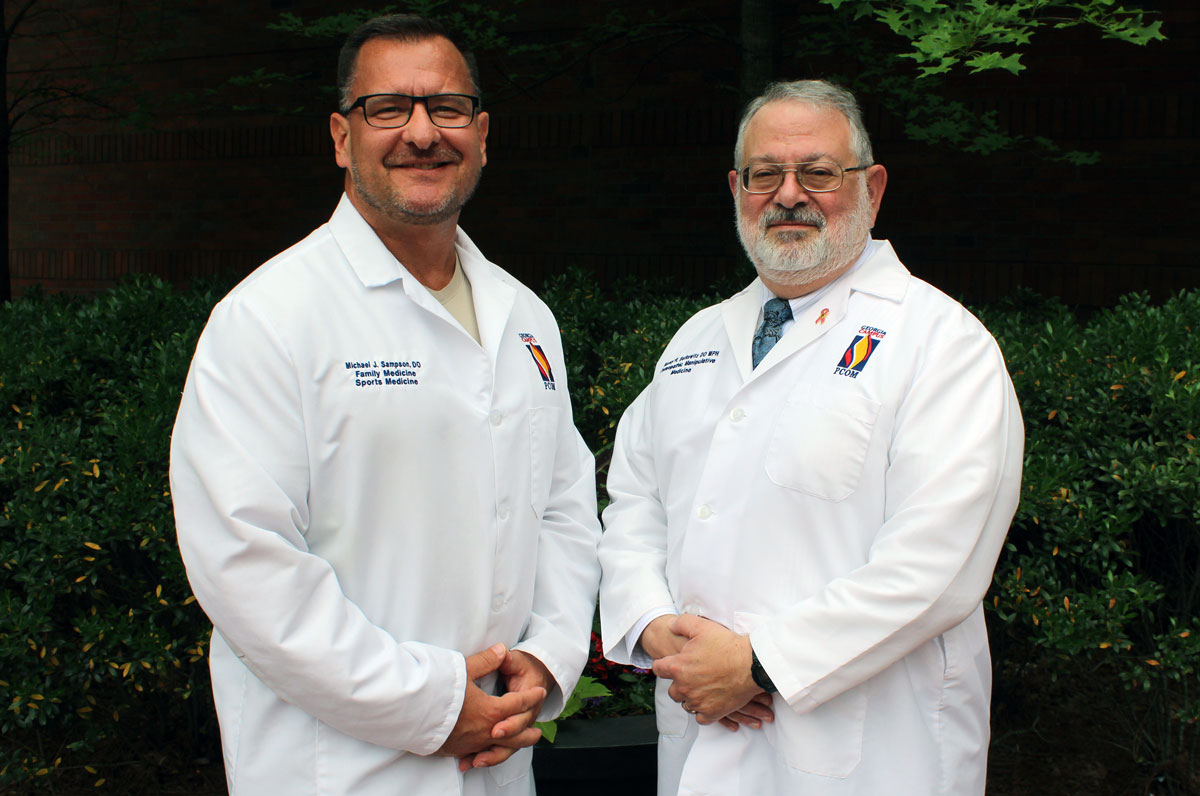 Dr. Michael Sampson and Dr. Murray Berkowitz
---
Congratulations to Georgia Campus – Philadelphia College of Osteopathic Medicine (GA-PCOM) Assistant Dean of Clinical Education Dr. Paula Gregory who will leave GA-PCOM at the beginning of May to assume her new position as the Dean of the newly established Kansas City University - Joplin College of Osteopathic Medicine in Joplin, Missouri in June.
Dean and Chief Academic Officer H. William Craver III, DO, said, "Dr. Gregory has been a wonderful asset to the college. We thank her for her great efforts to advance the institution and wish her well as she moves on to serve as Dean of KCSOM."
To meet the growing needs of clinical education throughout the four-year curriculum, a revised structure has been established for GA-PCOM's clinical education department. Dr. Murray Berkowitz will serve as the interim Assistant Dean of Clerkship and Core Site Development. In this role, he is responsible for the administration of third- and fourth-year clerkships, including interacting with preceptors, hospitals and area health education centers. In addition, he is charged with developing new clinical education sites, as well as overseeing the Office of Undergraduate Clinical Education.
Dr. Michael Sampson will take on the position of interim Assistant Dean of Clinical Integration. He will be responsible for incorporating clinical education opportunities into the classroom curriculum primarily for first- and second-year students. Dr. Sampson is charged with helping to develop and assess learning outcomes of the clinical education. He will also be responsible for coordinating outside volunteer physicians who teach GA-PCOM osteopathic medical students.
Dean Craver said, "I am grateful that Drs. Sampson and Berkowitz have accepted these positions and I anticipate that the restructuring will be beneficial for our students."
About PCOM Georgia
Established in 2005, PCOM Georgia is a private, not-for-profit, accredited institute of higher education dedicated to the healthcare professions. The Suwanee, Georgia, campus is affiliated with Philadelphia College of Osteopathic Medicine which has a storied history as a premier osteopathic medical school. PCOM Georgia offers the doctor of osteopathic medicine degree, the doctor of pharmacy degree, the doctor of physical therapy degree, as well as graduate degrees in biomedical sciences and physician assistant studies. Emphasizing "a whole person approach to care," PCOM Georgia focuses on educational excellence, interprofessional education and service to the wider community. The campus is also home to the Georgia Osteopathic Care Center, an osteopathic manipulative medicine clinic, which is open to the public by appointment. For more information, visit pcom.edu or call 678-225-7500.
For more information, contact:
Barbara Myers
Public Relations Manager
Email: BarbaraMy@pcom.edu
Office: 678-225-7532 | Cell: 770-309-0613
Connect with PCOM Georgia