GA-PCOM Launches Opportunities Academy
July 6, 2017

GA-PCOM's new Opportunities Academy allowed local high school students interested in future healthcare careers a chance to learn more about the profession. The program's primary goal is to increase the number of underrepresented minorities in healthcare fields, organizers said.
---
This summer, Georgia Campus – Philadelphia College of Osteopathic Medicine (GA-PCOM) in Suwanee kicked off a new program for local high school students interested in healthcare careers. In partnership with Gwinnett County Public Schools' Berkmar and Meadowcreek high schools, the Opportunities Academy was held from June 19-30. The two-week program was designed to serve as a pipeline to guide motivated students toward training and careers in the fields of science and medicine.
Second-year DO student Claire Dorcent, who led the program as Student Coordinator, explained, "Our main goal was to increase the number of underrepresented minorities in the healthcare fields."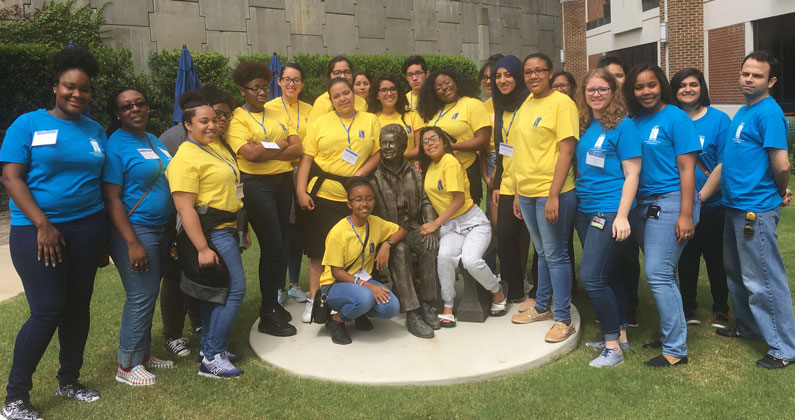 At the end of their first week of camp, the Opportunities Academy students took a field trip to the Shepherd Center, which is a private, not-for-profit hospital in Atlanta that specializes in medical treatment, research and rehabilitation for people with neuromuscular conditions.
---
With a busy schedule of activities directed by volunteer GA-PCOM students, faculty and staff, the Opportunities Academy students enjoyed interactive labs and dissections in the College's Anatomy Lab, diagnosed robot-patients in the new Simulation Center, took field trips to the Shepherd Center and Bodies: The Exhibition in Atlanta, attended discussions with guest lecturers, practiced Tai Chi, learned about applying to college and health professional programs, and explored various subjects from cardiology to infectious diseases to neuroscience.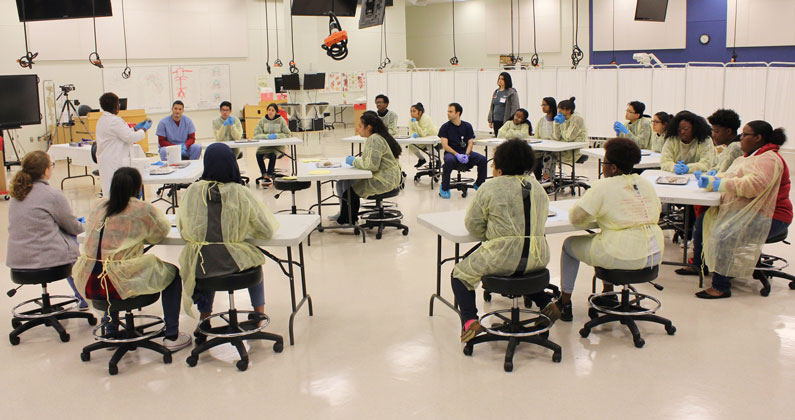 GA-PCOM's Opportunities Academy students learned about the major structures of the brain from Dr. Adwoa Aduonum in the Anatomy Lab.
---
"We want to engage and get the kids excited about the endless possibilities that are out there for them, through exposure to ourselves and other healthcare professionals," Dorcent added.
On the last day of the Opportunities Academy, the high school students received certificates of completion from the College and white coats from their GA-PCOM mentors at a graduation ceremony attended by family and friends. Capt. Kenneth L. Dominguez, MD, MPH (USPHS), Medical Epidemiologist at the Center for Disease Control, was featured as the ceremony's keynote speaker. The inaugural class of Opportunities Academy graduates also presented clinical cases in front of those in attendance, and all enjoyed refreshments at the ceremony's conclusion.
Other partners included CSL Behring, Teva Pharmaceutical Industries Ltd., the 3M Foundation, and the VWR Foundation.
You May Also Like:


About PCOM Georgia
Established in 2005, PCOM Georgia is a private, not-for-profit, accredited institute of higher education dedicated to the healthcare professions. The Suwanee, Georgia, campus is affiliated with Philadelphia College of Osteopathic Medicine which has a storied history as a premier osteopathic medical school. PCOM Georgia offers the doctor of osteopathic medicine degree, the doctor of pharmacy degree, the doctor of physical therapy degree, as well as graduate degrees in biomedical sciences and physician assistant studies. Emphasizing "a whole person approach to care," PCOM Georgia focuses on educational excellence, interprofessional education and service to the wider community. The campus is also home to the Georgia Osteopathic Care Center, an osteopathic manipulative medicine clinic, which is open to the public by appointment. For more information, visit pcom.edu or call 678-225-7500.
For more information, contact:
Barbara Myers
Public Relations Manager
Email: BarbaraMy@pcom.edu
Office: 678-225-7532 | Cell: 770-309-0613
Connect with PCOM Georgia