First Year Students Express Gratitude for 'First Patient'
November 24, 2015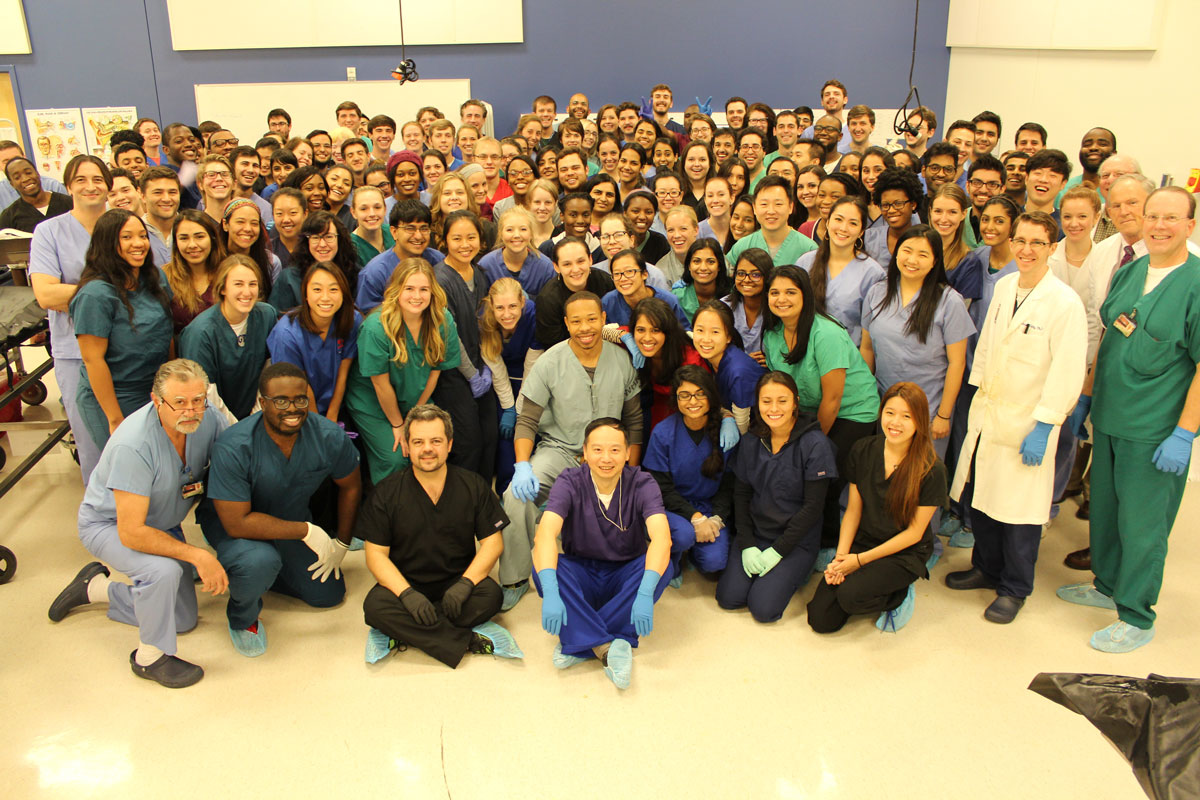 Completion of the course "Structural Principles of Osteopathic Medicine" or SPOM is a rite of passage for first year medical students at Georgia Campus - Philadelphia College of Osteopathic Medicine (GA-PCOM). The 13-week course, which covers anatomy and development of the human body, is foundational for medical education and clinical practice.
"It was a break that really humanized everything we spent hours learning in classroom lectures," said student Iza Jordan.
Ending just before Thanksgiving, the course included working with cadavers, which serve as each student's "first patient." In addition, plastinated specimens, X-rays, CT scans, MRI images, bones and models are available for students to fully understand the structure of the human body. Led by Dr. Vlad Stanescu and Dr. Keith Brown, seven other physicians and Anatomy Lab Coordinator Jeff Seiple assist the students with the course.
First year student Ethan McBrayer expressed the feeling of gratitude shared by many of his fellow classmates when asked about the course.
"As a first year medical student, you are excited and a little anxious about meeting your patient. A thousand questions run through your mind! What did they do for a living? What was their family like? How did they pass?" he said. "I remember the day we finally got to meet her ... When I learned that she was a nurse, this confirmed even more how special she was. She spent her whole life taking care of other people. Even in death, she continued to help people. She was willing to donate her body to science so that students like me would have an opportunity to learn things you could never learn through a textbook."
While working with his patient, McBrayer thought about the love she had for her family, her patients and others.
"I realized we shared something in common," he said. "We both had a passion to help people. We both chose medicine in order to make a difference in people's lives."
"She has been a blessing to me through her teachings," McBrayer added. "It's kind of sad that we are nearing the end of our journey, but she has done so much to help me and other first year medical students with the lessons on anatomy and more ... I will always remember the knowledge that she taught me and will carry that knowledge into my journey of life as a doctor."
For additional information about the body donor program at GA-PCOM, view our frequently asked questions or contact the program coordinator.
About PCOM Georgia
Established in 2005, PCOM Georgia is a private, not-for-profit, accredited institute of higher education dedicated to the healthcare professions. The Suwanee, Georgia, campus is affiliated with Philadelphia College of Osteopathic Medicine which has a storied history as a premier osteopathic medical school. PCOM Georgia offers the doctor of osteopathic medicine degree, the doctor of pharmacy degree, the doctor of physical therapy degree, as well as graduate degrees in biomedical sciences and physician assistant studies. Emphasizing "a whole person approach to care," PCOM Georgia focuses on educational excellence, interprofessional education and service to the wider community. The campus is also home to the Georgia Osteopathic Care Center, an osteopathic manipulative medicine clinic, which is open to the public by appointment. For more information, visit pcom.edu or call 678-225-7500.
For more information, contact:
Barbara Myers
Public Relations Manager
Email: BarbaraMy@pcom.edu
Office: 678-225-7532 | Cell: 770-309-0613
Connect with PCOM Georgia