Dr. Holaway Receives GSHP Community Service Award
August 6, 2018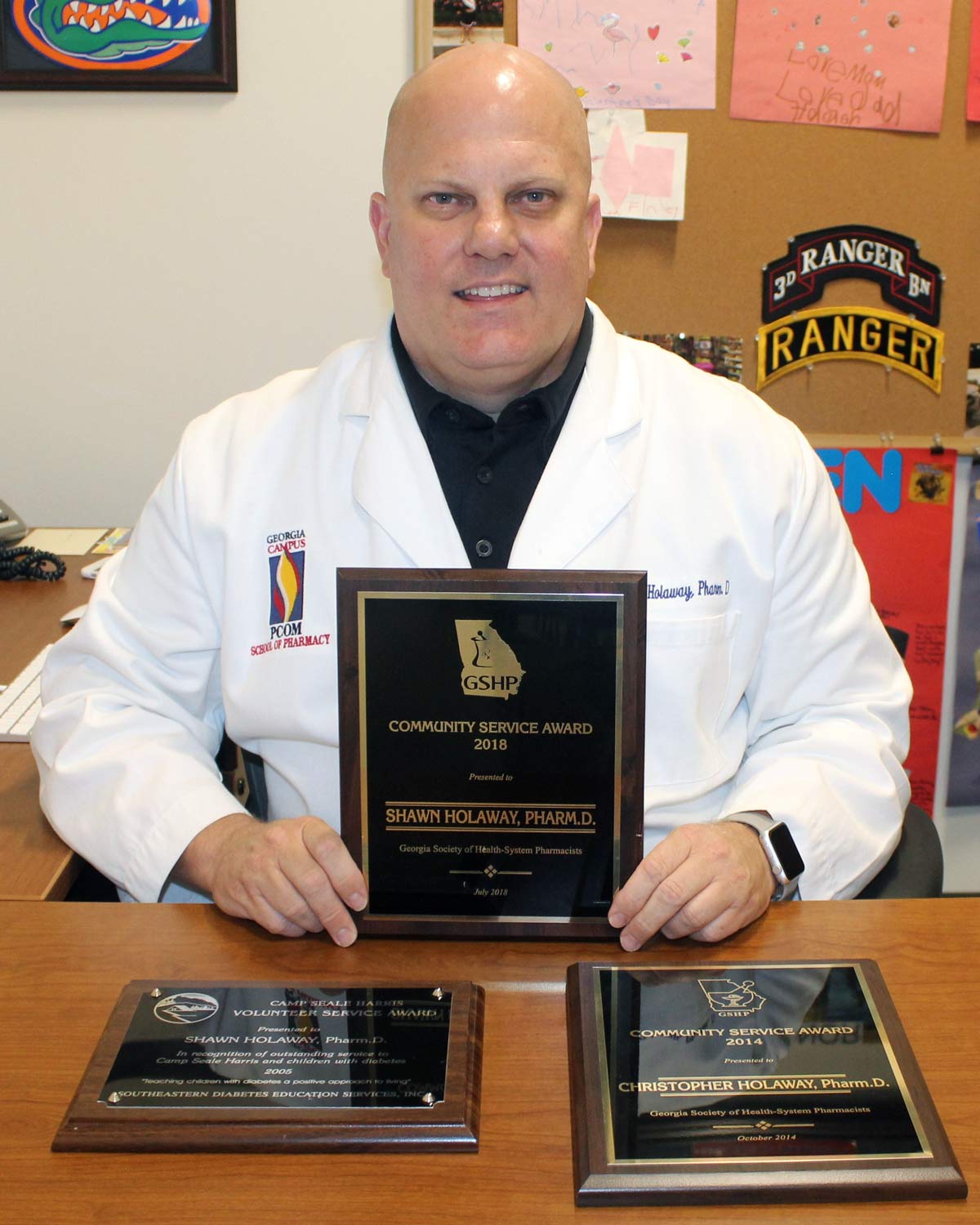 Christopher S. Holaway, PharmD, an assistant professor in the department of pharmacy practice at Georgia Campus – Philadelphia College of Osteopathic Medicine (GA-PCOM), recently received the 2018 Georgia Society of Health-System Pharmacists (GSHP) Community Service Award. This award is presented annually at the association's summer meeting to a GSHP member for outstanding service to the community. GSHP is a professional society of pharmacists and technicians practicing in organized healthcare settings.
Dr. Holaway is a registered pharmacist whose areas of teaching are primary care pharmacy practice, chronic disease management and innovative pharmacy education methodologies and programs. Embodying the PCOM School of Pharmacy's mission, Dr. Holaway works to support the needs of the underserved in Georgia. In 2014, GSHP recognized him for the first time with a Community Service Award for his work with Habitat for Humanity.
He said, "I give all the glory and honor to God and Jesus, as my savior, because without their unconditional love I could not have served the people in these communities which led to this recognition."
Dr. Shawn Spencer, Dean of the PCOM School of Pharmacy, said, "The importance of service is highlighted at PCOM and we are proud of Dr. Holaway's determination, dedication and devotion to our underserved populations in Georgia."
Folashade Omole, MD, FAAFP, Department Chair of Family Medicine at Morehouse School of Medicine, nominated Dr. Holaway for the award. In addition to his faculty duties at GA-PCOM, Dr. Holaway serves as an adjunct clinical assistant professor in the Department of Family Medicine at Morehouse School of Medicine.
Dr. Omole explained that Dr. Holaway was invited to develop a direct patient care line of service to be delivered at the Health Equity for All Lives (HEAL) Clinic of Morehouse School of Medicine. The clinic provides basic primary care services and wellness programs for all who are uninsured or who have just immigrated to the United States. Learn more about Dr. Holaway's involvement with the HEAL Clinic.
In the nomination form, Dr. Omole wrote, "For fiscal year 2017, Dr. Holaway was asked to develop a logistical system that produced the following results:
Ensure all patients treated at the HEAL Clinic have a year's supply of their medications for the following disease states: hypertension, diabetes, hyperlipidemia, asthma and chronic obstructive pulmonary disease.
Recruit and interface student pharmacists and student physicians in a process that promotes inter professional optimal patient outcomes."
According to Dr. Omole, Dr. Holaway volunteered his services and exceeded expectations. "It is without reservation or hesitation that he deserves this award," she wrote.
Dr. Holaway has served as a skilled volunteer with Habitat for Humanity for nine years. In addition, he has been a volunteer member of the Atlanta Track Club medical staff, providing care at the annual Peachtree Road Race for 10 years. The Hosea Feed the Hungry and Homeless program, now known as Hosea Helps, also benefits from Dr. Holaway's efforts to provide basic primary medical care at two events during the year.
Dr. Holaway has held additional medical appointments with the Southeastern Diabetes Education Services at Camp Seale Harris, which recognized him in 2005 with a Volunteer Service Award. This camp began as an innovative way to teach healthy behaviors outside of the doctor's office or hospital setting. At Camp Kudzu, he has volunteered to manage the medical needs of adolescent campers. Camp Kudzu makes life better for children and teens who are living with type one diabetes.
Dr. Holaway earned a Bachelor of Science degree in biology and chemistry from the University of Alabama at Birmingham, a Bachelor of Science degree in pharmacy from Auburn University and a doctorate in pharmacy from the University of Florida. Afterwards, he completed an advanced graduate research experience at the University of Alabama at Birmingham School of Medicine in the division of cardiology.
This article was updated on August 7, 2018 to include a link to Fox 5 Atlanta's story about the HEAL Clinic of Morehouse School of Medicine.

You May Also Like:
About PCOM Georgia
Established in 2005, PCOM Georgia is a private, not-for-profit, accredited institute of higher education dedicated to the healthcare professions. The Suwanee, Georgia, campus is affiliated with Philadelphia College of Osteopathic Medicine which has a storied history as a premier osteopathic medical school. PCOM Georgia offers the doctor of osteopathic medicine degree, the doctor of pharmacy degree, the doctor of physical therapy degree, as well as graduate degrees in biomedical sciences and physician assistant studies. Emphasizing "a whole person approach to care," PCOM Georgia focuses on educational excellence, interprofessional education and service to the wider community. The campus is also home to the Georgia Osteopathic Care Center, an osteopathic manipulative medicine clinic, which is open to the public by appointment. For more information, visit pcom.edu or call 678-225-7500.
For more information, contact:
Barbara Myers
Public Relations Manager
Email: BarbaraMy@pcom.edu
Office: 678-225-7532 | Cell: 770-309-0613
Connect with PCOM Georgia