Abdul Walters (DO '20) Awarded Mason Pressly Medal
January 22, 2020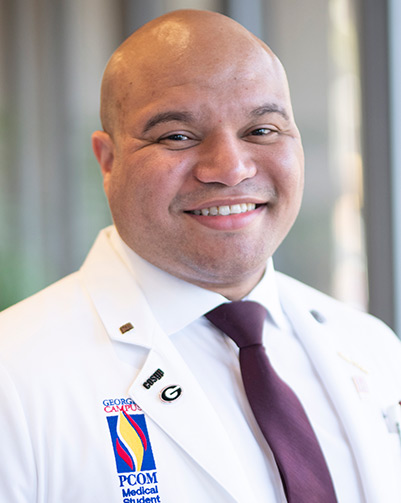 Abdul Walters, MS/Biomed '16 (DO '20), has been named the PCOM Georgia recipient of the Mason Pressly Memorial Medal, the College's highest student honor which recognizes outstanding achievement and service to the College, the community and the osteopathic profession.
The award will be presented to Walters, who was selected by representatives of the College community, at the Commencement Dinner Dance to be held May 20, 2020 at the Infinite Energy Center in Duluth. He will graduate from PCOM Georgia with a doctor of osteopathic medicine degree on May 21, 2020.
Walters has been a part of the PCOM family since 2014 when he matriculated into the Biomedical Sciences program, earning a Master's degree. He had earned a Bachelor of Arts and Foreign Languages degree from Augusta University and a Bachelor of Science degree from the University of Georgia. A UGA professor advised him to explore PCOM Georgia.
Walters has been highly involved in campus activities during his six year tenure. He served as president of PCOM FIT, co-founded the Latino Medical Student Association, volunteered as a camp counselor for Camp Neuro and the Opportunities Academy, worked as a tutor for fellow classmates, was a member of the President's Diversity Council, and served as a peer facilitator for the campus' Summer Bridge COMLEX review course.
In addition, he served as president of the DO Council, as a member of the national Council of Osteopathic Student Government Presidents, and was involved in the American Association of Colleges of Osteopathic Medicine's Mental Health Task Force Committee. He also represented the campus at the American Osteopathic Association House of Delegates.
In 2017, Walters was the recipient of a $1,500 Welch Scholar Grant which is given to one student at each college of osteopathic medicine or branch campus by the American Osteopathic Foundation Board of Directors. The award recognizes outstanding academic achievement, participation in extracurricular activities, a strong commitment to osteopathic medicine and financial need.
Despite his many achievements, he said, "My greatest accomplishment at PCOM Georgia was and still is the bonds that I have formed with peers, professors, mentors and staff."
You May Also Like:
About PCOM Georgia
Established in 2005, PCOM Georgia is a private, not-for-profit, accredited institute of higher education dedicated to the healthcare professions. The Suwanee, Georgia, campus is affiliated with Philadelphia College of Osteopathic Medicine which has a storied history as a premier osteopathic medical school. PCOM Georgia offers doctoral degrees in osteopathic medicine, pharmacy, and physical therapy and graduate degrees in biomedical sciences and physician assistant studies. Emphasizing "a whole person approach to care," PCOM Georgia focuses on educational excellence, interprofessional education and service to the wider community. The campus is also home to the Georgia Osteopathic Care Center, an osteopathic manipulative medicine clinic, which is open to the public by appointment. For more information, visit pcom.edu or call 678-225-7500.
For more information, contact:
Barbara Myers
Public Relations Manager
Email: BarbaraMy@pcom.edu
Office: 678-225-7532 | Cell: 770-309-0613
Connect with PCOM Georgia