Students Celebrate Health Care Fields
October 13, 2015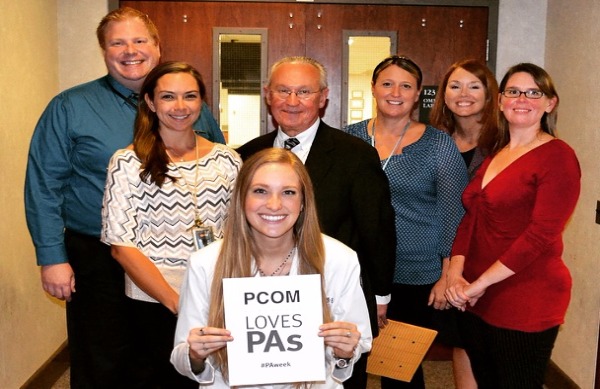 The second week in October marked two causes for celebration for many of PCOM's students: Primary Care Week and Physician Assistant Week.
Several student groups held an array of events on campus for these nationwide observances, to raise awareness and pride in their respective fields.
Primary Care Week kicked off on Monday, October 5, with an EKG skills lab sponsored by the PCOM chapters of Primary Care Progress (PCP) and the Student Association of the American College of Osteopathic Family Physicians (SAACOFP). Peter Bidey, DO '08 (third photo), instructor, family medicine, demonstrated to students how to use an EKG machine and read the results.
On Tuesday, the Internal Medicine Club sponsored a talk on collaboration between primary care doctors and specialists with Erik Polan, DO '07, instructor, general internal medicine, and the SAACOFP sponsored a talk on loan repayment options for students interested in primary care careers. Charmaine Chan, DO '05, instructor, family medicine, shared her experiences in the National Health Service Corps—a national program that helps with tuition repayment in exchange for primary care service in underserved areas.
On Wednesday, the SAACOFP sponsored a talk with Carol Henwood, DO, former president of the American College of Osteopathic Family Physicians, about the ACGME merger, and what that means for DO students.
Thursday, the SAACOFP , PCP and the Autism Awareness Club sponsored a talk with psychologist Kathleen Davis, PsyD, (second photo) about recognizing and treating autism in a primary care setting. That evening, the SAACOFP also sponsored a panel with family doctors who discussed their experiences in various fields, such as women's health, health insurance and military medicine.
Primary Care Week wrapped on Friday, October 8, with a panel discussion sponsored by PCP that featured Erik Langenau, DO (fourth photo), chief academic technology officer and associate professor, family medicine, who discussed his most interesting cases.
In addition to those activities, the Physician Assistant Studies class of 2017 sponsored several activities for PA Week, including a bake sale on Tuesday, October 6 to raise funds for the Make-A-Wish Foundation of Philadelphia, Northern Delaware and Susquehanna Valley; and an ice cream social on Wednesday, October 7, for PA and DO students to meet and discuss their respective fields of medicine. PA students also participated in the Make-a-Wish Foundation's annual Walk for Wishes at the Philadelphia Zoo on Sunday, October 11.
About Philadelphia College of Osteopathic Medicine
Founded in 1899, Philadelphia College of Osteopathic Medicine has trained over 15,000 highly competent, caring physicians, health practitioners and behavioral scientists who practice a "whole person" approach, treating people, not just symptoms. PCOM offers the doctor of osteopathic medicine, doctor of pharmacy and doctor of psychology degrees and graduate programs in mental health counseling, school psychology, physician assistant studies, forensic medicine, organizational development and leadership, and biomedical sciences. Our students learn the importance of health promotion, education and service to the community and, through PCOM's Healthcare Centers, provide care to the medically underserved populations in inner city and rural locations.
For more information, contact:
Renee Cree
Public Relations Manager
Office: 215-871-6304 | Cell: 267-449-1360
Connect with PCOM