PCOM Student Default Rates Drop
February 6, 2017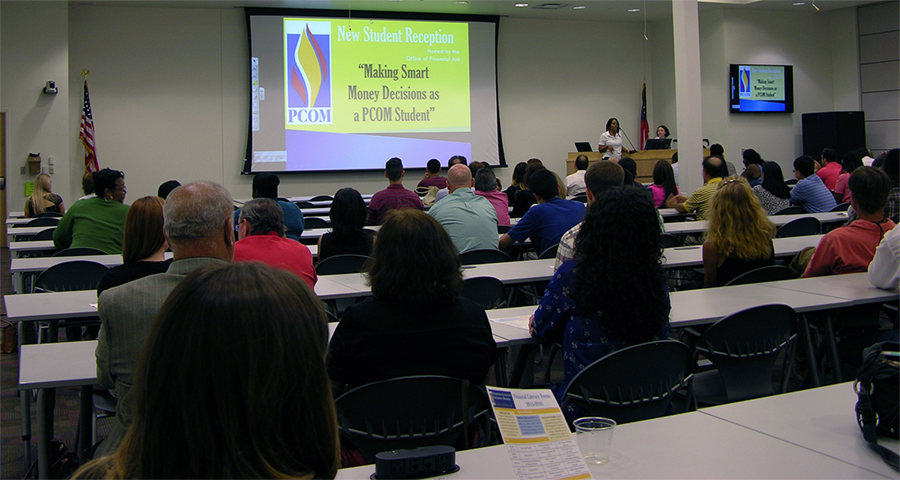 PCOM's default rate dropped from 1.6 percent for the cohort default year 2012 to 0.8 percent for 2013, according to the College's Office of Financial Aid.
---
PCOM is within the top 5 percent of schools with the lowest student default rates in the country, according to a Student Loan Report analysis of data from the U.S. Department of Education.
According to PCOM's Office of Financial Aid, the College's default rate has dropped—from 1.6 percent for the cohort default year 2012, to 0.8 percent for the 2013 cohort default year. By comparison, the Student Loan Report lists Pennsylvania's default rate at 9.7 percent and the national rate at 11.3 percent.
Grace Taylor, PCOM's debt counselor, said that the Financial Aid office has been actively working on reaching a 3-year official cohort default rate of zero. That rate is determined by calculating a school's borrowers who entered repayment on federal student loans during a particular year and defaulted within three years, and dividing that number by the total number of borrowers who entered repayment in that same year.
During the past few years, the Financial Aid Office has implemented a robust financial literacy program to better inform students about smart borrowing habits by offering information and tactics to help students manage their money more effectively.
The financial literacy program offers one-on-one appointments that focus on budget coaching and exit counseling for students and hosts table topics throughout the year on various financial topics; interactive webinars on Blackboard; a lecture series focused on issues such as home buying, financial planning, and loan repayment; and a reception at the start of the academic year, which introduces incoming students to the concept of over-borrowing and the value of budgeting.
"I hope to continue to work with our current students on financial literacy, our graduating students through enhanced and individualized exit counseling, our young alumni with loan repayment counseling, and our delinquent borrowers to get them the additional counseling and support they need in order to avoid reaching a defaulted status," said Taylor.
In the new report, PCOM was ranked 143 out of more than 4,500 schools across the country. Data was pulled from the Department of Education's Official Cohort Default Rates for Schools Report, which includes all schools eligible for federal student loans for which the Department of Education has data. These include public schools, private schools, and non-degree/for-profit schools. The data includes borrowers who entered repayment in the 2013 fiscal year. At the time of this report, this was the most up-to-date dataset available.
To learn more about student loan default rates, view the Student Loan Default Rates by School by State report.
To learn how PCOM is committed to helping students develop sound financial habits, visit our Financial Literacy page.
You May Also Like:


About Philadelphia College of Osteopathic Medicine
Founded in 1899, Philadelphia College of Osteopathic Medicine has trained thousands of highly competent, caring physicians, health practitioners and behavioral scientists who practice a "whole person" approach to care—treating people, not just symptoms. PCOM offers doctoral degrees in clinical psychology, osteopathic medicine, pharmacy, physical therapy and school psychology, and graduate degrees in biomedical sciences, forensic medicine, mental health counseling, organizational development and leadership, physician assistant studies, school psychology, and public health management and administration. Our students learn the importance of health promotion, research, education and service to the community. Through its community-based Healthcare Centers, PCOM provides care to medically underserved populations in inner city and rural locations. For more information, visit pcom.edu.
For more information, contact:
Orla Moloney
Public Relations and Marketing Specialist
Office: 215-871-6334 | Cell: 267-449-1360
Connect with PCOM