PCOM Celebrates DO Commencement June 3
May 31, 2017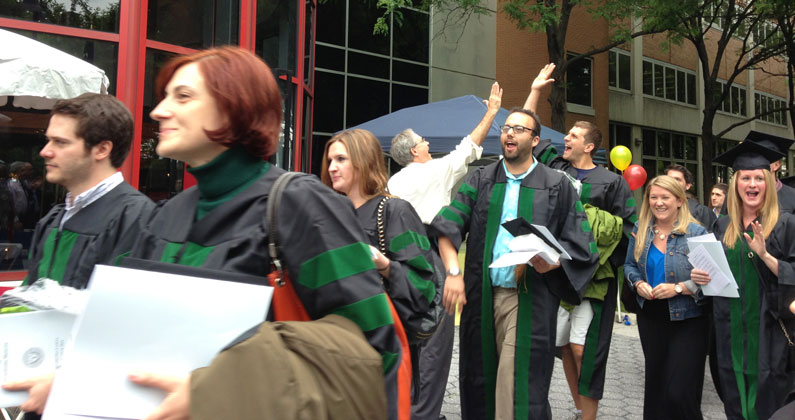 PCOM will hold its DO Commencement ceremony June 3 at the Kimmel Center for the Performing Arts in Philadelphia.
---
More than 250 students in the Doctor of Medicine program will receive their degrees on June 3 at the Kimmel Center for the Performing Arts in Philadelphia, and will move on to some of the most competitive residencies in the U.S. They will join the 100,000-plus DOs currently in active practice.
Keith Leaphart, DO '03, MBA, will present the Commencement address. Dr. Leaphart is president and CEO of Replica Creative, a Philadelphia-based print shop, and the founder of Wallsome, a design firm specializing in creative wall graphics. He is chair of the Board of Directors for the Lenfest Foundation, and practices medicine at the Bryn Mawr Rehabilitation Hospital.
Learn more information about PCOM's 2017 DO Commencement ceremony.
Members of the class of 2017 have dedicated themselves to caring for others and bettering the world around them, whether it's through a computer, across town, or across the world. Read profiles about some of the graduating members of the class of 2017.
A Facebook Live feed from the ceremony will be available beginning at 4 pm.
DOs practice a "whole person" approach to medicine; instead of just treating specific symptoms, DOs concentrate on treating the patient as a whole. DOs practice in all areas of medicine from family medicine and pediatrics to surgery, radiology and psychiatry. They are complete physicians, fully trained and licensed to prescribe medicine and to perform surgery. In addition, many DOs incorporate osteopathic manipulative treatment (OMT) into their care. With OMT, osteopathic physicians use their hands to diagnose illness and injury and encourage the body to heal itself.
You May Also Like:


About Philadelphia College of Osteopathic Medicine
Founded in 1899, Philadelphia College of Osteopathic Medicine has trained more than 15,000 highly competent, caring physicians, health practitioners and behavioral scientists who practice a "whole person" approach, treating people, not just symptoms. PCOM offers the doctor of osteopathic medicine, doctor of pharmacy and doctor of psychology degrees and graduate programs in mental health counseling, school psychology, physician assistant studies, forensic medicine, organizational development and leadership, and biomedical sciences. Our students learn the importance of health promotion, education and service to the community and, through PCOM's Healthcare Centers, provide care to the medically underserved populations in inner city and rural locations.
For more information, contact:
Renee Cree
Associate Director, News and Media Relations
Office: 215-871-6304 | Cell: 267-449-1360
Connect with PCOM