Library Celebrates Milestone
October 22, 2015
The PCOM Library celebrated a major milestone this fall, as it celebrated five years and more than 500,000 downloads of theses, dissertations, faculty articles, posters, notes on PCOM history and more through the DigitalCommons@PCOM.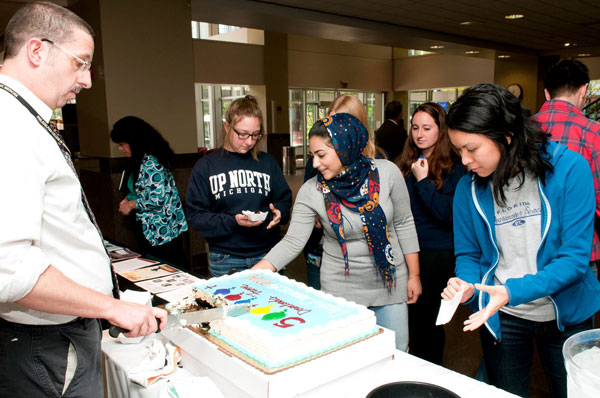 The PCOM Library recently celebrated five years and more than 500,000 downloads of scholarly materials through the
DigitalCommons@PCOM
.
In a celebration during Open Access Week—an international effort that promotes ways to increase access to research work and publications— Stephanie Ferretti, chief library services officer, said that the open access model adopted by DigitalCommons fosters collaboration, as researchers can obtain documents with relative ease to build on existing projects.
DigitalCommons by the numbers:
Among the intellectual work that has been deposited, there are
Nearly100 biomedical studies theses.
Over 200 evidence-based medicine reviews from physician assistant studies.
Almost 350 Psychology dissertations.
Downloads by the numbers:
367,762+ psychology downloads—more than 100,000 in the past year
65,000+ physician assistant studies downloads
500,881+ full-text downloads
About Philadelphia College of Osteopathic Medicine
Founded in 1899, Philadelphia College of Osteopathic Medicine has trained thousands of highly competent, caring physicians, health practitioners and behavioral scientists who practice a "whole person" approach to care—treating people, not just symptoms. PCOM offers doctoral degrees in clinical psychology, osteopathic medicine, pharmacy, physical therapy and school psychology, and graduate degrees in biomedical sciences, forensic medicine, mental health counseling, organizational development and leadership, physician assistant studies, school psychology, and public health management and administration. Our students learn the importance of health promotion, research, education and service to the community. Through its community-based Healthcare Centers, PCOM provides care to medically underserved populations in inner city and rural locations. For more information, visit pcom.edu.
For more information, contact:
Orla Moloney
Public Relations and Marketing Specialist
Office: 215-871-6334 | Cell: 267-449-1360
Connect with PCOM