DO Student Places 2nd in Philly Marathon
November 30, 2015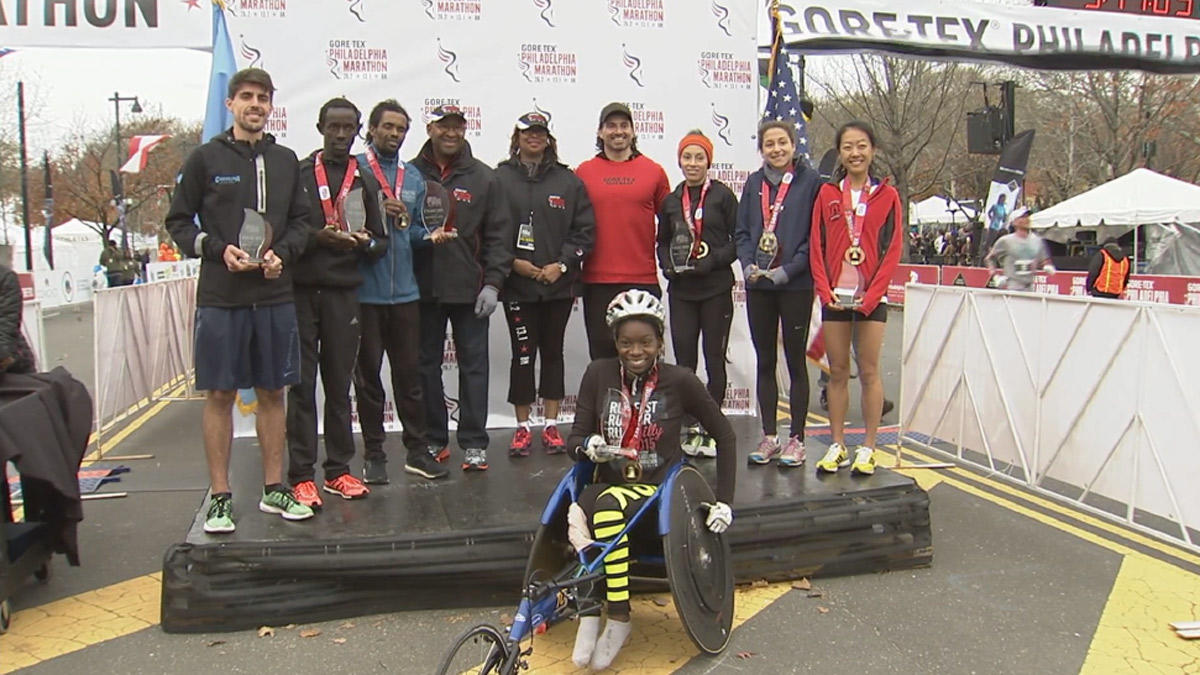 PCOM's Margaret Vido (second from right) placed second in the Philadelphia Women's Marathon.
Credit: NBC10
Running is all about reaching your personal best. First-year DO student Margaret Vido attained her personal best in last week's Philadelphia Women's Marathon—and came in second in the process, with a time of 2 hours, 44 minutes and 40 seconds.
"My best time before this marathon was about five minutes slower," she says. "I was trying to hit the women's Olympic trials qualifying time."
Mrs. Vido has been an avid runner since middle school, and she ran track and cross country as a high school student in her hometown of Nazareth, Pa. She continued to run as an undergraduate student at Penn, and this year's marathon was her third. She says that running also helps her maintain her personal best as a medical student as well.
"Training for the marathon has helped keep me sane," she says. "It helps me relax when classes are stressful, and helps me maintain balance in my life."
She added that learning anatomy has been of particular interest to her. "As a runner, you know how the body functions, but it's been really interesting to see it first-hand in the anatomy lab," she says. "I've just finished my first course, but I'm looking forward to learning more about that."
While she did not quite reach the time needed to qualify for the Olympic trials in February (that time is 2 hours, 43 minutes), she says she'll continue to try to reach it. Mrs. Vido says she is unsure of which specific race she will run next, but is looking forward to continuing with her training.
About Philadelphia College of Osteopathic Medicine
Founded in 1899, Philadelphia College of Osteopathic Medicine has trained more than 15,000 highly competent, caring physicians, health practitioners and behavioral scientists who practice a "whole person" approach, treating people, not just symptoms. PCOM offers the doctor of osteopathic medicine, doctor of pharmacy and doctor of psychology degrees and graduate programs in mental health counseling, school psychology, physician assistant studies, forensic medicine, organizational development and leadership, and biomedical sciences. Our students learn the importance of health promotion, education and service to the community and, through PCOM's Healthcare Centers, provide care to the medically underserved populations in inner city and rural locations.
For more information, contact:
Renee Cree
Public Relations Manager
Office: 215-871-6304 | Cell: 267-449-1360
Connect with PCOM