DO Class of 2019 Receives White Coats
October 6, 2015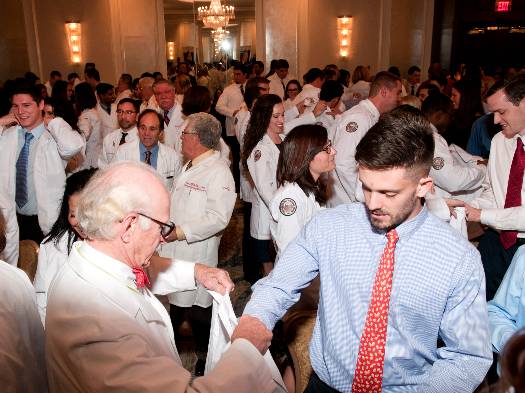 On Saturday, Oct. 3, 283 first-year osteopathic medical students took their first step toward becoming physicians during PCOM's White Coat Ceremony.
A significant rite of passage, the White Coat Ceremony is a tradition at most medical schools. The ceremony is designed to establish a psychological contract for beginning medical students that stresses the importance of compassionate care for the patient and professionalism as well as scientific proficiency.
Students heard from Jay S. Feldstein, DO '81, president and CEO; Ken Veit, DO '76, MBA, provost, senior vice president for academic affairs and dean; and Harry Morris, DO '78, MPH, chair of family medicine. Michael J. Zawisza, DO '86, president of the Pennsylvania Osteopathic Medical Association, congratulated the students after they had received their white coats.
Students representing years two, three and four also shared their perspectives on what the white coat meant to them. "My white coat marks me as someone given the opportunity to care for others, said Kelly Mowatt, class of 2017.

The ceremony concluded with the class of 2019 reciting the vision statement they had crafted during orientation. The students pledged to "dedicate ourselves to the evolution of our medical training and emotional intelligence," and "to be cognizant that a patient is more than their diagnosis, and acknowledge the person behind their disease."

The physician's white coat has been a part of the profession since the 19th century. The concept originated from the operating room's white coat, and has served as a visual symbol of the profession that stands for the need to balance excellence in science with compassionate caring for the patient.
About Philadelphia College of Osteopathic Medicine
Founded in 1899, Philadelphia College of Osteopathic Medicine has trained thousands of highly competent, caring physicians, health practitioners and behavioral scientists who practice a "whole person" approach to care—treating people, not just symptoms. PCOM offers doctoral degrees in clinical psychology, osteopathic medicine, pharmacy, physical therapy and school psychology, and graduate degrees in biomedical sciences, forensic medicine, mental health counseling, organizational development and leadership, physician assistant studies, school psychology, and public health management and administration. Our students learn the importance of health promotion, research, education and service to the community. Through its community-based Healthcare Centers, PCOM provides care to medically underserved populations in inner city and rural locations. For more information, visit pcom.edu.
For more information, contact:
Orla Moloney
Public Relations and Marketing Specialist
Office: 215-871-6334 | Cell: 267-449-1360
Connect with PCOM