Becher, Kuo Honored by National Board of Osteopathic Medical Examiners
December 18, 2015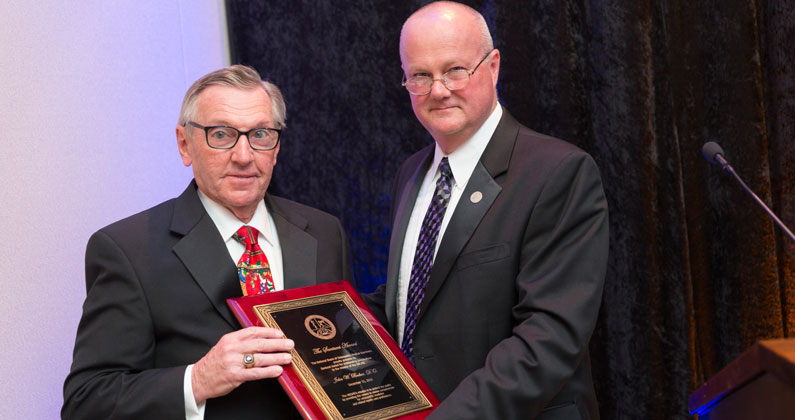 John Becher, DO '70 (left), chair, emergency medicine, and AOA president, was honored with the Santucci Award, presented by NBOME Board Chair, Wayne R. Carlsen, DO.
The National Board of Osteopathic Medical Examiners (NBOME) recently honored two PCOM faculty members for their commitment to the organization and to osteopathic medical education.
John W. Becher, DO '70, chair of emergency medicine and current president of the American Osteopathic Association, on Dec. 11 received the Santucci Award, the NBOME's highest honor. As chair of the NBOME Clinical Skills Testing Advisory Committee, Dr. Becher was instrumental in developing policy and procedures for the clinical skills examination. Working with the NBOME, he was able to develop and implement a new emergency medicine certification examination, and in 2009, introduced a recertifying examination in that specialty in the same format. Dr. Becher was a regular visitor to both the Chicago and Philadelphia offices for countless NBOME meetings, interviews and other assignments to assist the executive staff.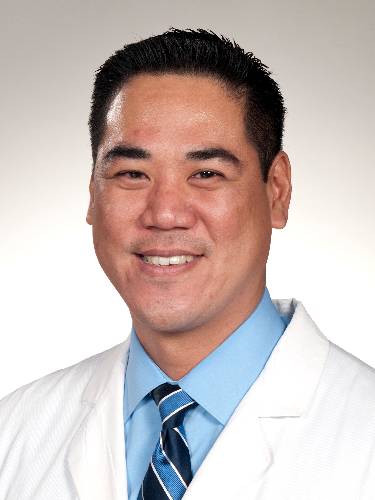 Exiting NBOME Board Chair Wayne R. Carlsen, DO, said, "The Santucci Award is awarded to an individual for his or her sustained outstanding contributions to the mission of the NBOME…protecting the public by providing the means to assess competencies for osteopathic medicine and related health care professions. Certainly John Becher's contributions to the NBOME mission have been exemplary."
The NBOME also welcomed to its board David Kuo, DO '96 (pictured at right), assistant dean for graduate medical education, and program director for the Family Medicine Residency.
The NBOME is the leading assessment organization for the osteopathic medical profession. NBOME's COMLEX-USA examination series is a requirement for graduation from colleges of osteopathic medicine and provides the pathway to licensure for osteopathic physicians in the United States and numerous international jurisdictions.
About Philadelphia College of Osteopathic Medicine
Founded in 1899, Philadelphia College of Osteopathic Medicine has trained more than 15,000 highly competent, caring physicians, health practitioners and behavioral scientists who practice a "whole person" approach, treating people, not just symptoms. PCOM offers the doctor of osteopathic medicine, doctor of pharmacy and doctor of psychology degrees and graduate programs in mental health counseling, school psychology, physician assistant studies, forensic medicine, organizational development and leadership, and biomedical sciences. Our students learn the importance of health promotion, education and service to the community and, through PCOM's Healthcare Centers, provide care to the medically underserved populations in inner city and rural locations.
For more information, contact:
Renee Cree
Public Relations Manager
Office: 215-871-6304 | Cell: 267-449-1360
Connect with PCOM