PCOM Community Members Honored for Commitment to Diversity
September 2, 2015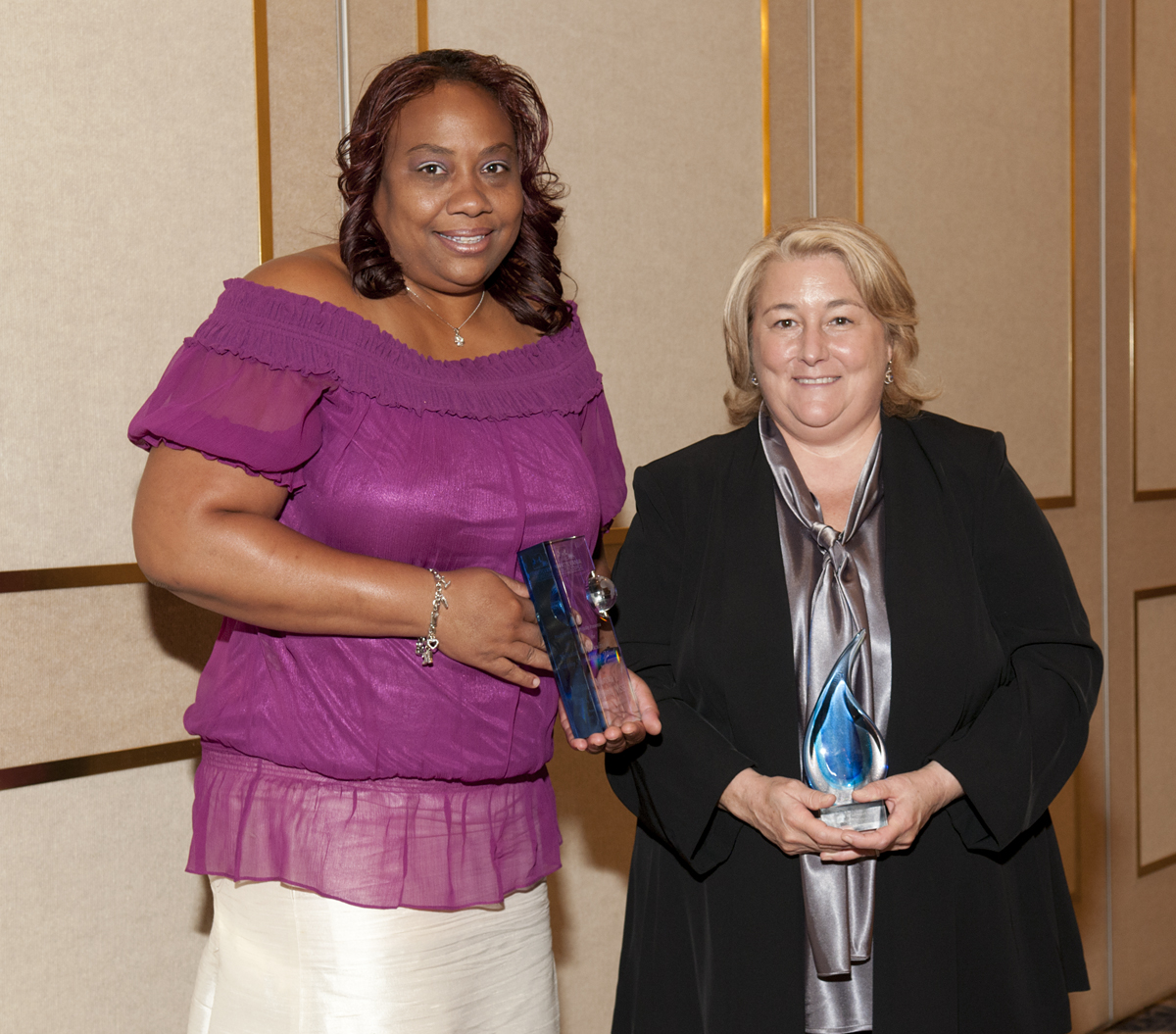 Denah Appelt, PhD, professor, bio-medical sciences; and Marsha Williams, associate director, admissions; were both honored by the National Diversity Council at its 6th annual Philadelphia Diversity and Leadership Conference on Sept. 1.
During the event, awards were given in recognition of leadership and excellence in promoting diversity and inclusion. Among them were the Most Powerful Women award, given to Dr. Appelt; and the Multicultural Leadership Award, given to Ms. Williams.
Dr. Appelt and Ms. Williams were honored for their leadership excellence; their accomplishments in their respective fields; and their commitment to the highest ethical standards and the well-being of the entire campus community.
"I have been blessed with many wonderful opportunities in life," said Dr. Appelt. "My hope is that I can provide even more opportunities for others. We should all 'pay it forward'."
"Life is about giving back," added Ms. Williams. "Someone paved the way for me so in return, I want to build a path for others."
As an institution, PCOM is strongly committed to diversity. The College strives to create an environment of inquiry, inquisitiveness and respect, one that promotes discovery and celebration of differences, and fosters a deep appreciation of the rich social fabric that binds this society together.
"These two women serve as beacons, upholding the value of diversity as a central tenet to the College and represent the value we hold for a diverse and inclusive environment for the entire PCOM community," said Lisa McBride, PhD, chief diversity officer.
About Philadelphia College of Osteopathic Medicine
Founded in 1899, Philadelphia College of Osteopathic Medicine has trained thousands of highly competent, caring physicians, health practitioners and behavioral scientists who practice a "whole person" approach to care—treating people, not just symptoms. PCOM offers doctoral degrees in clinical psychology, osteopathic medicine, pharmacy, physical therapy and school psychology, and graduate degrees in biomedical sciences, forensic medicine, mental health counseling, organizational development and leadership, physician assistant studies, school psychology, and public health management and administration. Our students learn the importance of health promotion, research, education and service to the community. Through its community-based Healthcare Centers, PCOM provides care to medically underserved populations in inner city and rural locations. For more information, visit pcom.edu.
For more information, contact:
Orla Moloney
Public Relations and Marketing Specialist
Office: 215-871-6334 | Cell: 267-449-1360
Connect with PCOM