Students Work to Prevent HIV Transmission
April 15, 2016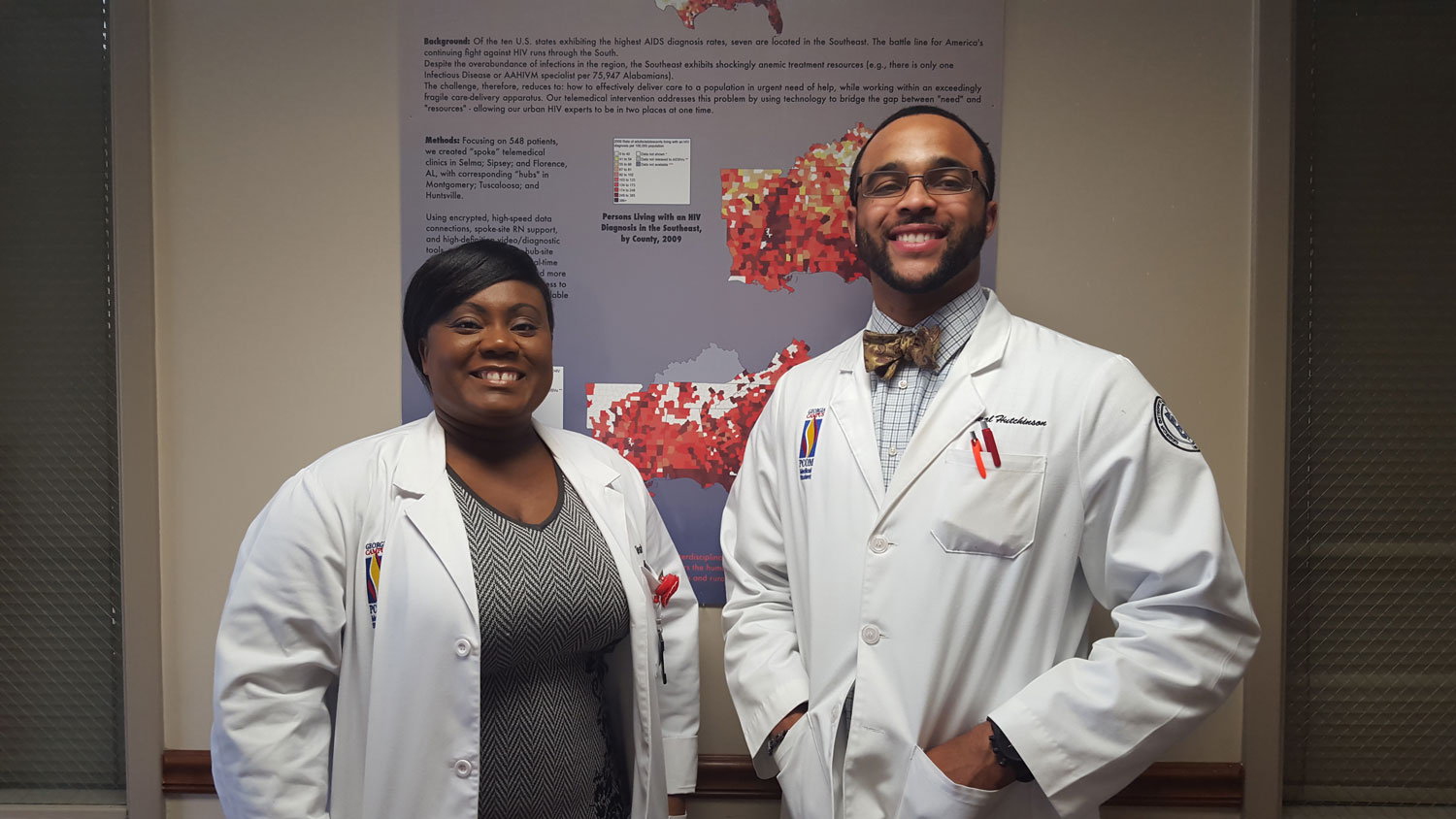 Two fourth-year osteopathic medical students from GA-PCOM are working to increase education and decrease HIV transmission in the Central Alabama area.
---
With several decades of advancements in education, research and treatment, persons diagnosed with HIV now often enjoy long, full lives. Though no longer a sentence of imminent death, the transmission of HIV still poses a significant public health issue; the Center for Disease Control (CDC) estimates that approximately 1.3 million United States residents are living with HIV and an estimated thirteen percent are not aware that they are infected.
The epidemic is especially serious in southern states, where some of the highest rates of HIV diagnoses occur. Two fourth-year osteopathic medical students from Georgia Campus – Philadelphia College of Osteopathic Medicine (GA-PCOM) hope to quell these numbers by advocating for a treatment that would help prevent HIV transmission. Participating in medical rotations at Medical AIDS Outreach of Alabama (MAO), a community-based comprehensive HIV program based in Montgomery, TeKesha Henry (DO '16) and Darval Hutchinson (DO '16) are working with the clinic to increase education and decrease HIV transmission in the Central Alabama area.
"Lowndes County in Alabama has an astonishingly high new diagnosis rate per capita for HIV," said Henry, "Poverty and lack of access to health care and education are the major culprits in this trend."
In the past, preventing the transmission of HIV focused on safe sex practices and avoiding high-risk behaviors, like intravenous drug use. Now there is an additional preventative care treatment that, coupled with safe sex practices, can reduce the risk of becoming infected. Appropriately named, Pre-exposure Prophylaxis, or PrEP, therapy is a pill that combines two drugs – tenofovir disoproxil fumarate and emtricitabine – already used for the treatment of those who have HIV/AIDS. In May of 2014, this pill, branded Truvada, was included in the U.S. Department of Health and Human Services' guidelines for preventing HIV in healthy people.
PrEP is intended for individuals who are HIV negative and either participate in high-risk sexual behavior, are intravenous drug users, or have a partner who is HIV positive or who participates in high risk behavior or IV drug use. According to the CDC, at least a half million Americans could qualify for PrEP.
Under the medical direction of Laurie Dill, MD, MAO began offering services to the Central Alabama region from its new PrEP clinic in March. Overseen by preceptors Marguerite Barber-Owens, MD, and Prashant Bhat, MD, respectively, student doctors Henry and Hutchinson prepared educational presentations, pamphlets, newsletters and wall posters in order to educate local healthcare providers about PrEP. They aim to expand access to PrEP and the PrEP clinic in hopes of eradicating HIV transmission in the region.
A major challenge, however, is medication cost. While insurance covers much of the expense, the cost of Truvada could burden uninsured patients with up to $15,000 in yearly out-of-pocket fees. Even with cost assistance initiatives, Truvada can still have an estimated total of up to $500 monthly. This makes access to PrEP very difficult for those who are under/uninsured. Routine clinic follow-ups are also required for PrEP treatment—another factor which currently limits the number of patients who could benefit from PrEP, explained Henry and Hutchinson. The Doctor of Osteopathic Medicine candidates plan to consult with other programs on a national level in order to learn the logistics of funding the drug as well as expand clinic services to the uninsured or those with non-private insurance.
Dill said, "It has been a pleasure to have both TeKesha and Darval working on this PrEP project with our staff. They bring great energy to the project and caring for our patients."
About PCOM Georgia
Established in 2005, PCOM Georgia is a private, not-for-profit, accredited institute of higher education dedicated to the healthcare professions. The Suwanee, Georgia, campus is affiliated with Philadelphia College of Osteopathic Medicine which has a storied history as a premier osteopathic medical school. PCOM Georgia offers the doctor of osteopathic medicine degree, the doctor of pharmacy degree, the doctor of physical therapy degree, as well as graduate degrees in biomedical sciences and physician assistant studies. Emphasizing "a whole person approach to care," PCOM Georgia focuses on educational excellence, interprofessional education and service to the wider community. The campus is also home to the Georgia Osteopathic Care Center, an osteopathic manipulative medicine clinic, which is open to the public by appointment. For more information, visit pcom.edu or call 678-225-7500.
For more information, contact:
Barbara Myers
Public Relations Manager
Email: BarbaraMy@pcom.edu
Office: 678-225-7532 | Cell: 770-309-0613
Connect with PCOM Georgia