Students Hold 'Pink Out,' Fundraiser
February 10, 2016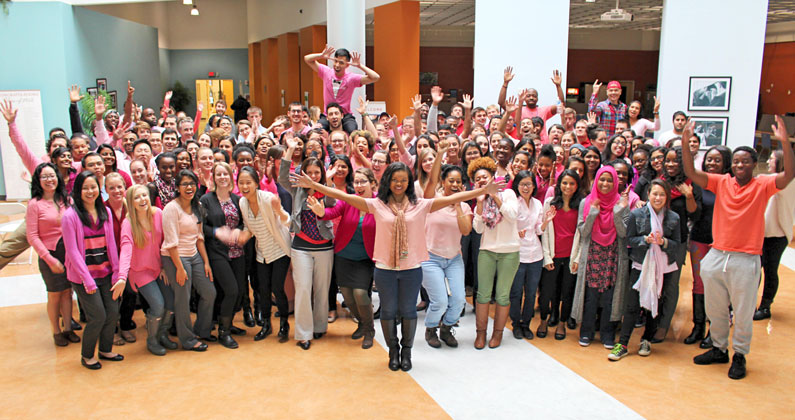 Students, faculty and staff wore pink in a show of support for those who have battled breast cancer. (Photo credit: Nicolas Applyrs Jr, DO '18)
---
Every two minutes, a woman in the U.S. is diagnosed with breast cancer. It's a disease that affects many people, wreaking havoc on women and their loved ones. While doctors and scientists continue to look for a cure, a group of medical students at Georgia Campus – Philadelphia College of Osteopathic Medicine (GA-PCOM) recently came together to help support breast cancer research in memory of their classmate's mother.
The beloved mother of second-year osteopathic medical student, Denaya, was diagnosed in December 2012 with Stage I breast cancer which, even with a period of remission, slowly progressed to Stage IV. "Throughout this journey, my mom remained overall in good spirits, courageous, patient, and humble, being strong in her Christian faith," Denaya remembers, "She was even able to still minister to others although she was in ill health; one of her greatest strengths was helping and caring for others."
Denaya lost her mother in January, and returned to school a week later. "I thought I would feel so isolated upon my return, but my medical school family—peers, faculty and staff—made me feel so welcome and included," she said. She was able to catch up on classes with help from the Office of Student Affairs and her professors, and she received sincere gestures of help in the form of homemade meals from her medical school peers.
Wanting to show their love and support for their classmate, the Doctor of Osteopathic Medicine Class of 2018 decided to raise money for breast cancer research so that their support would also extend to all those affected by the disease. After reviewing numerous charities, the student doctors chose to fundraise for the Breast Cancer Research Foundation (BCRF), a nonprofit organization committed to achieving prevention and a cure for breast cancer. The organization ensures that at least 91 cents of every dollar goes towards research.
"As medical students, a lot of us have prior research experience and we understand the importance of research funds," said Danielle Ward, DO '18.
They created a page on the BCRF website in honor of Denaya's mother, made an announcement to the class, and shared the post on Facebook. Less than 24 hours later, the GA-PCOM students had raised more than $1,000 to support breast cancer research.
Class members also planned a "Pink Out" where students, faculty and staff wore pink in a show of support for those who have suffered from breast cancer. "We wanted our classmate to know that she is loved and that the entire school is truly behind her," Ward continued, "We not only wanted to honor and recognize her mother, but to show our love and support for anyone who has ever survived and/or lost a loved one to breast cancer."
Denaya said, "I have never experienced so much support from a school I've attended. I now feel more capable of getting back on track and in tune with accomplishing my medical school studies. Everything feels doable now, and all glory goes to God for using my medical school to comfort me in this time of bereavement."
About PCOM Georgia
Established in 2005, PCOM Georgia is a private, not-for-profit, accredited institute of higher education dedicated to the healthcare professions. The Suwanee, Georgia, campus is affiliated with Philadelphia College of Osteopathic Medicine which has a storied history as a premier osteopathic medical school. PCOM Georgia offers the doctor of osteopathic medicine degree, the doctor of pharmacy degree, the doctor of physical therapy degree, as well as graduate degrees in biomedical sciences and physician assistant studies. Emphasizing "a whole person approach to care," PCOM Georgia focuses on educational excellence, interprofessional education and service to the wider community. The campus is also home to the Georgia Osteopathic Care Center, an osteopathic manipulative medicine clinic, which is open to the public by appointment. For more information, visit pcom.edu or call 678-225-7500.
For more information, contact:
Barbara Myers
Public Relations Manager
Email: BarbaraMy@pcom.edu
Office: 678-225-7532 | Cell: 770-309-0613
Connect with PCOM Georgia