Southerland to Serve Hometown
November 18, 2015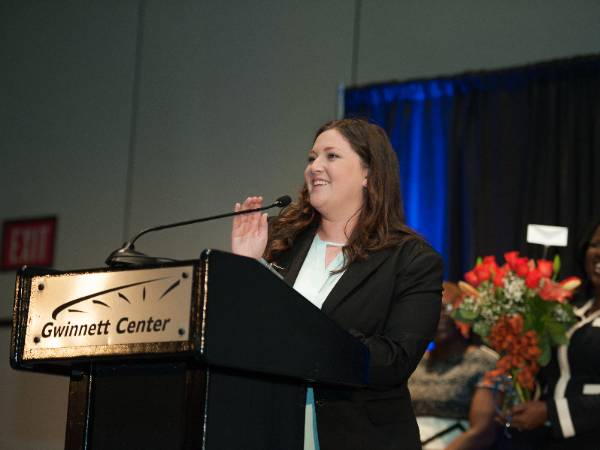 This past October, Hannah Southerland, who is a first-year pharmacy student at the Philadelphia College of Osteopathic Medicine (PCOM) School of Pharmacy, became the first student to receive the GA-PCOM Student Award Fund. The award is granted to students who plan to practice medicine in underserved communities upon graduation; Southerland aspires to return to her hometown of Alma, Georgia, to serve as a pharmacist. She was presented the GA-PCOM Student Award Fund at the 2015 Champions of Healthcare Awards, held at the Infinite Energy Center in Duluth recently.
Originally from Savannah, Tennessee, Southerland moved to Alma, Georgia, when she was in fifth grade and it quickly became her home. "Alma is the definition of a small town," she said, "It is a very tight-knit community where everyone supports one another. Everybody knows everybody and most adults will know your parents, your grandparents and your great grandparents."
It's these interpersonal relationships that inspire Southerland to eventually return home for her pharmacy career. "I love the idea of knowing every patient that I come in contact with," she explained, "I also believe that having a personal relationship with your patient allows the patient to develop trust in you and your opinions. That trust can allow you to really make a difference in someone's life… I have a very big sense of pride for my hometown and I want nothing more than to contribute to the community in any way that I can."
Still, Southerland wasn't always so sure where the future would take her. As she neared the end of high school, Southerland recalled not knowing what she wanted to pursue as a career. She had a vast interest in science and math, so her mother encouraged her to consider pharmacy. After getting a job in a local retail pharmacy, Southerland "fell in love with the profession" and the feeling that she was helping people in some small way.
Southerland graduated with a bachelor's degree in chemistry from Georgia Southern University in Statesboro and worked in retail pharmacy for five years before joining the PCOM School of Pharmacy in Suwanee, Georgia. Growing up in a "three red light" town, Southerland describes her move to Atlanta to attend pharmacy school as "a culture shock… in Alma people take their time. It isn't as fast-paced as Atlanta."
Down the line, Southerland hopes to become manager of a pharmacy in Alma after a few years of working – "I would like to own my own pharmacy one day, but not for a while," she said, "I just want to develop relationships with my patients and help them stay healthy."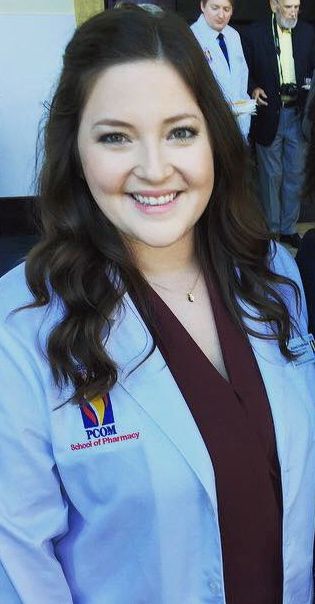 Hannah Southerland (PharmD '19)